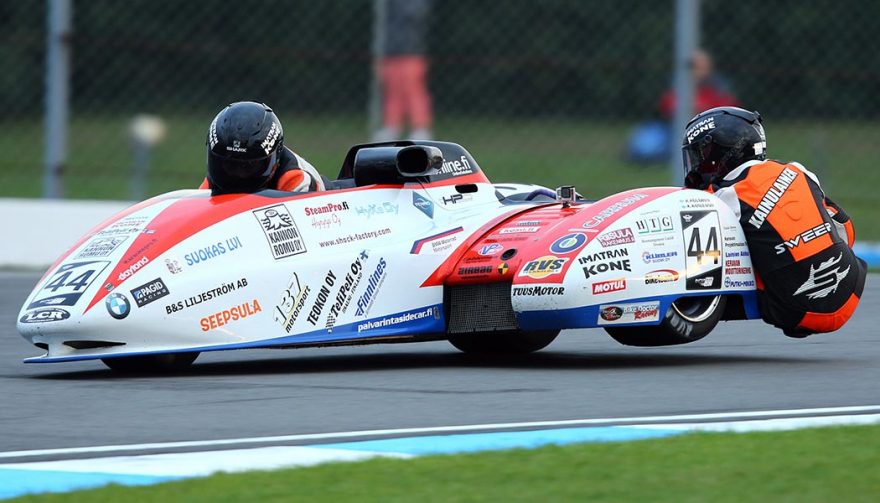 The "Flying Finns" have taken BMW back to motorcycle sidecar glory.
Flying Finns Make Motorcycle Sidecar History
The FIM Sidecar World Championship is the world's leading racing series for the motorcycle sidecar category. It has been held since 1949 and is thus the oldest FIM World Championship. The 1950s, 1960s and 1970s were the golden age for BMW. BMW dominated the Sidecar World Championship during that time, when it was called the Grand Prix. Racers with BMW motorbikes claimed an incredible 19 Grand Prix sidecar titles between 1954 and 1974.
First BMW Sidecar Victory In 42 Years
And now BMW is back, winning its first motorcycle sidecar championship since 1974. Pekka Päivärinta and Kirsi Kainulainen made history this season when they were crowned motorcycle sidecar world champions. The two "Flying Finns" won the title in the FIM Sidecar World Championship.
Thirty-year-old Kainulainen was the first woman ever to be crowned world champion in road racing. Their 44-Racing LCR sidecar is powered by a BMW S 1000 RR engine, with mechanical support from BMW Motorsport experts. Together with the team, the BMW specialists modified and set up the powerful BMW engine to match the special requirements of a modern sidecar racer.
Päivärinta and Kainulainen – a couple also in private life – finished all nine races of the motorcycle sidecar season on the podium. At the Hungarian round at Pannonia-Ring, they claimed an historic victory, with Kainulainen being the first woman ever to win a world championship race in road racing. At the season finale at Donington in England, they finished second on the podium and secured the world championship crown with an advantage of 18 points over their closest rivals. For Päivärinta, it was his fifth motorcycle sidecar world championship title, for Kainulainen it was her historic first time.
When asked if she feels like a role model for other young women in motorsport, Kainulainen responded, "I have heard that there are concerns about women in racing that they would be too unsafe and not as good as men. But this is not true, and I am happy to have proven the opposite. I see myself as a good role model for male passengers as well: they came to me and asked about tips and advice for training after they saw the good shape I am in."
Motorcycle Sidecar Racers: Part Motorcycle, Part Formula Car
Sidecar racing machines are similar to motorcycles only in the engines they use. Their chassis are designed and built specifically for this purpose and have more in common with open wheel racing cars. Unlike motorcycle tires, sidecar tires are wide with a flat profile, like car tires.
FIM regulations define "rider" as both the sidecar driver and the passenger. The driver kneels in front of the engine with his hands positioned near the front wheel. The passenger moves around on the rear platform. The passenger (also known as he "monkey") moves his or her weight from side to side in the corners and to the front or rear to improve traction at either end of the vehicle. Driver and passenger must work closely together for the best performance and results.
How The Final Race Unfolded
It was dry but overcast as the race started at Donington Park for the last FIM Sidecar World Championship race of the 2016 season. The Remse Racing/Team Eaide Yamaha-powered LCR sidecar of Tim Reeves and Gregory Cluze got a great start from pole position.
Championship leaders Paivarinta and Kainulainen, in their 44-Racing BMW-powered LCR, fell into second behind Reeves and Cluze. All they had to do was stay out of trouble. If they had no mechanical or racing mishaps, the championship title would be theirs. That is how the race ended and the championship was decided. Reeves and Cluze took the win, and Paivarinta and Kainulainen placed second, which clinched the championship for them.
Changes Coming Next Season
Donington 2016 was the last FIM Sidecar World Championship race in which 1000cc engines would race for the World Title. Starting in 2017, all motorcycle sidecars must use 600cc engines.