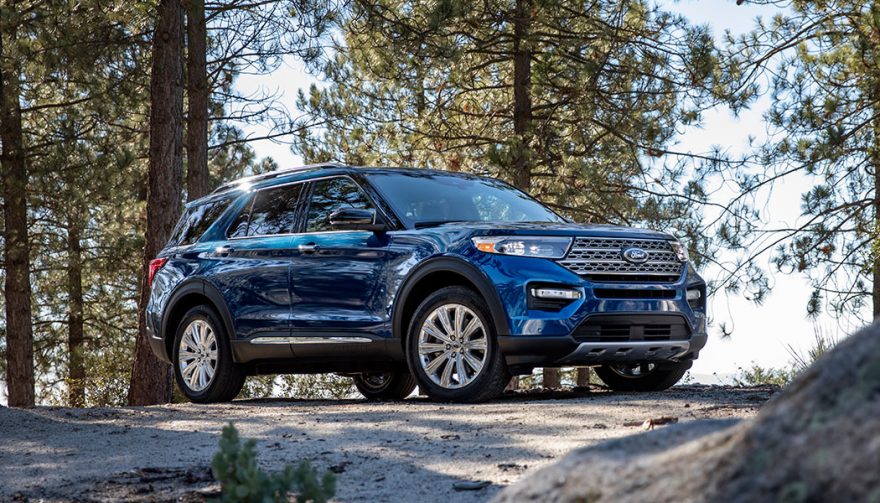 We take an in-depth review of the Ford Explorer
Ford Explorer: Pretty Good At Everything
To call the Ford Explorer an automotive icon is a bit of an understatement. Few other vehicles on the road have enjoyed such a long production run. It's a vehicle that anyone looking for a three-row crossover should at least try out.
For the 1991 model year, Ford proved yet again it was a true innovator by launching the Explorer. As a replacement for the laughably outdated Bronco II, the Explorer was immediately a huge hit. Some sharply criticized the Explorer, thanks to the Firestone tire controversy some readers might be too young to remember.
Responding to consumer demand, Ford changed the to unibody construction starting with the 2011 model, using a modified version of the Taurus chassis. That setup has continued, making the Explorer easy to drive, even in tight spots, with its car-like handling qualities.
Exploring the Ford Explorer
Ford has made a few slight changes in standard and optional equipment for the six trims: base, XLT, Limited, Sport, ST and Platinum. One big change is the addition of an XLT Sport Appearance Package, which adds a sportier overall appearance to the exterior. Like all other new Fords, Sync 3 is now available, providing a more intuitive infotainment system and far better voice controls.
Tough Looks
When you see the Ford Explorer, it just looks like it can kick some. At the same time, the crossover looks formal enough to take to the symphony. The exterior, especially the front fascia, shares some design characteristics with Land Rovers, particularly the Range Rover. This is of course a coincidence (or is it, since Ford used to own Land Rover?), but it does give the SUV a more upscale feel.
Those intimidating good looks are also attractive to cops. The Police Interceptor Utility model is loved by law enforcement departments all over. It blends in easily with other cars, has loads of space, and all-wheel drive is great for poor weather conditions. Going with a Sport model could mean people will mistake you for a cop, which is pretty handy when you want to go fast on the highway.
For the most part, the Ford Explorer can back up its tough, modern looks. This is especially true with the Sport and Platinum trims, thanks to the wickedly powerful 3.5-liter twin-turbo, direct injected EcoBoost V-6 with 365 hp.
Before you get any bright off-roading ideas, remember that the Ford Explorer is what I would call "not a real SUV." My wife hates hearing me say that, but it's true. No truck chassis, no traditional four-wheel drive system, no set of low gears, and no real underbody protection means that taking the Explorer on truly rugged trails is a bad idea.
You might be able to drive the Explorer on a deeply rutted dirt road. Tackling mud bogs or mountain trails will likely end in disaster, so just don't. The guys in the Jeep Wrangler who recover your vehicle will rightfully be laughing at you the entire time.
Driving Dynamics
Just because you can't really off-road with the Explorer doesn't mean it's not a worthy vehicle. It handles pavement like a real pro. If you haven't driven a Ford lately, this is nothing like the Explorers of old.
While it doesn't hug turns like a Subaru BRZ, it performs more smoothly and with more grace than, say, a Land Rover LR4. Push it hard through a sweeping curve, and the Explorer doesn't feel like a grizzly bear balancing on a unicycle, but instead fills you with a fair amount of confidence.
You May Also Enjoy:
Ford Will Pay for Leak Repairs on all Police Interceptor SUVs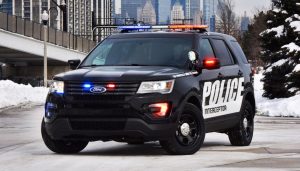 When you get the optional all-wheel drive, the crossover takes on rain, snow and the like with ease. Hill descent control is included with the all-wheel drive, which is a nice feature for outdoor adventures, or for navigating the streets of San Francisco.
High-End Interior
While it might not rise to quite the level of a Land Rover, the Ford Explorer has a pretty luxurious interior. Obviously, the higher up the trim level chain you go, the nicer things get. Overall fit and finish is impressive, with different parts fitting together tightly and nothing feeling flimsy.
Ford also uses a surprising amount of quality materials, including enough sound insulation to shut out most road and wind noise.
Passengers should like riding in the Explorer, even during long road trips. The second row can easily fit taller adults, while the third row is surprisingly ample for people under six feet. Sadly, too many third rows in modern crossovers are pretty useless, but that's not the case here.
Passengers in the rear two rows can control their own climate settings, while an optional automatic dual-zone automatic setup is available for the front.  The available ambient lighting setup has a few different color choices, just in case you're feeling more purple or green on certain occasions. An optional twin-panel moonroof spans the first two rows of seats, making the interior feel airier and letting in tons of light.
Drivers also get spoiled. Available amenities like an auto-dimming rear-view mirror, blind spot monitoring and a heated steering wheel make any drive more pleasant. The standard rear-view camera also has a washer, which is handy for clearing mud, ice, or snow from the lens.
As mentioned before, Sync 3 is available for the Explorer. This new system, developed with Blackberry QNX software, is worlds better than the previous Microsoft-based system. The icons on the screen are easier to identify, so you're not trying to decipher them while driving. Instead of having to use weird, robot-like phrasing for the voice controls, you can talk pretty much like normal. It's a huge improvement.
Safety
Since the Explorer is obviously aimed at families, it needs to be safe. Fortunately, the crossover shines in this department. The 2016 model earned top scores on all but the notorious small overlap crash test from IIHS. NHTSA gave it five stars on all but rollover risk, and its rivals fared no better.
Like most other modern vehicles, the Explorer can be outfitted with all kinds of driver's aids. Among the available systems is trailer sway control, lane keep assist and front collision monitoring.
One thing you can get on the Explorer and not other crossovers are inflatable rear seatbelts. They deploy like airbags during a crash, spreading out kinetic forces over a large portion of the torso. As a result, the risk of injury is quite a bit lower.
The available 180-degree front camera is also pretty helpful. It projects the video feed onto the infotainment screen, like the rearview camera. You can rely on it to see around blind corners, or when coming out of a parking stall and in similar situations.
Ford Explorer Pricing
The Ford Explorer can be a pretty reasonably-priced vehicle, if you go for the base model. It carries an MSRP of just $31,660. At the other end of the spectrum is the Platinum trim, which starts at a luxurious $53,235. You can option that up to over $57,000, which actually tops the Mercedes-Benz GLE350 4Matic's price.
Conclusion
Let's face it, you're not going to do hot laps at the local track with the Ford Explorer. But you won't be doing that with any competing vehicles, either. This blue oval crossover does what it's made for quite well: transporting several people and cargo around the city in comfort and safety. You get the added benefit of a somewhat entertaining time behind the wheel, instead of enduring massive amounts of boring.
As long as you don't try to play mountain goat and hit hardcore trails, the Explorer is also a great way to see the great outdoors. It's a solid family vehicle everyone should love.