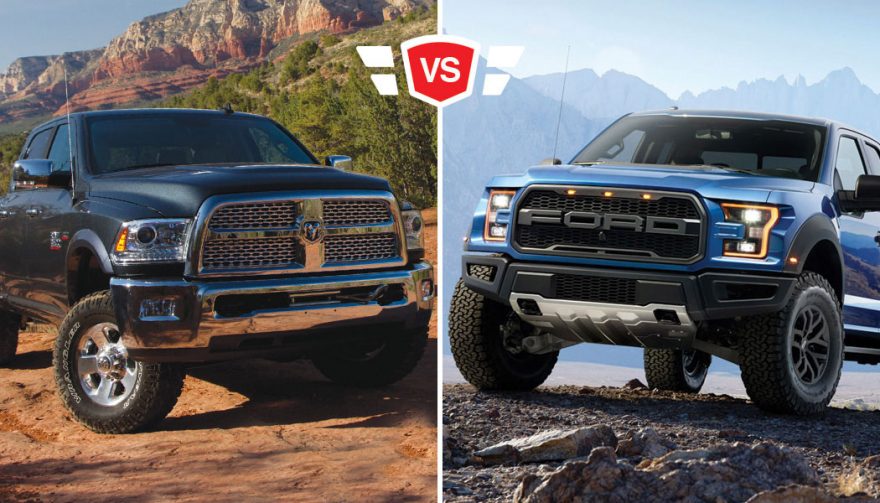 The Ford F-150 Raptor and Ram Power Wagon are different beasts that cater to two distinct applications.
Ford F-150 Raptor v. Ram Power Wagon
It used to be that the most factory-ready off-road pickups came with four-wheel drive, a front skid plate and maybe if you were lucky a skid plate for the transfer case. Times have changed as automakers realize there are plenty of people looking to own something more rugged.
For those who are about more than just image, and aren't brand loyal, the big question comes up: is the Ford F-150 Raptor or Power Wagon the better choice? In all honesty, the answer isn't cut-and-dry, largely depending on what a person wants out of a truck. Sure, there are some points where one pickup clearly comes out on top, but there are others where personal preference (read: bias) comes into play.
Read what follows in that light. One of these trucks won't be crowned king, champion or whatever. Instead, you'll be treated like an intelligent adult who can make an informed decision once the facts are laid out.
In the Past
Maybe you don't have the cash for the newest versions of the Ford Raptor and Ram Power Wagon. There's no shame in that. You'll need to know a few things about the models made before 2017, so read on. Check out the 2016 Dodge truck lineup if you're looking for something used.
The Power Wagon has a pretty impressive setup. It rides on 33-inch tires, has a 12,000 pound Warn winch integrated into the front bumper (which is a slick design), 14-inch brake rotors and optional RamBox bed storage compartments. A key part of the truck's setup is the Articulink suspension, which involves control-arm-to-axle-mount joints that flex far more than on a regular truck. That translates into some impressive axle articulation, which is critical for rock crawling and other off-road duties. The front axle diameter measures 9.25 inches, while the rear is 11.5 inches. If that's not enough, there's also an electronically disconnecting sway bar.
It's worth noting that in articulation tests, the Power Wagon has come out on top.
As far as cold, hard numbers, the Ram boasts an impressive ground clearance at 14.5 inches, a 34 degree approach angle, 23.5 degree departure angle and a 25.5 degree breakover angle. Chrysler says it can ford water that's up to 30 inches deep.
Power comes from a 6.4-liter Hemi V-8, which tops out at 410 horsepower and 429 lb.-ft. of torque. When the truck's in low range, the electronic throttle keeps things from getting twitchy, which is perfect for trail applications. Towing maxes out at 10,810 pounds.
As for the previous-gen Raptor, it comes with 17-inc wheels, rotors that measure just under 14 inches, full skid plates, fixed aluminum running boards and an auxiliary equipment switch panel that can accommodate add-ons like a winch. The suspension is beefed up versus a regular F-150's for off-roading, thanks in part to shocks with a 2.5-inch diameter.
The Ford F-150 Raptor is powered by a 6.2-liter V-8 that cranks out 411 horsepower and 434 lb.-ft. of torque. To say the truck is fast is an understatement. You can do some serious trail hooning in the thing, if that's your pleasure.
You May Also Enjoy:
The Ford F-150 Finally Goes Diesel, But How Does It Stack Up?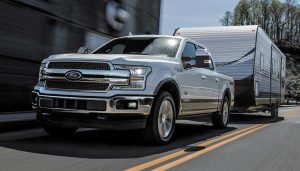 New Generation
The 2017 models for both trucks introduce some differences that are definitely worth going over. Ford decided to go with lightweighting for the new Raptor, just like the rest of the F-150 lineup, shedding about 500 pounds. A fair amount of that weight is lost by ditching the big V-8 engine in favor of a 3.5-liter EcoBoost, which uses twin turbos and direct fuel injection. Amazingly, peak output is actually higher, but Ford won't say by how much. It works with a 10-speed automatic transmission, which is supposed to keep the engine revs in the optimal zone for performance and efficiency. Before too long, Ford will start slapping these trannies in other models, but the Raptor is the first one.
Another important part of the new Raptor's setup is a torque-on-demand transfer case. It works with a more user-friendly driver-assist tech for hitting trails, which means you can make more mistakes and not get into as much trouble. A new transfer case is supposed to be a good balance between old mechanical-locking setups and modern all-wheel drive, but the verdict's definitely still out on that one.
The new suspension setup includes Fox Racing Shox that have a unique internal bypass. It allows for stiffening or damping suspension travel quickly when trails get particularly rough, with the aim of avoiding bottoming out and seriously damaging the truck. The shock canisters are 3 inches in diameter, which should boost performance considerably. We also know 35-inch BFGoodrich All-Terrain KO2s will be wrapped around the 17-inch wheels.
Amazingly, the 2017 Ram Power Wagon is pretty much the same truck as before, with some cosmetic changes. One big drawback was the hideous body graphics and loads of exterior chrome that just didn't scream "off-road truck." Those are gone, replaced by black components and a muted graphics package.
A few interior changes are part of the shakeup. New seat inserts make it look like someone drove over them, thanks to the tire tread pattern. Buyers can also go with a black headliner.
Despite not being mechanically different, the 2017 Ram Power Wagon is still an impressive truck that could be a great fit for what you need.
The Verdict
Like I said in the beginning, there's no clear-cut winner here. Ultimately, the two trucks are different beasts that cater to two distinct applications. Keep in mind the Ram is a heavy-duty pickup, while the Ford is a light-duty pickup, so it's kind of like putting a sledge hammer against a framing hammer.
If you're looking to speed through the desert and go off big jumps, the Raptor is the best option. But if crawling over rocks is more your thing, the Power Wagon is the better choice.