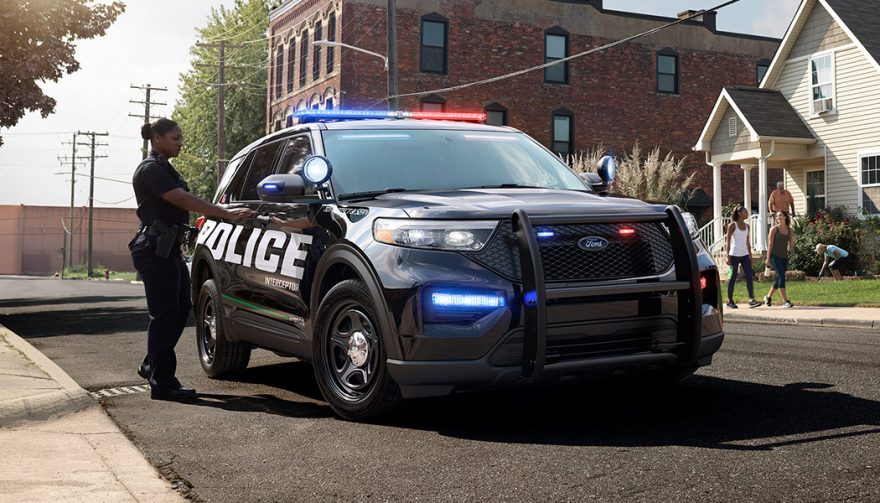 The 2020 Ford Police Interceptor comes with an all-new hybrid drivetrain as standard. That helps make blue a little more green.
Ford Police Interceptor Makes Blue a Little More Green
If you're used to muscle memory and drilled-in reflexes telling you that those headlights behind you are framing red and blue flashing lights, then you might need to add a new set to your studies. The all-new 2020 Ford Police Interceptor Utility is arriving soon. It'll come with some cool new features to help officers better do their jobs. It will also help put some green behind the blue, with a new hybrid driveline. And it probably previews the new Ford Explorer.
The current Taurus-based Ford Police Interceptor Sedan and Explorer-at-heart Police Interceptor Utility are already worlds advanced over the Crown Victoria they replaced. But despite more power, better acceleration, and improved fuel economy, adding to each of those is always better. So Ford has decided that with the latest generation, the 2020 Interceptor Utility, the SUV model, will be a hybrid as standard.
Handling powertrain duties is a new 3.3L V6-based hybrid system. It will use a lithium-ion battery. The new powertrain will also get a 10-speed automatic transmission and has all-wheel drive for when more traction is needed.
Ford isn't saying just how much power the new system will make, but they are saying it's 1.1-seconds quicker to 60 mph than the old V6, and 2.4-seconds quicker around the test track of the Los Angeles County Sheriff's Department.
Speaking of that green, Ford expects it to save a bunch. As much as $5,700 each year over the current Ute with the 3.7L V6.
"Our Police Interceptor Utility's standard hybrid powertrain provides the potential for significant fuel savings with improved performance and no tradeoffs in safety or interior passenger or cargo space," said Stephen Tyler, Ford police brand marketing manager. "It's a win-win-win formula for law enforcement."
Because not everyone wants a hybrid, the automaker is offering the Ford Police Interceptor Utility with some other engine choices too. There will also be a non-hybrid version of the 3.3L V6 and a 3.0L turbocharged EcoBoost V6.
Ford Knows Police Cars
Ford says it currently has two-thirds of the police vehicle market in the U.S. That means that Ford knows what departments are looking for in their vehicles. So it has added a host of new features that officers should find helpful.
Like a new Police Perimeter Alert function. It uses rear-mounted sensors to monitor a 270-degree area behind the car. If it detects someone moving up on the rear of the car it activates the rear camera, sounds a chime, rolls up the windows, and locks the doors. Letting officers know there might be a threat behind them and helping mitigate it.
There is also a Pre-Collision Assist with emergency braking feature. Like on the civilian model, it can detect impacts and pedestrians and automatically stop the vehicle. Unlike non-police vehicles, it has a switch so the officer can turn the feature off. Like if they need to do a PIT manoeuvre and spin a vehicle they're pursuing.
Other features include anti-stab front seats and vinyl for the rear seats and the rear floor. It also gets upgraded cooling and durability changes that allow it to hit an eight-inch curb at speed. As one does.
The timing of showing the Ford Police Interceptor Utility is interesting. The current generation of this vehicle is based on the Ford Explorer. But the next-generation Explorer is yet to be released. So we can't say for sure, but this might be your first look at the next Explorer before it is revealed. Or, Ford might have a big surprise planned for the next Explorer that moves it away from this vehicle. We're thinking the first one is more likely.