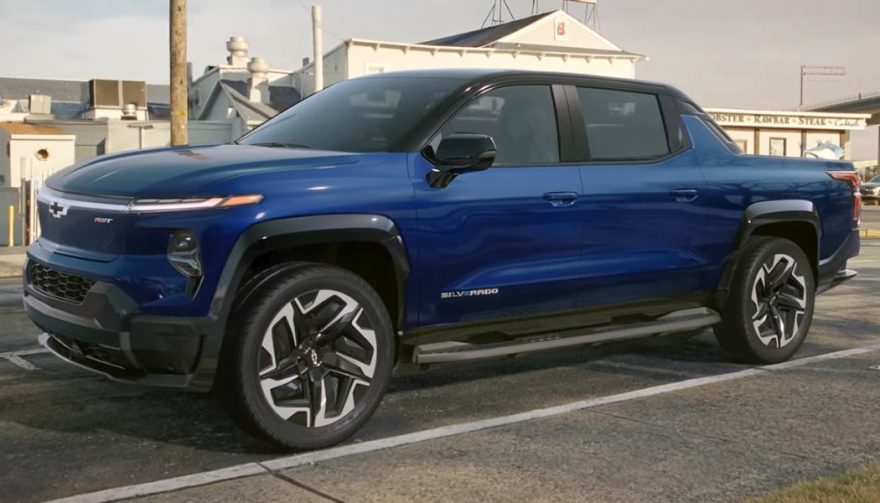 Everything You Need to Know About The 2024 Chevy Truck
Unlimited Power and Style
With an impressive battery range, innovative towing technology and an updated interior, there are plenty of things to be excited about when it comes to the 2024 model of Chevy's classic work truck. The latest edition to Chevy's line-up is available in multiple forms, from the staple work truck to Trail Boss and High Country additions, each coming with unique features and specifications. Read on to learn everything you need to know about the 2024 Chevy truck before it hits the market later this year.
The Basics
Currently priced between $52,000 and $106,000, Chevy's new vehicle is available in several different styles, with each of the seven versions coming with additional features and assets. The standard body of the truck is comprised of a crew cab with four doors, and a midgate is available to create extra storage space between the cab and the bed.
Chevy's review estimated that the 2024 model has a range of 450 miles and a towing capacity of approximately 10,000 pounds, making it an ideal work truck for those looking to switch to an electric model. In addition to this, it has four-wheel drive and a maximum of 745 horsepower.
Towing Capabilities
An essential feature of any work truck is its powerful towing capacity. Luckily, Chevy has met these requirements with the 2024 model. The towing system has received a massive update, increasing both the versatility of the towing options and its overall safety. Currently, the model is stated to have a 10,000-pound towing capacity, and an additional model with a 20,000-pound towing capacity is due to join the 2024 range.
The updated technology allows the use of gooseneck, fifth-wheel trailers, and adaptive cruise control. Unlike previous models, when the truck is set to cruise control, the additional drag and weight of the trailer will now be taken into account.
However, it should be noted that towing will affect the driving range of the Chevy Silverado. The additional weight of the trailer will drain the battery at a quicker rate, thereby reducing Chevy's 450-mile estimate.
Perfecting the Off-Road Experience
The 2024 model comes with a 1.5-inch front and rear suspension lift and 35-inch Goodyear Wrangler Territory MT tires. Designed for off-roading and perfected to perform in every season, these tires are ideal for the Chevy Silverado. The work truck also comes with an off-road mode and a front aluminum skid plate.
Each of these features guarantees a comfortable and smooth off-road experience, allowing drivers to take this pickup anywhere at any time of the year.
A New Engine
Chevy's latest model combines an electric battery with two powerful motors, differing from the Hummer EV which utilizes three electric motors. But, even one motor down, the Chevy can reach 754 horsepower and accelerates rapidly. Chevy has estimated that the truck can reach 60 mph in 5.4 seconds.
Not only does the electric battery boast an impressive range of 450 miles, but it also has a fast charging speed. In just ten minutes, 100 miles of range can be added to the engine. This is all thanks to General Motors' breakthrough Ulitum battery.
Work Truck or Civilian Vehicle?
The 2024 model is built as a work vehicle from its size to its towing capacity. While it utilizes many features that most people look for in a family vehicle, such as advanced safety measures and plenty of space, numerous cars can meet those requirements.
However, in terms of electric pickups, the 2024 Chevy model is ideal. The pricing may sit a little higher than a standard pickup, but with the new towing features and off-road design, the Chevy Silverado will be able to tackle any task. Plus, its battery range greatly exceeds that of previous modes, making it the perfect choice for anyone eager to switch to an electric model without sacrificing speed or power.
Warranty and Safety Features
As is standard with all vehicles that feature a General Motor engine, the Chevy Silverado has a 3-year or 6,000 miles limited warranty. In addition to this, the powertrain warranty lasts for 5 years or 60,000 miles.
Regarding safety, not only has Chevy upgraded its towing system, but it has also implemented a pedestrian awareness and lane-keeping system. Drivers, therefore, are provided with all the tools they need to travel the roads safely.
Final Thoughts
If you're eager to find a large, powerful truck that maintains peak performance on an electric engine, look no further. The 2024 Chevy is packed with incredible features that guarantee a smooth, safe drive, whether transporting farm machinery or taking an off-road adventure.
---
Take a look at the top electric cars coming in 2024.