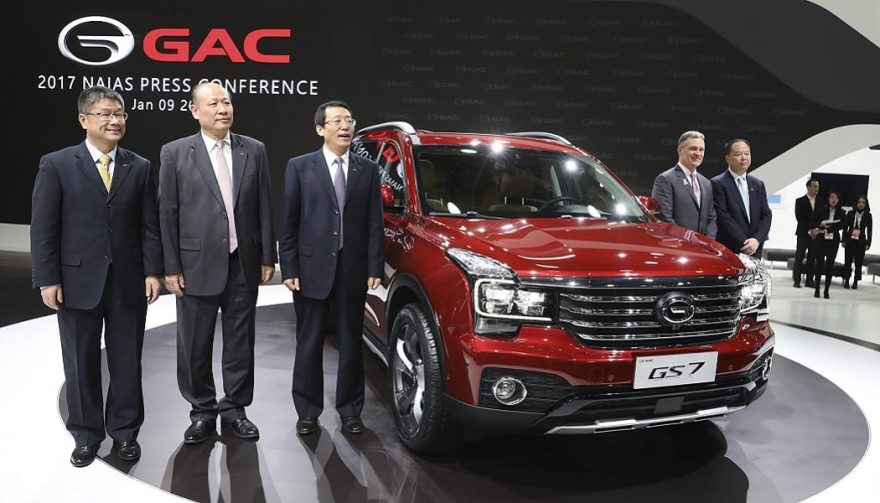 GAC Motors unveils the GS7 at the Detroit Auto Show.
China-based GAC Makes Detroit Debut
The young Chinese automobile industry has been the butt of many jokes over the years. It's what happens when the best vehicles built are either knockoff BMWs or concepts from way out of left field, but GAC Motors is changing that.
Fauxcedes, lax trademark laws, and active imaginations aside, China's domestic manufacturers are starting to come into their own, as GAC Motors unveils three cars on the NAIAS main floor in Detroit, making it the first China-based automaker to do so.
GAC may not be a household name in the West, but it is one of the Far East's fastest growing companies and finds itself on the Fortune Global 500 list, meaning this isn't some fly-by-night operation looking to grab headlines.
GAC's Detroit Unveiling
These vehicles aren't your grandfather's Chinese automobiles, or even the ones from five or 10 years ago. They represent a new era, an attempt at competing with the millions of Fords and Volkswagens sold every year, as GAC looks to grow into the global car market.
GAC GS7 SUV
As an SUV showcasing in the American market, the GS7 seems to check many of the modern SUV/crossover boxes. The vehicle features a similar wheelbase as the Chevrolet Equinox and a 2.0L turbocharged four cylinder engine, rated at 198 horsepower and 236 lb.-ft. of torque.
Boxy looks in an excellent shade of red and a decent interior with wood trim are also highlighted by the show car. Though no one will mistake the GS7 for a Touareg or even an Escape, there is a definite sense of increased precision and desire to compete with the new SUV.
GAC mentions the GS7 is a production-ready SUV that'll be released later this year in China as a 2018 model.
GE3 Electric Hatchback
The fully electric GS3 compact hatchback has a similar feel about it as the GS7. Nothing that will blow your socks off in the design department (the show car features a plain white finish with many of the typical design flourishes of a 2010s car in bulging rear arches and splashes of blue to let you know this is an eco-friendly car), but it's a step up from previous generations.
GAC also claims that the GE3 has a range of just under 200 miles and is able to charge to 80 percent in 30 minutes on a quick-charging system. Whether or not those numbers are achievable in the real-world remains to be seen, as no independent testing has been completed, but it again shows where the company is aiming for.
EnSpirit Concept
The EnSpirit concept rides on the current trend of activity SUV/coupes, reminiscent in stance and profile to a BMW X6 with its swooping rear roofline.
A standard suite of connectivity features in line with most modern SUV's is available, as GAC states the car is a near-production concept. Plug-in hybrid is the powertrain of choice in the EnSpirit, with a 1.5L gasoline engine providing the conventional power.
Other than that, there isn't much information on the EnSpirit, which is interesting because this is apparently a near-production concept. But in any case, it's the third car in GAC's Detroit lineup.
While there isn't a whole lot of pizzazz, or futuristic sci-fi tech, around the vehicles themselves, that also wasn't the point. The interest in GAC was never going to be about the individual cars they brought to the show, but more on the fact they debuted them here in the first place.
An auto manufacturer based in a country with a poor track record of previous car-building attempts is now showing three vehicles on the same floor as Ford, Cadillac and Kia. It speaks a lot about how far China's automobile industry has progressed over the previous decade.
The company has mentioned a goal to start sales in America by the 2020, and moving onto Europe later down the road. That may be a bit lofty, especially as GAC stated in 2014 a desire to begin sales in the States in 2017.
But who knows. Most people didn't think a couple of automakers from South Korea would amount to much 20 years ago. Now Hyundai and Kia have captured a decent chunk of the global automobile market.
Maybe in another 20, GACs will be just as common.