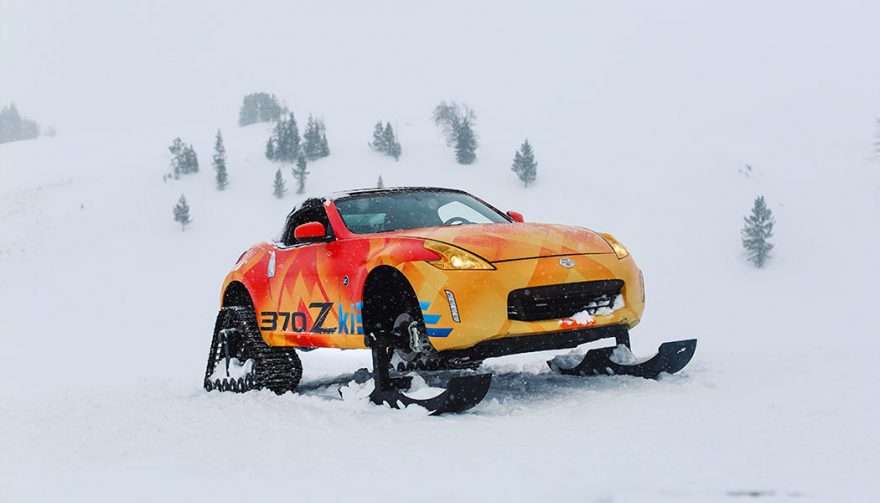 Nissan added tracks to the rear and skis to the front of a Nissan 370Z to make the 370Zki
10 of the Coolest Cars, Trucks and SUVs from The Chicago Auto Show
The Chicago Auto Show isn't the biggest show of the year, but it's traditionally still an important one. It's usually the home of launches for new trucks, vans and SUVs.
This year the Chicago Auto Show is a little low on new vehicles, but that doesn't mean that there weren't some cool cars, trucks and SUVs being shown for the first time. So here are the 10 coolest releases from the 2018 Chicago Auto Show.
Nissan 370Zki
Nissan loves the snow. Last year, the automaker added tracks to the Murano and Rogue SUVs. This year, it was time for a sports car.
Nissan added tracks to the rear and skis to the front of a Nissan 370Z to make the 370Zki. Say it. 370-Ski. You get the idea. It's a sports car turned 332-horsepower snowmobile. And it's a roadster, because convertibles are always better. Even in the snow. Before the Chicago Auto Show appearance, Nissan tested the car on Wyoming ski slopes.
Lexus GS F 10th Anniversary
Ten years of the Lexus F brand means limited-edition anniversary models. The RC and GS both get special editions with flat grey exterior paint and blue interiors. Very bright blue interiors.
The sports seats have huge blue leather bolsters, and in the GS the rear seats get blue too. It includes blue carbon trim. The GS F has a 467-horsepower 5.0-liter V8 with a torque vectoring rear differential. It's limited to just 100 units.
View on One Page
You May Also Enjoy:
2021 Ford Mustang Mach 1: Classic Name, Modern Performance