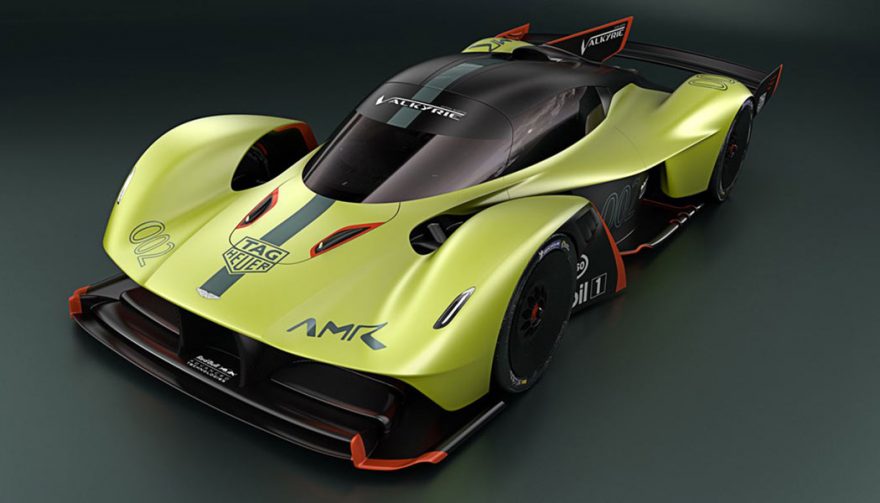 The Aston Martin Valkyrie AMR has a 6.5-liter V12 that produces more than 1,100 horsepower
10 Mind-Blowing Debuts at the Geneva International Motor Show
The Geneva Auto Show, technically the Geneva International Motor Show, is the first big European show every year. That means a big turnout of new production models from European manufacturers big and small. It's also home turf, or close to it, for many of the smaller automakers and coachbuilders.
That means far-out one-off exotics mixing it in with the latest superminis. Here are 10 of the best from this year's Geneva Auto Show.
Aston Martin Valkyrie AMR Pro
The Aston Martins Valkyrie was an absolutely epic track-day machine. No race car for the road, this was a race car for the race track. Now Aston has kicked that monster up a notch. It's the Valkyrie AMR Pro. The car uses a hybrid powertrain based around a 6.5-liter V12 that produces more than 1,100 horsepower.
The carbon bodywork and suspension help keep the car under 1,000 kg. On top of that, the car can produce 1,000 kg of downforce at speed. Even in high downforce trim, the car can hit 225 mph. It's Le Mans Prototype performance in a car that's slightly more accessible. Slightly. It will be very expensive, they're only building 25, and they're sold out.
Audi A6
The 2019 Audi A6 midsize sedan was shown in pictures late last month, but this is the first time for public eyeballs to be foisted upon it.
The A6 launches with a pair of 3.0-liter V6 engines, one gas, one diesel – both mild hybrids. It adds active suspension and four-wheel steering to improve ride and handling, as well as help it to better handle tight European streets.
It also uses a new 10.1-inch infotainment system with an 8.6-inch screen under that to handle climate control duties.
Land Rover Range Rover SV Coupe
There is a new three-door Range Rover flagship coming, and this is it. This is the first time we get to see the Range Rover Coupe SV. This four-seater is going to be a limited model. It will sit as the most expensive vehicle in the Land Rover family.
The company will only build 999 of the flagship model, at the SVO Technical Centre. That means hand-built, not assembly-line made. It will be fully customizable, including more than 100 available paint colors. The SV Coupe will pack a 5.0-liter supercharged V8 that puts out 565 horsepower.
Polestar 1
It's the first look at the first car from race-team-turned in-house performance brand, turned automaker Polestar.
The high-performance electrified brand shares platforms and technology with Volvo, and more than a little styling too. The hybrid Polestar 1 makes its public debut at the show. The hybrid gas-electric powertrain makes 600 horsepower and 737 lb-ft. The plug-in hybrid allows for a 93-mile electric range.
BMW M8
The BMW M8 Gran Coupe concept brings the four-door coupe that the brand has already tried and tested with the 4 and 6 series cars to the yet-to-arrive 8 series.
BMW says that this car is designed to move you, and the big angry bodywork certainly does. This car gets a grille surround that calls back to the brand's earliest models. The high-mounted headlights make the car look even lower than it really is.
BMW doesn't say what kind of performance this will offer, but they do say that the M stands for more. That means expect massive power and monstrous handling when the production car launches next year.
Italdesign Zerouno Duerta
Italdesign has been penning cars since 1968, when it was founded by Giorgetto Giugiaro. The firm is responsible for the Lotus Esprit, the first-generation VW Golf, Maserati MC12 and dozens more. The firm is bringing a car under its own name to the Geneva Auto Show.
The Zerouno Duerta convertible is a V10-powered sports car that looks like the knife-edged future and can top 200 mph. The car borrows heavily from the Audi R8 parts bin, and will be extremely limited production.
TechArt GrandGT Supreme
TechArt is a big German tuning and modification firm. They'll do more than just make your car faster, they'll make it more luxurious. At this year's Geneva Auto Show, check out their Panamera Gran Turismo, the Grand GT Supreme. It boosts the twin-turbo V8 from 570 to 640 horsepower.
It also adds stunning green paint and a body kit with a massive front splitter, wider air intakes, flared fenders and side skirts. The wheels are 22-inch monsters.
But inside, the Porsche wagon gets saddle brown, vegetable-tanned Nappa leather. It has multi-color stitching covering everything from top to bottom.
Rimac Concept Two
Croation electric car builder Rimac is best known for being the punchline to Richard Hammond's latest crash on "The Grand Tour." But the company is planning to launch a second model, the not-exactly creatively named Concept Two.
The Concept One was one of the fastest EVs around when it launched, but was recently upstaged by the Tesla Roadster prototypes. Rimac wants to be back in the top spot, and that means power. Lots and lots of power. The Concept Two is going to pack 1,914 horsepower and use a 120 kWh battery.
The company didn't give a range at the Geneva Auto Show, but expect more than the Concept One's 205 miles.
Ferrari 488 Pista
Ferrari's latest lightweight special is the 488 Pista. It borrows from the 488 GTE and Challenge racers to make an even faster street car.
It uses the company's most powerful V8 ever. The 3.9-liter engine makes 710 horsepower at a screaming 8,000 rpm. That means 0-60 mph in under three seconds and a top speed well over 200 mph.
Inconel exhaust manifolds trim weight, along with a carbon intake and titanium rods. It all makes for a 200-pound drop from the 488 GTB. To help you manage the power, it has Ferrari's latest Side Slip Angle Control System.
Porsche Mission E Cross Turismo
It's a lifted electric four-door from Porsche at the Geneva Auto Show. An SUV with the emphasis on sport, emphasis on green, and emphasis on Panamera styling.
The Mission E Cross Turismo packs 600 horsepower from its electric motors and can hit 60 mph from a stop in 3.5 seconds. Importantly for a performance electric, Porsche says it can handle multiple launches in a row without losing that performance, something other EVs can't do.
The Mission E uses Porsche's new 800-v fast charging concept that can fill a battery much quicker than current tech.
You May Also Enjoy:
Aston Martin Valkyrie Uses Extreme Aerodynamic Features