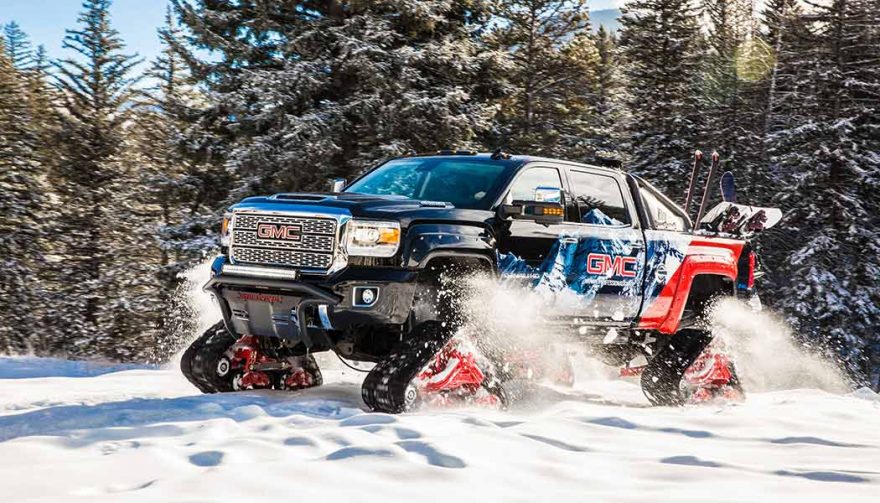 Along with tank tracks, the Sierra All Mountain has a Duramax 6.6-liter turbo diesel V8
The GMC Sierra All Mountain Concept Is Ready for Winter, Anything
Throw some tank tracks on a Sierra and you've got the 2018 GMC Sierra All Mountain concept. And this one-of-kind slow-climbing machine is ready for a Rocky Mountain winter.
The GMC Sierra 2500HD All Mountain concept made its debut at Vail Mountain, where it can show off its rugged, snow-covered trail chops all winter long.
Sierra All Mountain Concept Features
GMC had the Sierra All Mountain concept built on a GMC Sierra 2500HD Denali 4WD Crew Cab platform. It combines the power of a Duramax 6.6-liter turbo diesel V8 engine with enhanced capability and features with concept Mattracks technology and GMC Accessories.
The Sierra All Mountain concept features:
Mattracks 150 Series Tracks with GMC Red finish
Bodyside graphics
Wheel well and underbody LED lights
Snowboard Racks, associated accessories by Thule
Amplifier and Dual Pod Speaker Kit, associated accessories by KICKER
RIGID E-Series 30-Inch Light Bar
You May Also Enjoy:
This is the All-New 2020 GMC Sierra HD Pickup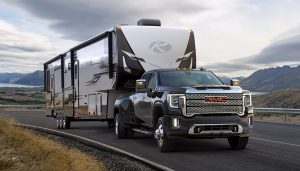 Soft roll-up tonneau cover by Advantage
Duramax 6.6L Turbo Diesel engine with 445 horsepower and 910 lb-ft of torque
Allison 1000 six-speed automatic transmission
Along with these attributes, the Sierra All Mountain comes decked out with the first-class interior appointments of the Sierra 2500HD Denali. Just because your truck is rough, it doesn't mean you have to be roughing it.
"With GMC's focus on premium capability and design, we wanted to ensure that this concept took these signature attributes to an entirely new level," said Carl Zipfel, GMC exterior designer. "The Sierra All Mountain concept Mattracks technology enables the truck to conquer uncharted territory while highlighting premium interior features such as Bose speakers and upscale leather treatments."
The Sierra All Mountain will be on display at Vail throughout the winter season as part of a partnership with Vail Resorts.
A similar concept truck, only built on a GMC Sierra 2500HD All Terrain X platform, will make its way to the 2017 Los Angeles Auto Show.