2017 GMC Sierra Review: All About Finishes and Features
It's easy to just write off the 2017 GMC Sierra as just a clone of the Chevy Silverado. While the two are mechanical brothers, you do get some different styling, materials and features not available on the Chevrolet.
Like other full-size pickups, there's a huge range of models. You can get a basic version with vinyl flooring and zero frills, all the way to the downright luxurious Denali with soft leather, wood trim and other accoutrements. There are also different bed and cab sizes, giving you even more options.
2017 GMC Sierra Changes
For 2016, the Sierra got a more modern design. Changes for 2017 include standard active aero grille shutters and a capless fuel filler.
Parents will like the Teen Driver Mode, which lets them monitor how younger drivers behave behind the wheel. Tri-mode power steps are a new offering, as is low speed forward automatic braking.
Performance
You're not getting some car-like pickup with the 2017 GMC Sierra. No, it's unapologetically a truck. Some people might not like that, but having driven much larger trucks, I don't find the Sierra to be hard to manage. If you're looking for something that will hug turns and cushion you from every road imperfection, perhaps the Honda Ridgeline is more your cup of tea.
The GMC Sierra is all about getting the job done. Sure, you can get some nice amenities, but it's a rough-and-tumble vehicle underneath it all.
You get three engine choices. The base 4.3-liter V-6 puts out 285 horsepower and 305 lb.-ft. of torque. This is a good choice for people who won't be hauling big loads or towing heavy items regularly. It's an okay option if you're looking to save on gas, and in turn money.
Opting for the 5.3-liter V-8 engine, you get plenty more output with 355 horsepower and 383 lb.-ft. of torque. As you can tell from the numbers, it hits far harder, with noticeably quicker acceleration and way more capability.
You May Also Enjoy:
2017 GMC Terrain: Wait and See What 2018 Offers If You Can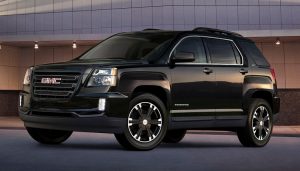 Related Search Topics (Ads)
The third option is a monstrous 6.2-liter V-8, which pushes out 420 horsepower and 460 lb.-ft. of torque. This one will guzzle the gas, so beware. But it's a fun option, and one that pushes towing and hauling capacities to seriously high levels.
Likely the engine you choose will be driven by economics. That's fine, because going with the larger options does mean a financial hit. If you can afford it, they're fun and brutal workers. But most people won't really tap into their capabilities.
I found the electrically assisted steering to be a little numb. You don't get much in the way of feedback, which annoys me. Others might find that to be a relief. However, the steering is accurate, so you're not constantly having to correct your path through turns. Considering the lumbering nature of the truck, this is a big plus.
Functionality
If you get a truck for image, I think that's an odd choice. To me, pickups are all about functionality, and the Sierra can really deliver on that front. Its towing and hauling capacities are about on par with competitors. Where the Sierra really shines is the available features.
More specifically, the bed can be loaded with functionality. All models have the CornerStep rear bumper, so you can climb up and get things out without lowering the tailgate. Four tiedowns with a 500-pound capacity are also standard for the whole lineup.
Some models have LED lighting underneath the bed rails. If you have a tonneau installed, this is a big plus, because you can actually see in there at night.
You can get a spray-in bedliner for a reasonable amount, and quite frankly it's a good option to choose.
An available EZ Lift-and-Lower tailgate makes putting it up or down a breeze. Damping means you'll never slam the tailgate again, and you can manage it with little effort.
Adding the tri-mode power steps isn't just a move to make getting into and out of the cab easier. They can articulate back toward the bed, so you can reach a toolbox or other items deep in the box with little effort. Sure, it's a luxury, and one some people will love having.
Interior Features
It's difficult to compare the interiors of different Sierra models, because the range is wide. You can get the Spartan base model, or the downright opulent Denali, plus anything in between. Overall, most trims have nicer finishes than in the Chevy Silverado, and that's where the Sierra really sets itself apart from its sibling.
While luxury is nice, functionality is better. This is a truck and it has a cabin that's set up to accommodate daily life. Plenty of clever and big storage compartments abound. The center console is huge, so you could use it to stash computers, files, or whatever else.
One interesting thing I noticed is that the Denali's seats aren't quite as comfortable as some of the trims just below it. The ventilation flattens the cushions, eliminating the contouring that helps your thighs avoid fatigue.
You don't have to struggle with weird gauges. They're simple and easy to read at a glance. The physical controls are large enough you can use them with gloves on. As for the optional IntelliLink infotainment system, it's quick to process commands, features super clear graphics and is easy to navigate. In my opinion, it's more user friendly than MyTouch from Ford and even Uconnect on the Ram 1500.
Conclusion
I'll be honest: the Silverado, Ram 1500 and F-150 are overall on pretty even grounding when it comes to performance. While each has its strong points, for the average owner all three are comparable and good options.
The attraction of the GMC Sierra is the more premium finishes and features. If that's something you want, this truck should be at the top of your shopping list.