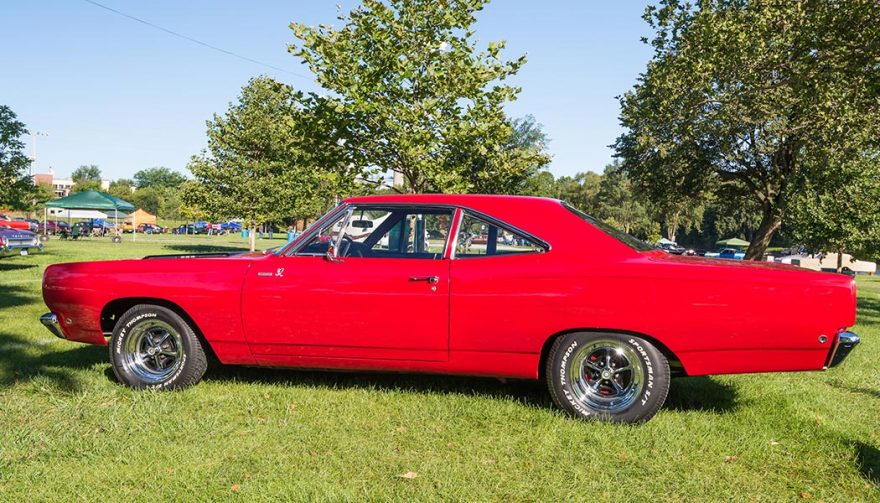 Muscle cars like this Plymouth Road Runner weren't designed to be great handlers.
Stars From The Golden Age of Muscle Cars
They were classic cruisers. They were chick magnets. They went like a bat out of hell! "They" were the muscle cars that captured the "need for speed" crowd in the 60s and 70s that continues to fuel the imagination of many and forever set a standard that "really cool" American cars need to at least look aggressive even if they can't match the performance of a 42 year old Plymouth named for a cartoon.
Speed was the name of the game and Pontiac was the first to start a design trend that basically stripped a car to basics and then dropped in the biggest engine that would fit. These were no great handlers; their basic function was to go in a straight line as fast they could. The muscle cars were measured in 0 to 60 and quarter mile times…and the roar of their exhaust and how much rubber they could burn off the line.
If you think the audience for these machines were all John Travolta "Grease" lookalikes you would be wrong. The American car culture embraced muscle cars and the more that appeared on the road the more choices the public wanted.
A Trip through the Golden Era of Muscle Cars
They were definitely a class of their own. Listed below are five machines that personified that Golden Era of muscle cars. If you're looking for something a little more "recent," here are some of the best 80s muscle cars.
1964 Pontiac GTO
Leave it to automotive "outside the box" thinkers Russell Gee, Bill Collins and John DeLorean to be the first to put the biggest engine they had in the lightest body they could build. The '64 model was really a tricked out Tempest Le Mans and there seems to be some confusion regarding the GTO designation. Some say DeLorean named it Grand Turismo Omologata in honor of the Ferrari 250 while others bow to the wisdom that the automotive industry has never been that creative and GTO means Grand Tempest Option.
To most of us the GTO is simply the Goat.
The '64 came standard with a 389 engine w/1 – 4bbl carb rated at 325 horsepower, 3 speed stick with Hurst Shifter (every serious muscle car had to have a Hurst shifter), heavy-duty clutch, heavy-duty springs, shocks, stabilizer bar, special 7.5 x 14 red-line tires (rayon cord whitewalls optional at no extra cost) and 14 x 6JK wide-rim wheels. There were a ton of performance options including a modified 389 engine that could produce 348 hp. Performance wise the Goat went 0 to 60 in 6.6 seconds and the standing quarter mile in 14.8 seconds.
Shelby Cobra 427 Super Snake
Okay this one has the sleek good looks of a sports car and that definitely wasn't the trend for the rest of the competition but Carrol Shelby wanted the fastest and meanest car on the road so he basically took a race car and made it street legal.
The Cobra 427 Super Snake came equipped with a 427 cu. in. Shelby V8 engine and two Paxton superchargers that brought the output to 800 hp (yes 800) and 462 lb-ft of metal twisting torque. It did the 0 to 60 in 4.5 seconds, quarter mile in 12.4 seconds and had a top speed of 165 mph.
There are a lot of counterfeits prowling the road today thanks to a slug of kit manufacturers but the last of the original 427's sold at auction in 2015 for $5.1 million.
1968 Dodge Charger R/T
Who doesn't like the Charger? It just looks street mean and the '68 introduced the concealed headlights giving the front end a sinister look. This model also went with a semi-fastback design including a sloping tail adorned with "bumblebee scat" striping.
Engines? Take your choice of the 318 w/ 230hp, the 383 w/ 335hp, the 440 w/ 375hp and the 426 Hemi w/425hp. There were faster cars but for overall appearance and cool factor the Charger R/T couldn't be topped. While a little over 200,000 Chargers were produced in 1968 only 17,000 of the R/Ts hit the street, two of which co-starred with the '68 Mustang in Bullitt!
It is a bad, bad ride!
1968 Plymouth Road Runner
Plymouth noticed a trend among the muscle car market that they felt they could take advantage of. The original draw for this breed of car was high performance and affordability. The trend however was going away from stripped down models and towards more conventional amenities; the GTO was becoming downright luxurious.
So the marketing folks at Plymouth believed that if they put a new car on the street that was true to the original concept they could sell some cars. To distinguish their ride from the rest of the pack, they paid Warner Brothers $50,000 to use the name of a popular cartoon character and another $10,000 developing a "beep-beep" horn. The Plymouth Road Runner was born.
Actually the Road Runner was a stripped down Plymouth Belvidere. Everything that enhanced performance was upgraded and everything that didn't got tossed right down to the carpeting on the floor. The standard engine was a 383 cu. in. V8 rated at 335 hp and 425 lb-ft of torque but for an extra $700 Plymouth would drop in a 426 cu. in. Hemi rated at 425 hp. That Hemi could do 0 to 60 in 5.3 seconds and the quarter mile in 13.5 seconds. Talk about an upgrade.
A 4 speed Hurst Shifter was standard with an optional 3 speed automatic available. Speaking of optional, all those things Plymouth left off saving weight and cost could be added back in…as options. The base unit MSRP was $3034…cheap thrills indeed.
1970 Chevy Chevelle SS
When you think Chevy muscle cars you probably conjure up an image of a Camaro, particularly the 69 ZL1 that had the huge drag strip engine. However there were only 50 of those built, they cost a fortune and they were never meant for street driving so we disqualify the Camaro and replace it with the Chevelle SS.
Originally introduced in 1964 the Chevelle was a so-so performer in the muscle market until Chevy got the go ahead from GM to produce an engine bigger than 400 cu. in. In the 1970 model the Chevelle sported an optional 454 cu. in. big-block V8 that generated 450 hp and 500 lb-ft of torque making it the most powerful Chevelle ever. Performance wise this ride did 0 to 60 in 5.8 seconds and the quarter mile in 13.1 seconds.
And this car was a looker as well. Nobody was going to miss those bold twin racing stripes and aggressive stance. The Chevelle listed for $3222 and is arguably the most collected muscle car today. If you are in the market bring about $55,000 when you visit your favorite classic car dealer.
There were obviously other cars that we have not mentioned that did well in this niche but we feel these five are examples of what drove the market. If you are a fan of the muscle era there are a surprising number of these 50+ year old cars still in street condition and it's always a thrill to see one on the road.