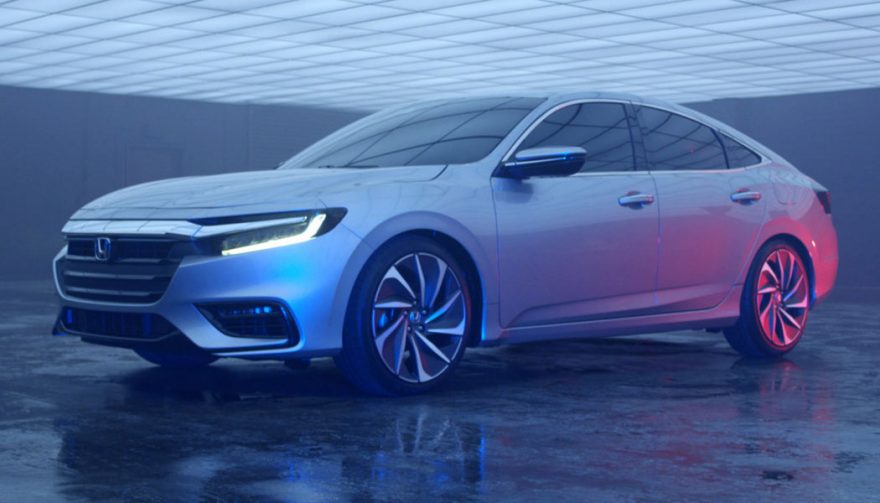 The hybrid Honda Insight has been re-imagined as a five-passenger sedan
Honda Insight Making a Comeback as an Upscale Sedan
Ahead of the all-new 2019 model year, the Honda Insight Prototype will make its debut at the 2018 North American International Auto Show in January.
The revived Honda Insight is a complete visual departure from its past incarnations. The 2019 Honda Insight will exist "as an upscale, stylish five-passenger sedan positioned above the Civic in Honda's passenger car lineup," according to a release from Honda.
"With its sophisticated styling, dynamic stance, ample interior space and best-in-class performance, the all-new Insight embodies Honda's approach to creating electrified vehicles without the typical tradeoffs," said Henio Arcangeli, Jr., senior VP of Automobile Sales and general manager of the Honda Division, American Honda Motor Co., Inc.
"You won't have to be an electrification advocate to appreciate the new Insight – it's a great car in its own right, independent of what's happening under the hood."
What that means is the Honda Insight will be an electrified vehicle, but it won't look like one. Previously with their visual cues, the Honda Insight was unmistakably a hybrid automobile.
Third Time a Charm?
Honda introduced the Insight in 1999 as a three-door, two-passenger hatchback, following the introduction of the Toyota Prius. It was the "most fuel-efficient EPA certified gasoline-fueled vehicle," according to a release. It had a highway rating of 70 mpg, and utilized Honda's Integrated Motor Assist (IMA) hybrid system.
After Honda discontinued the first generation Insight, the nameplate was resurrected in 2009 as a five-door, five-passenger hatch. It offered increased space and utility, while continuing to use the IMA hybrid system.
Unlike the previous generations, a two-motor hybrid system will power the all new Honda Insight.
Honda will manufacture the all new Honda Insight at their Greensburg, Indiana plant, alongside the Civic and CV-R.
The Japanese automaker hasn't released any pricing or fuel economy figures yet. However in the release the company said the new Honda Insight will be "competitive with other compact hybrid models."
Honda says the new Insight will appear nationwide at dealerships early next year.  As will the Honda Clarity series and the all-new 2018 Honda Accord