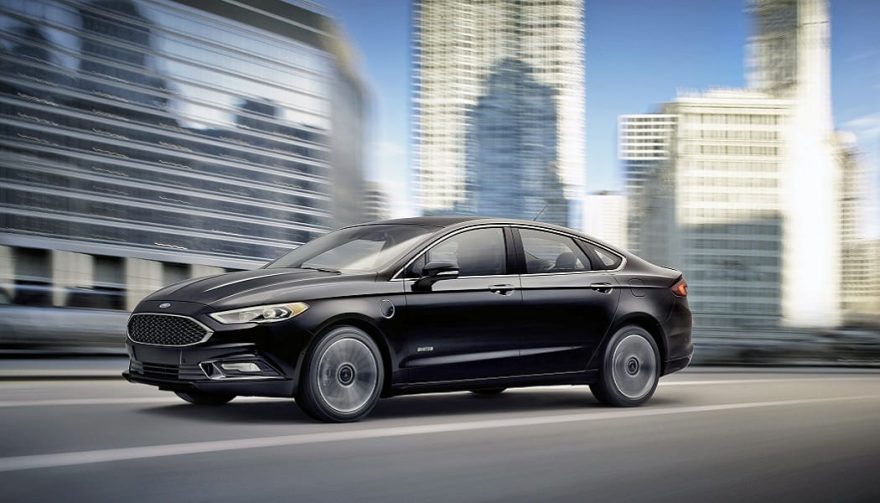 The new Ford Fusion Energi has a 500-mile range using a combination of electric and gas power.
Ford Ponies Up $4.5 Billion to Build Electric Cars
Future Ford electric cars just got a big jolt. Ford CEO Mark Fields announced that the company is committed to making its largest investment ever in electric vehicles.
The $4.5 billion initiative touts an impressive goal of delivering 13 electrified models to the market over the next five years. As an interim objective, Ford is shooting for 40 percent of its nameplates having some electrified components by 2020.
Swapping out the principal method of propulsion is a very big deal for a car maker. Corporate leadership has to believe that there is a big upside to put so much capital at risk. The Ford team thinks there is a huge upside both domestically and globally.
Even with talk of the EPA relaxing air quality standards, consumer demand is for clean operations and low fuel costs. Electric vehicles fit the bill.
In Europe, you either meet the emission standards or you don't drive. In China, the world's largest automobile market, the rules aren't quite as Draconian, but they are still strict.
But there is more to it than emission laws. The company won't put much of an emphasis around designing new models as new features become available. Instead, Ford wants to change the way customers experience a product. Further, they want to change the relationship drivers have with their vehicles. More on that in a bit.
Changing Perceptions of Ford Electric Cars
Charging time and a limited range have been the two limiting factors for hybrids and EVs. Ford electric cars like the 2014 Ford Fusion hybrid had a recharging time of two and half hours. The electric only range was a measly 19 miles. If you had a commute of more than 20 miles, you couldn't take advantage of the Fusion's 100 MPGe.
You May Also Enjoy:
Ford to Increase Fuel Savings with Auto Stop-Start in F150s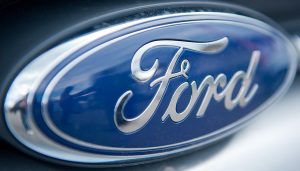 Related Search Topics (Ads)
Today however, the new Fusion Energi model recharges in just 30 minutes and can go 100 miles on a single charge. It has a gas engine back up, too. The best of both worlds, the Ford plug-in lets you drive like an electric vehicle for short trips and a hybrid for long ones. It's one of the bestselling electric cars of all time.
Advances like these change the perception of Ford electric cars, and electrified cars as a whole. Ford's advanced charging system is going to lead their reinvigorated move into the electrified market.
Ford is counting on the plug-in to be the big draw, at least in the short term. They'll be looking to build upon traditional hybrids, diesel-fuel powertrains, EcoBoost technology and battery-electric propulsion in the future. Production of a hybrid Ford Mustang has already been planned for 2020.
Last year was a great year for electric vehicle sales which grew 30 percent over 2015. The upward trend seems to indicate that successful electrified cars will be in two camps. They will either be a hybrid that takes range anxiety out of the equation or long-range full electric vehicles, like a Tesla. Short range all-electric cars, even something as slick as the BMW i3, don't sell nearly as well.
Ford is going all-in with the plug-in hybrid. They will be marketing the Fusion Energi to North America and Europe. The Mondeo (European Fusion badge) and C-MAX Energi will be touted in China.
What's Driving Ford's Move to Electric?
Oddly enough, strict emission laws are not the primary reasons for Ford's interest in the electric vehicle. It's the consumer's advanced interest in clean, efficient transportation that is.
And how did Ford determine what the consumer wanted? They didn't use surveys or focus groups or other traditional research methods. Ford came to its conclusion by "observing" consumers, especially how they interacted with their vehicles.
Seriously, they have over 3,000 hours of video and 25,000 photos of vehicle users and their cars.
While that might sound a bit creepy, rest assured it was all consensual and part of an ongoing study of the customer experience.
So What Does That Mean?
It means Ford is embracing views from many different disciplines. Anthropology, journalism, social science, design – it's all informing their decisions.
Ford has tapped ReD Associates, a social science-based strategy consultancy to lead the charge in this new direction.
"For 70 years, market research has been done by asking people for their opinion. But
Ford has always been fundamentally skeptical about that," ReD founder and CEO Christian Madsbjerg said. "I chose to work with Ford because this approach is in their DNA and is setting the company at the forefront of this advanced and bold process, which is redefining market research and silo-busting the way the company operates."
"The idea is not to be the company that comes out with the newest technology but to be the company who best organizes technology in a way that most excites and delights people," said Raj Nair, executive vice president, Product Development. "By observing consumers, we can better understand which features and strengths users truly use and value and create even better experiences for them going forward."
A Thumbs Up for Electric
Based on Ford's historic investment, we are guessing that their research finds that consumers are loving electric cars. While Ford electric cars like the C-Max and Fusion Energi will be the plug-ins that Ford will count on, keep your eye on the Focus Electric and its battle with the forthcoming all electric Chevy Bolt.
Anyway you cut it, sparks will fly in the Ford electric cars segment.