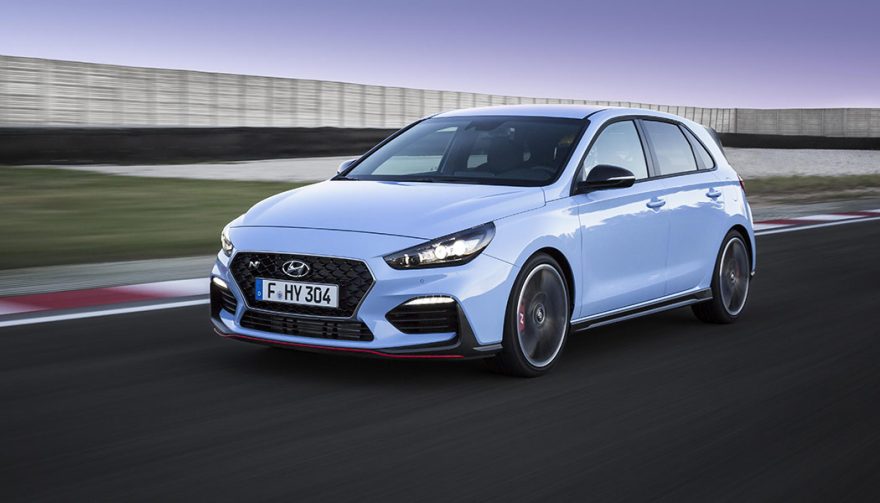 The i30 is the first to get the high performance treatment from the new Hyundai N division
Hyundai i30N: Korean Automaker Tries Its Hand with a Hot Hatch
Usually, when car enthusiasts talk about hot hatches, Hyundai doesn't come up. Sure, the Elantra GT isn't a bad little car, but a pocket rocket it is not. The new Hyundai i30N should be changing that perception.
If you're not familiar with Hyundai's N division, that's because it's new. The i30 is the first vehicle to get the N-treatment. And if you don't have the i30 in your home market, not the almost identical Elantra GT, you won't be getting the hopped-up version of the car, either. Sorry to be the bearer of bad news.
How It Looks
You could easily apply the term "sleeper" to the Hyundai i30N. It looks almost identical to a regular i30, save a few small differences in a subtle body kit. The average driver wouldn't think anything was unusual about the car, which can be a refreshing thing. After all, try just driving a Subaru STI around the city, and you'll have all kinds of people trying to race you.
The big giveaway that this isn't your average i30N is the big "N" badge on the front grille. It also wears calipers with the same insignia. Other than the small styling details, the thing looks about as innocuous as any economy car.
Numbers Behind the Car
While the car might look harmless, what's under the hood isn't. Hyundai's N division stuffs a 2.0-liter turbocharged four-cylinder engine in there. It produces a pretty solid 271 horsepower and 260 lb-ft of torque. Just as impressive is the fact that the engine mates up with a six-speed manual transmission, proving this is a true enthusiast car.
One of the most impressive stats is the 150-mph top speed. That's fast for such a small, four-cylinder car. It does 0-62 mph in 6.4 seconds, which is all right. If you add the optional Performance Package, that time goes down to 6.1 seconds.
Unfortunately, the i30N is still front-wheel drive. Rear-wheel drive wasn't going to happen, but all-wheel drive would've been amazing. Still, you do get an electronic limited-slip differential.
Other performance electronics include launch control, automatic rev-matching, variable exhaust, adaptive dampers and five different drive mode settings. The drive mode settings affect everything from steering sensitivity to damper rates and throttle response. The auto rev-matching feature can be adjusted to your preferences using a button on the steering wheel, which is a nice addition.
To help you stop the Hyundai i30N in short order, 18-inch front rotors and 17-inch rear rotors come with the Performance Package. Thankfully, larger intakes in the front fascia channel air to help prevent brake fade – a real concern when you're doing track runs.
The interior gets some special N treatments. Among them are sport seats, which are like the regular seats, but with larger bolsters. That should be helpful as you whip through turns on the road or track.
Hyundai's N division likes to brag about all the time it spent driving this new car on the Nurburgring. Engineers and test drivers racked up over 6,000 miles on the Green Hell, fine-tuning everything from steering to suspension damping settings.
Before you write the i30n off as a weak attempt by the Koreans at building a performance vehicle, consider the following. Hyundai has been a participant in the ADAC 24-hours endurance race. That takes place on the Nurburgring, so they know that punishing track well. Hyundai is also a competitive participant in the WRC. That alone ups its hot hatch street cred.
How It Should Drive
I haven't driven the Hyundai i30N – few have at this point. That makes the car admittedly an unknown factor. With the accumulating information about its performance, it sounds like Hyundai N has tuned it for corner carving. Even though most front-wheel-drive vehicles don't attack apexes with high precision, at least not from start to finish, this car sounds like it should be up to the task. Think of it as a great option for Autocross.
The acceleration times are decent, but nothing to be blown away by. In other words, it's a reasonably quick vehicle that should be well-suited to curvy tracks or roads. You'll be able to really shine on track days with precision driving.
Hot hatches in general aren't known for their prowess on the drag strip, so this new additional from Hyundai stays true to the market segment.
Videos Hyundai's released confirms that the exhaust note is incredibly aggressive. It's not raspy, but instead has a surprisingly deep quality. To say it's better than what the GTI puts out is true. Sorry, Volkswagen.
This should help keep the hot hatch segment competitive. In real-world driving, you should still enjoy decent fuel economy, making for a practical performance vehicle.
If you want to drive a Hyundai N vehicle, and you live in a non-i30 market, you'll need to wait for the Veloster N. If it's anything like this car, it will finally back up the sporty design that's fooled many into thinking the Veloster is a hot hatch.