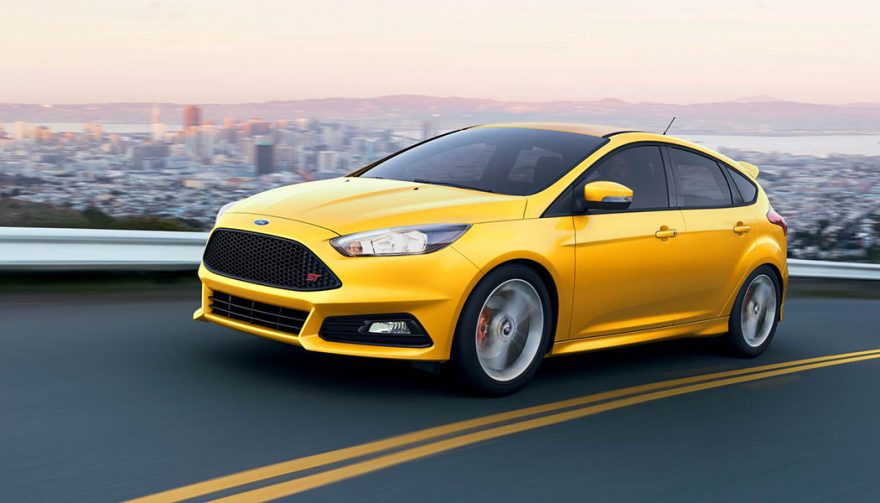 The Ford Focus ST gets a 252-horsepower 2-liter turbo four-cylinder engine.
Ford Focus ST: This Hot Hatch Can Cure a Boring Commute
The hot hatch segment is a sensible, wholesome and compelling genre where priorities include utility, family-readiness and performance to spare. Numerous models are available to answer the call of those after an every-day friendly hot-hatch driving experience, including the long-lived VW GTI, various models from Mini, the Hyundai Veloster, and the subject of this story, the Ford Focus ST.
And though the Ford Focus ST lives somewhat in the shadow of its hot-rod brother, the extreme-performance Focus RS, it's (much) lower price, excellent livability and huge entertainment value make it an excellent pick nonetheless. It's definitely one of better affordable sports cars out there.
Exterior
The exterior of the Ford Focus ST is all about discreet sportiness. A unique grille and badging, up-sized wheels, side-sill extensions and a single center-exit exhaust outlet all hint at the elevated performance.
In all, styling is sports-hatch satisfying, but modest enough to slip right past that potentially apprehensive significant other, and into your driveway without a second glance.
Interior
Hop inside of the Focus ST, and its largest downfall spreads out around you. The interior is comfortable and as spacious as expected in all dimensions. However many of the controls and the overall visual styling theme looks dated. It lags behind numerous newer, fresher competitors.
Discreet upgrades include carbon fiber trim, a chunky sports steering wheel and metal pedals. There's also a performance gauge mounted to the top of the dash. It has readouts for various pressures including turbo boost and fluid temperatures. All must-have hot-hatch upgrades are present, but the dated cabin lets the experience down a measure.
The Recaro seats are notable. They're extremely grippy, heavily bolstered, and resemble the sort of seating typically found in six-figure posh-rockets. If you're wider or bigger than average, you may find the seats too constraining. Shoppers are advised to confirm that they'll fit comfortably into these aggressive seats before purchase. If you do, you'll find them fantastic.
You May Also Enjoy:
What You Need to Know About the 2017 Ford GT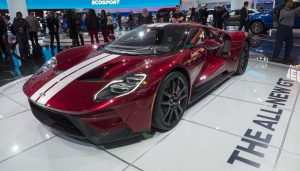 Related Search Topics (Ads)
Finally, the latest version of Ford Sync, complete with Android Auto, was also included. The new SYNC system is more logical to use, faster to boot, far quicker to respond, and, surprisingly, didn't crash even once on my test-drive.
Under the Hood
One of Ford Focus ST's strongest assets lives under the hood. The 252-horsepower 2-liter turbo four-cylinder engine is a treat. The boost hits hard after a split-second of compressor lag, and the ST gets to firing along with a thick and meaty torque surge, even from low revs.
An induction sound enhancer pipes the intake tone from the engine into the cabin via a special duct, slathering the cockpit with a reedy snarl. Open it up, and power comes on strong and early, stays on strong through each gear, and serenades occupants with great sound effects all the while.
The six-speed manual transmission is another asset. Shift action is fairly light, but the heavy shifter knob adds mass and precision. Most will find the throws average in length, but the lack of much resistance in the mechanism means the next gear is always within striking distance, easily accessible with minimal arm-work. The For Focus ST is a joy to shift fast, and the clutch is grabby and springy and communicative.
Drivers keen on heel and toe shifting may have to consider their choice of footwear though. Pedal placement is slightly awkward, and fancy footwork may be difficult to execute properly, at first.
On the (Winding) Road
The Ford Focus ST is expert at quickly shredding corners with delightfully little effort. The steering writes checks that the chassis can cash. Drive it like your face is on fire, and the steering clamps on, fast and sharp, with a taut suspension that feels set perfectly against it. It responds with an above-average level of instaneousness to your inputs, and rarely feels like it's struggling to manage its weight and mass.
Drivers can expect proper sports-car reflexes, from a machine that feels genuinely happy to be pushed as hard as you'd like.
Don't miss the trick torque-vectoring system, which helps the Ford Focus ST mischievously squirm, slip and slide around bends.
Elsewhere, brakes match the steering and handling with sports-car precision. They shut the Ford Focus ST down in quick order when needed, all without feeling overly sensitive during everyday driving.
In that every day driving, the turning circle proved to be my only major gripe. It's bigger than you'd expect for a smaller car.
Every Day Ready
The  ride quality is another valuable asset. It's on the firm side of comfortable, making the Ford Focus ST feel like a sporty little rocket-hatch that's ready for any situation.
Even rougher in-town roads do little to upset its composure, and it takes a very lousy road indeed to make the suspension feel like it's taking a beating. Here's a car with handling that'll make you snicker, but without a ride that bashes your spine to kingdom come.
Conclusion
The Ford Focus ST impresses initially, and mostly, as a properly set up hot-hatch with numerous attributes that are easy to appreciate daily. A great-sounding and punchy engine teamed with a great gearbox, and a high-precision feel to the steering, handling and brakes connect well with the driving enthusiast. And then excellent relative fuel mileage and ride quality make it easy to live with everyday.
Though a dated cabin and hefty turning circle dull the appeal a measure, Focus ST remains a hot hatch with few weaknesses, and many strengths.