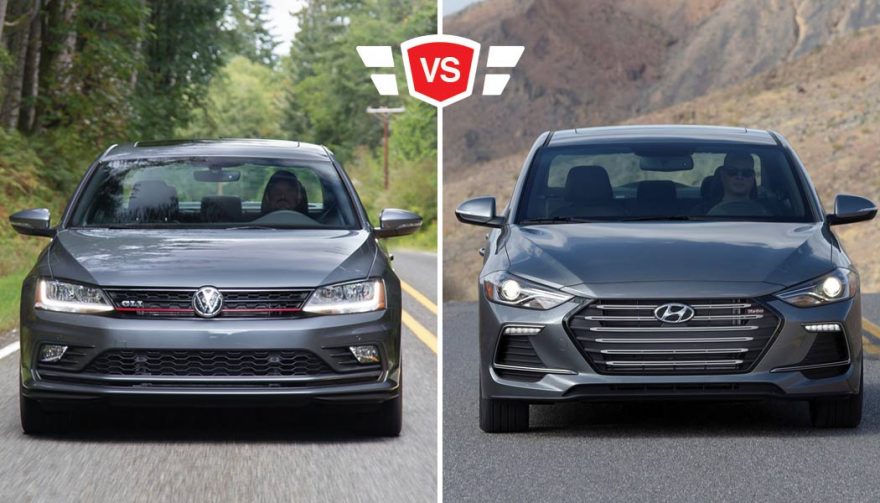 For being a newcomer, the Hyundai Elantra Sport stacks up nicely with the Volkswagen GLI
Compact Sport Sedan Showdown: Volkswagen GLI vs. Elantra Sport
Four-door sedan body, tasteful body kit, turbocharged four-cylinder making just over 200 horsepower, a multi-link suspension not found on the base car, and a choice of six-speed manual or dual-clutch automatic. Oh, and don't forget the red grille trim. What car is that? Until this year, that was the Volkswagen Jetta GLI. But this year there's competition.
Hyundai has entered the game. The Elantra Sport steps into the ring and it nearly matches the Volkswagen Jetta GLI spec for spec.
This is Hyundai's first sports sedan for North America, and it's pointed directly at a model that's been doing sport compact since 1983. Can Hyundai match VW when it comes to features, price and power, but also in driving enjoyment?
Volkswagen Jetta GLI
The newest GLI is based on the sixth generation Volkswagen Jetta. It's an older platform, no longer shared with the VW Golf. That means a few things as far as features go.
To start, while the 2.0-liter turbo-four makes 210 horsepower, it's not the engine from the GTI. It's an older one, shared with the Tiguan. That means that instead of 258 lb-ft of torque over a wide curve, it only has 207. It also lacks the adjustable damping of the GTI. It does get a multi-link independent suspension in the rear, something lesser Jettas are lacking.
Inside, the interior is standard VW fare, but it feels slightly cheaper than the GTI. There is still room for five, with a large trunk.
The gearbox choices are a quick-shifting six-speed manual or a six-speed DSG dual-clutch box. You can't go wrong with either, and the DSG box is quick to react to either your foot or the wheel-mounted paddles. The manual box is more fun, but there isn't a wrong choice.
It's also well equipped. The infotainment system comes with navigation, Apple CarPlay, Android Auto and a Fender audio system. You get dual-zone climate control, and the seats are leather and heated. What you don't get are more advanced active safety features like radar cruise control and lane guidance.
You May Also Enjoy:
Revitalized 2017 Hyundai Elantra Sport Not Just New – It's Better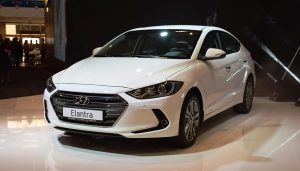 Related Search Topics (Ads)
The GLI drives like a GLI should. Steering feel is excellent, there is lots of power at almost any RPM, and the single mode suspension is well damped everywhere. It might not be stiff enough for track days, but that's not a bad thing. It rides extremely well, with only the most cratered pavement unsettling the chassis.
2017 Hyundai Elantra Sport
Hyundai took their latest Elantra, which was new just last year, and added all the sporty cues. Aggressive dual-outlet exhaust, side sills, red trim highlights inside and out, flat-bottom steering wheel, and big seat bolsters with impossible-to-miss Sport embroidery. But unlike past Elantra Sport models, where the only nod to sportiness was the sticker on the trunk lid, this one means business.
Hyundai replaced the rear suspension multi-link independent one, as well as increased spring and damping rates in front and rear. The steering ratio is faster, the brakes are bigger, and the transmissions have shorter gears to improve acceleration.
Plus they've upgraded the engine. The Elantra Sport has a 1.6-liter turbo-four that makes 201 horsepower and 195 lb-ft of torque. It feels quicker than the GLI, even though it has slightly less power.
Hyundai will let you have your Sport in automatic or manual versions. The manual is a six-speed, and the auto is a seven-speed dual-clutch box. The manual shifts smoothly, but the clutch has absolutely no feel. It's tough to take off smoothly, especially on hills. The dual-clutch box is nearly as quick as the GLI's when you're driving and does a good job of keeping up the sport in the Sport.
Inside, the Elantra has CarPlay and Auto standard, running through a 7.0-inch screen. It has manually adjustable, leather-covered heated front seats, hands-free trunk, and the usual gadgets and gauges. Step up to the premium package for an 8.0-inch screen with navigation and an Infinity stereo, along with dual-zone climate control and a sunroof.
On the Road
Both of these cars are great to drive. They have excellent acceleration, braking and cornering grip. And they both sound great, with Hyundai even claiming the Elantra Sport is the loudest they're allowed to make it (it's not bother-the-neighbors loud though).
Both are well damped, and handle even the harshest bumps without getting out of shape. They're both comfortable in normal driving too. It's a big advance for Hyundai, who has just recently seemed to figure out the last nuances of suspension tuning.
Steering feel is where VW has more experience than Hyundai, and it's where the GLI out shines the Elantra. They both have the right amount of power assist, with a good heavy weight, but while the Elantra Sport feels isolated from what's happening at the pavement, the Volkswagen Jetta GLI lets you know exactly what's going on. It tells you when you're nearing the edge of grip, and it tells you when you've reeled it back in.
And The Winner Is
The Elantra Sport beats the Volkswagen Jetta GLI in the powertrain department, but falls slightly behind for interior quality and clutch and steering feel. As far as handling and practicality, it's a wash.
But then it's time for a look at the price tag. The Elantra Sport, even with the premium pack, is nearly $4,000 less than the GLI. And that's a hard number to ignore. The Elantra Sport wins for being 98 percent as good for 80 percent of the price.