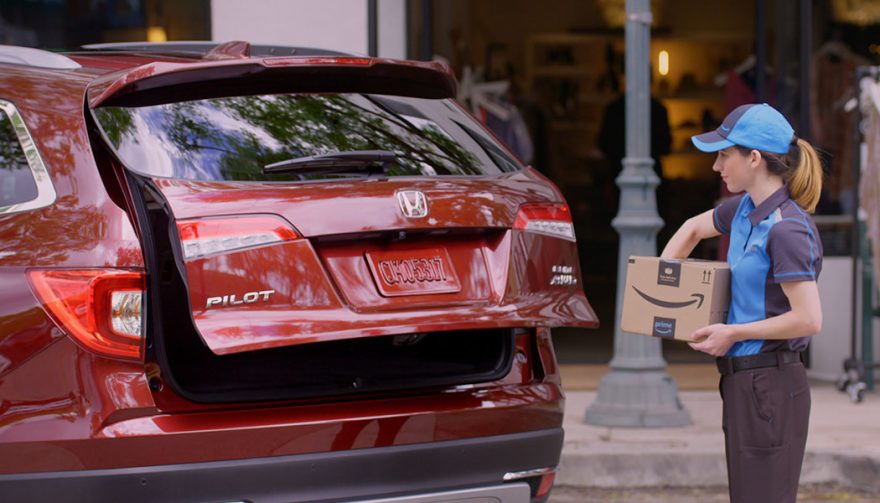 Today's connected cars open doors you never though possible. In this case, your car door. Key by Amazon delivers packages to your trunk.
Get Amazon to Your Honda or Acura with Key by Amazon Delivery
Honda and Acura have just announced that they will be adding Key by Amazon to select models. That means that customers with Amazon Prime can have their Amazon packages delivered directly to their car or crossover. It's a new option that's been expanding to more automakers as connected car technology grows and gains new applications.
The Key by Amazon system is available now starting with the 2019 and 2020 Acura RDX models. It requires the owner to have an Amazon Prime subscription as well as the AcuraLink connected vehicle service. The newest AcuraLink system debuted with that RDX. It will also become available soon to owners of select trims of various Honda models as well. That includes the Accord and Accord Hybrid, as well as the Insight sedan. The feature will also be available on the Honda Passport and Pilot SUVs, and if you need maximum parcel capacity, the Odyssey minivan.
How it Works
To use the system, owners need to download the Key by Amazon app on their smartphones. Then log in to their Amazon account. Users then choose the make, model, and year of their vehicle. The app connects to the HondaLink or AcuraLink connected car system and opens up in-car delivery as an option at checkout.
Drivers are given a delivery day and are directed to park within two blocks of their selected delivery address. Amazon uses the car-link app to find out where exactly your car is. Then it gives the GPS location to the delivery driver. Once the delivery driver arrives at the vehicle, they're able to unlock the vehicle, put the package inside, and then relock it.
The Key by Amazon app is an alternative to outlet or Amazon locker delivery for shoppers who aren't able to pick up parcels. Get it delivered to your parking lot at work, to the car that's staying home for the day, or wherever you're expecting to be on a particular day. So you don't need to make sure your car is stationary all day, the system gives you a four-hour delivery window. And a notification as to when you're next up. There are also geographic limits and limits for packages that need signatures. Or are overweight or oversized.
Honda and Acura aren't the first automakers to add Key by Amazon delivery. Ford and Lincoln owners who have Ford Connect or Lincoln Way enabled cars are eligible, as are drivers using Volvo On-Call. General Motors boasts that more than seven million Chevrolet, Buick, GMC, and Cadillac owners are able to take advantage of the service, which is now available in more than 37 US cities. Letting you get car parts (or whatever else you order) delivered right to your car. Getting fresh oil or a new air freshener delivered directly to your trunk sounds like a pretty cool idea.