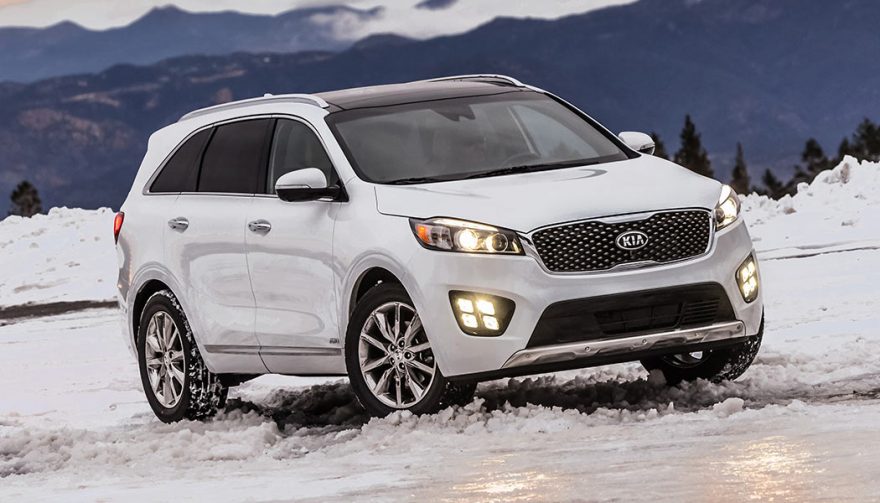 If you're interested in trail-worthiness and don't need a third row, the Kia Sorento may be an option for you.
Kia Sorento: Much Better Than You Might Imagine
At first glance, the 2017 Kia Sorento isn't a bad-looking vehicle. Even as you walk up close to it and begin inspecting the many details, it's every bit as nice as many competing midsize crossovers. Remove the badge, and quite a few people who currently eschew the Kia brand would likely be impressed by the presentation.
Made for Trails?
Kia tries to position the Sorento as a vehicle that's perfect for striking out in the world in search of adventure. Living in the Intermountain West, I immediately think of at least fairly decent off-roading. There is, I suppose, another form of adventure you can seek out in urbanized environments, but let's face it: SUVs (and arguably some crossovers) were built to take you out into nature, leaving civilization behind.
Does the Kia Sorento fit this profile? Looking at it from an enthusiast perspective, it's far too tall and heavy to be a blast whipping through turns or even accelerating hard to merge with freeway traffic. I should know, because I drive an SUV loaded with kids and dogs all the time, and it certainly isn't a thrilling vehicle. The reason I have it is so I can get up snow-packed canyon roads to hit the ski slopes in the winter, or cross some reasonably rugged terrain when visiting Moab in the summer.
Performance Chops
Fortunately, the Kia Sorento offers three different engine options for 2017: a 2.4-liter four-banger which squeezes out 185 horsepower, a turbocharged 2.0-liter good for a more decent 240 horsepower, and a 3.3-liter V-6 which produces 290 horsepower. The turbo option feels sportier, but it lacks low-end torque, plus you can't get the optional third row unless you go with the V-6.
If you plan on towing, the V-6 is the engine for you. With front-wheel drive and the right setup, the vehicle can pull up to 3,500 pounds. Adding all-wheel drive boosts that figure to 5,000 pounds, which is enough for taking along some decent toys for weekend play, but not enough to tow your track car in a trailer.
Not surprisingly, only an automatic transmission with six speeds is standard, as is front-wheel drive. You can get all-wheel drive, which is advisable if you live where it snows or you plan on ever leaving the safety of pavement. The AWD is designed to have a front-wheel bias, and in my opinion that contributes to the rather uninspiring handling that the average person would love, but enthusiasts will find… uninspiring. Admittedly, it's still a big improvement over the previous generation of the Sorento. When the going gets tough, there is a differential lock mode that divides the torque evenly between the two axles, but you won't want to drive around like that all the time.
You May Also Enjoy:
2017 Kia Forte Review: It's an Effective Facelift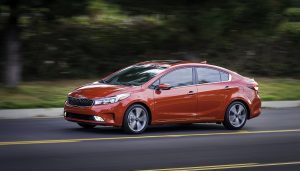 An area where the Sorento really shines is how it sits on the road. The crossover actually feels pretty substantial. Steering is heftier than in past iterations of the Sorento, or in other Kias for that matter. Considering the interior is incredibly quiet at freeway speeds, it's apparent that this composure is from a more durable chassis design, which Kia says uses over twice as much high-strength steel compared to the previous generation. At the same time, the crossover has shed a little bit of curb weight to help with efficiency, so that's a win-win.
With 7.3 inches of ground clearance, you might be tempted to take the Kia Sorento on some fairly challenging trails. Just don't. The AWD system isn't designed for that kind of duty, plus a lack of skid plates can spell big trouble. Still, on rutted dirt roads and in non-extreme snow depths, it does well enough.
Interior Quality
Like other redesigned Kias, the Sorento has a surprisingly good interior. Fit and finish is great for a mainstream vehicle, and many of the designs work well. The front seats are incredibly comfortable and supportive, far surpassing what you get in a Toyota Highlander or Honda Pilot. Unfortunately, the second-row seats sit low enough to the floorboards that taller passengers will quickly feel uncomfortable, and padding is on the light side, making them miserable for long trips. As for the optional third row, legroom is too tight for taller adults, or even teens who aren't exactly short.
You can get all of the modern bells and whistles, if that's important to you. These include driver-assistance technologies like an advanced smart cruise control, which automatically slows with the traffic flow and can even bring the vehicle to a complete stop, resuming acceleration automatically as things start flowing again; blind spot monitoring for warning about other vehicles hiding at the rear corners of the crossover; and a surround view monitor, which is handy, considering rearward visibility can be a little tricky.
A remote tailgate release is available, something many competing crossovers offer. Instead of having to wave a foot under the bumper or perform some other ridiculous maneuver, the system just detects when the proximity key is near the rear bumper and just opens the tailgate. That could make standing behind the vehicle with the key on you interesting, which is one advantage of setups that detect motion under the bumper.
Don't expect loads of cargo space with the optional third row. It's better than the laughable space in the previous generation of the Sorento, but you still might be hard-pressed to fit large grocery sacks or decent-sized luggage. One of the best options, in my opinion, is the Clari-Fi and Infinity surround sound system, which includes ten speakers and sounds clearer than most people's home audio setup. While  the UVO infotainment system might be a big deal for many, one of the best features I found is the parental controls function, which could be super useful once your teens start driving.
Wrapping Up The Kia Sorento
One of the big factors on the Kia Sorento's side is price. Most competitors are several thousand dollars more. If you aren't badge-obsessed and are willing to give the Korean brand a try, it could be a good option to consider. Just remember you're not getting a performance vehicle in any respect, so don't expect to be thrilled by every last moment you spend behind the wheel. If you're interested in trail-worthiness and don't need a third row, you might want to pay out the extra cash for a Toyota 4Runner or Jeep Grand Cherokee. Otherwise the Sorento is a pretty good option.