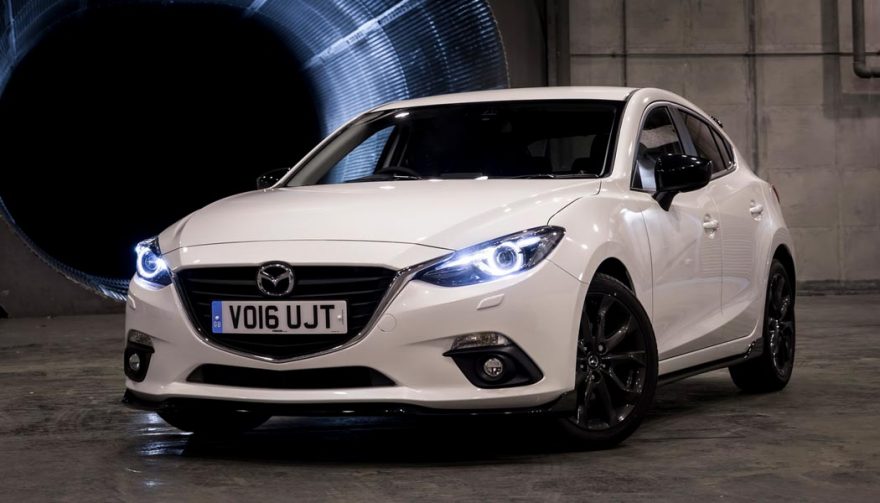 With aggressively styled exterior, and handsome and modern interior, Mazda3 tops the coolest new cars list for the third year in a row.
Mazda3 Tops KBB Coolest New Cars List Yet Again
For the third year in a row, the top spot on Kelley Blue Book's list of Coolest New Cars under $18,000 belongs to the Mazda3. The list proves that sporty and stylish can co-exist in a competitively priced market and the Mazda3 is a shining example.
What makes a car cool? I'm glad you asked. The defining characteristics of a cool car are very much a matter of personal taste and the Kelley Blue Book editors are the first to admit it. Their primary factors are strictly about enjoying the vehicle – it has to be fun to drive and fun to own.
The Mazda3 exemplifies those criteria quite well. It's aggressively styled exterior, handsome and modern interior, and its incredible load of base-model features are why it so fun to own. Its sporty and responsive handling, smooth steering, and quiet cabin make it fun to drive. 155 horsepower doesn't hurt either.
If you're wondering how it stacks up to other compact cars, see a side-by-side comparison of the Chevrolet Cruze vs. Mazda3.
Mazda3 comes standard with Bluetooth hands-free and audio streaming for your connectivity. For you listening pleasure, feast your eyes and ears on the Mazda CONNECT infotainment system. Also standard on the base model Mazda3 i Sport is push button start, remote keyless entry, and a rearview camera.
Kelley Blue Book's 10 Coolest New Cars Under $18,000 list is cars that are actually sold for less than $18,000 according to their own valuation tool, the Fair Market Range. It tells a consumer what they should expect to actually pay for a vehicle after negotiation in their particular market or location.
"Cool sure has come a long way. Our annual Coolest New Cars Under $18,000 is one of Kelley Blue Book's longest-running lists, and it's incredible to see all of the amazing tech features and amenities you can get on an affordable car these days compared to a decade ago," said Jack R. Nerad, executive editorial director and executive market analyst for Kelley Blue Book. "In our eyes, the combination of cool and affordable doesn't get better than the Mazda3, which has been on the list every year since it debuted and snagged the top spot for three years running. Gorgeous and sporty outside as well as inside, the Mazda3 backs it all up with fun-focused driving dynamics with praiseworthy fuel efficiency."
Here's the complete list of KBB.com's 10 Coolest New Cars Under $18,000 of 2016
Mazda3
Honda Civic
Jeep Renegade
Volkswagon Golf
Kia Soul
Hyundai Veloster
Fiat 500
Honda Fit
Ford Fiesta
Chevrolet Sonic