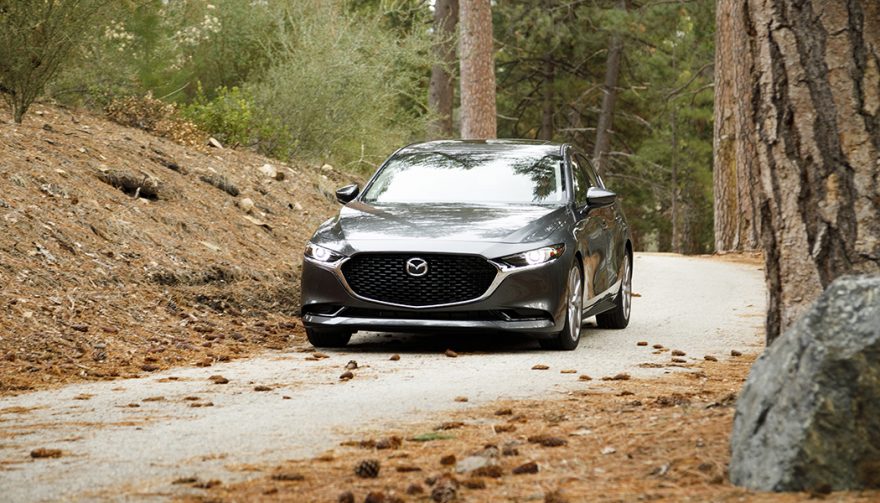 Affordable cars with premium touches. It's what everybody wants, but not every automaker offers. We drive the 2019 Mazda 3, which does this very well
Affordable Luxury: 2019 Mazda 3 GS Review
The smart folks who build affordable cars are throwing everything they can into the mix these days, as part of an intense fight for customer dollars. The cars in the affordable side of the market are becoming smarter, more upscale, more connected, and safer, than ever. Features recently found only in luxury flagships are becoming standard in the most affordable cars on the road. To date, the 2019 Mazda 3 GS is one of the strongest examples of this trend I've come across.
Simply, my 2019 Mazda 3 GS-grade tester, complete with six-speed manual transmission, carried a fairly modest asking price that should leave most drivers feeling like they've spent more. And few drivers wishing for more than a small improvement or two.
The exterior? It's clean and sharp and nicely accented and not overdone. There's a notable lack of unpainted body panelling, so more of what you see is painted, not plastic and cheap. This adds an upscale look, capped off by a bright-but-tasteful chrome-lined grille.
The interior is little short of the segment's
best.
Premium Compact
The leather-wrapped steering wheel feels like
it came from a twice-the-price luxury
car. There's stitching and leather and razor-ribbon metal accenting used to set
off the most meaningful shapes and contours on the forward dash. Most of which
is wrapped in a fake-but-believable leather, the rest made delightfully
soft-and-squishy plastic that's nicer than what you get in a Porsche Cayenne,
at the moment. Even the smartkey looks sharper and more modern than the norm.
To that backdrop, features like adaptive
cruise, push-button start, automatic lights, wipers, brights, and climate
control are deployed for easy, set-it-and-forget-it operation. I also got seat
and steering-wheel heaters, Android Auto, Apple CarPlay, and one-touch up and
down for every window—a feature still missing from some six-figure luxury sedans
today.
Two average-sized adults should find frontal seating quarters to be comfortable in the 2019 Mazda 3. Not too snug, not too roomy. Rear seating can 'just' handle two more average-sized folk, who may need the occasional stop to stretch on longer trips. See the new VW Jetta if loads of rear-seat space are a priority.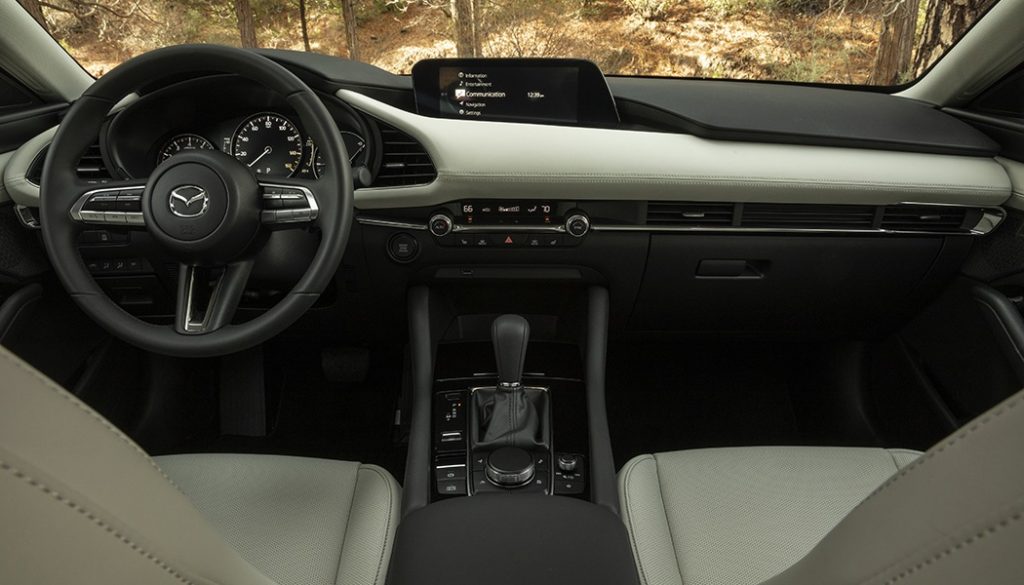 Hauling Large
Trunk space, not surprisingly, should
adequately handle an average complement of luggage for four adults, a good Costco
run, or what have you. It's flat and wide, but the opening is on the short side.
Note that some trim grades don't have a trunk release on the trunk, which is annoying.
Mine was one of them.
With the latest in Mazda's gas-sipping SKYACTIV
tech on duty, my tester proved pleasing to drive, but primarily pleasing for
the mileage.
Behind the Wheel
Motorists concerned mainly with fuel economy will
find the 155 horsepower to be adequate, sufficiently hushed, and pleasingly
responsive when needed. It's smooth at all engine speeds too, and doesn't put
up any fuss whatsoever if you fancy some quality time near the redline.
The fuel tank is small, but so is the fuel
consumption—meaning drivers can expect generous range for a full day of highway
driving, and cheap fill-ups when needed.
The 2019 Mazda 3's GS trim grade makes a great connection with a budget-minded driver after sportiness and technology. The manual transmission keeps the cost down, pleases the enthusiast driver, and proves a joy to use, primarily because it feels like a proper shifter and clutch, not a giant wad of coagulated gravy.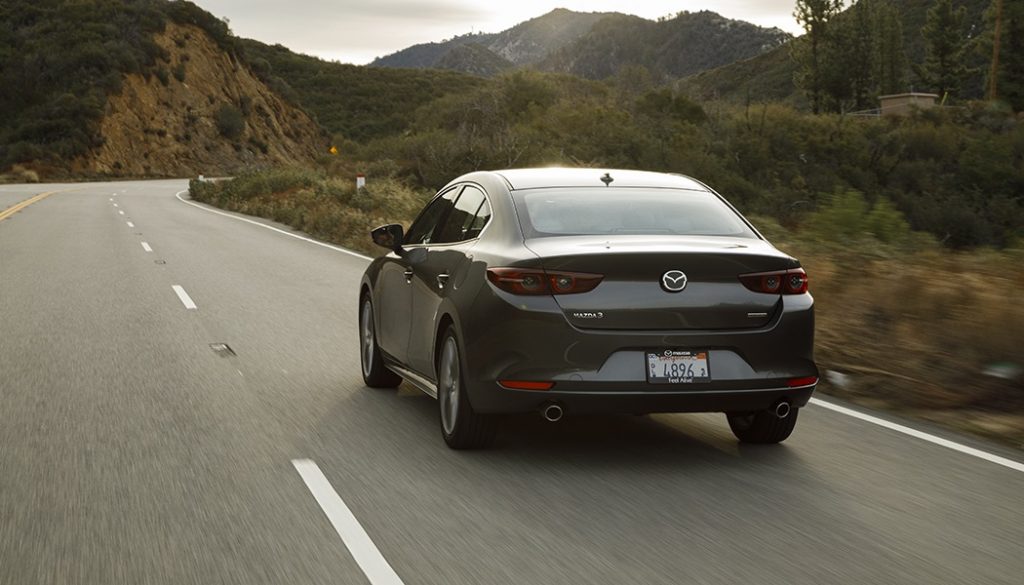 Engineers dialed the suspension in to sit
nicely between sporty and squishy, leaning slightly more towards the 'sporty'
end of the dial. Ride quality is generally good—sturdy, dense, and consistent
on all but the roughest surfaces. Suspension noise is typically minimal, too.
Steering is eager to please and responsive, but
without feeling nervous or twitchy at higher speeds. Most drivers will find ride
comfort levels to land among the segment's best (Impreza, Corolla, Jetta) and
no complaints during more vigorous driving.
Infotaining
Complaints included the central command interface, complete with a dash-mounted screen, controlled in part by a console-mounted dial. It's easy to learn, but not as straightforward as a good touch-screen system. The latest Smartphone integrations were welcomed, but the system's other graphics and visuals are average at best.
My other gripe was an adaptive cruise control
system that seemed, at times, startled. Most such systems operate with a gentle
and pre-calculated smoothness as they automatically adjust your speed against
the current traffic situation, using radar. My tester sometimes lost that
smoothness, occasionally jamming the brakes on as if it was surprised by the
vehicle ahead. Shoppers should try the system for themselves on a test drive
and see what they think.
Still, and for many, the 2019 Mazda 3 GS will make one of the most compelling arguments for your dollars in the segment today, especially if features, mileage, and an upscale look and drive are at the top of your wish-list.