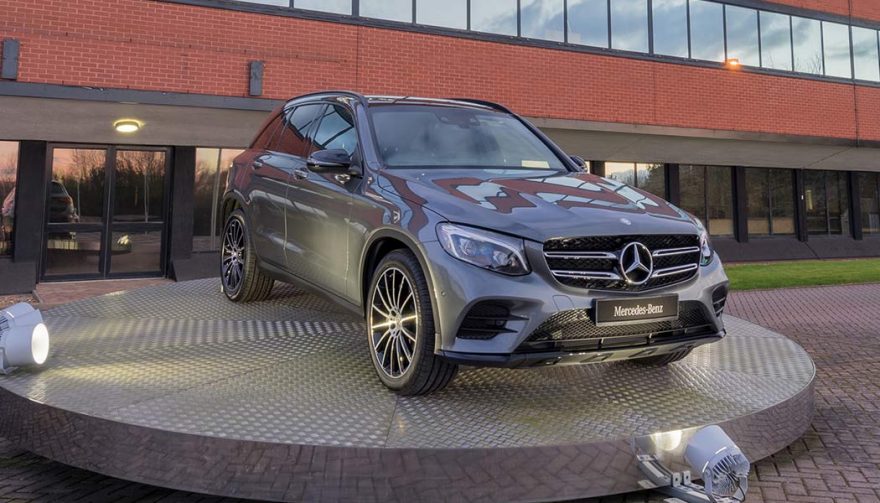 The Mercedes-AMG GLC43 is a small yet sexy package with sharp lines but carrying cojones under the hood to leave you trembling.
Mercedes-AMG GLC43 Coming This Fall
Mercedes-Benz, perhaps the world's most well-known luxury car brand, has adorned the compact SUV market with an AMG version of their GLC300 known as the GLC43.
If you wanted a premium compact SUV that gave you heart palpitations based on its performance, you used to entertain the Audi SQ5 or the Porsche Macan. Now, the choices include the 3.0-liter biturbo Mercedes-AMG GLC43, a rival that will receive much attention from operators of the other premium compact SUVs.
Mercedes-AMG GLC43 Performance
The numbers are nothing short of amazing. A small yet sexy package with sharp lines but carrying cojones under the hood to leave you trembling. The 3.0-liter power plant pumps out 362 horsepower and is mated to the 9G-TRONIC transmission tuned for incredibly short response times in Sport Plus mode. This Mercedes-AMG GLC43 will rocket from 0-60 miles per hour in only 4.8 seconds, turning grown men into giddy teens behind the wheel.
It's an all-wheel drive offering only, as you'd never be able to control it properly without the 4MATIC all-wheel drive. The difference here is that the AWD system has been tuned to provide 69 percent of its torque to the rear wheels and 31 to the front so you can properly handle the car while using its performance capabilities to the max.
The GLC43 uses AIR BODY CONTROL, an air suspension system that ensures the best stability in cornering and optimal traction even in aggressive acceleration. AMG DYNAMIC SELECT allows the drive the ability to choose an efficient or comfy driving experience up to an overly sporty and spirited one. The touch of a button lets the driver experience manual model with paddle shifters, better acceleration and performance with Sport and Sport Plus modes, or just the most economical drive with ECO mode, where ECO stop/start is used and a sailing function is employed when coasting between 37 and 99 miles per hour.
While the GLC43's performance is sure to draw the most attention, there are some styling changes for the compact Mercedes-AMG. There are gloss-black accents on the grille and mirror caps while the standout accents are the gloss black 20-inch wheels. The front and rear bumper covers are slightly changed for the look of a lower stance.
Expect to see the Mercedes-AMG GLC43 at American Mercedes dealers late in 2016.