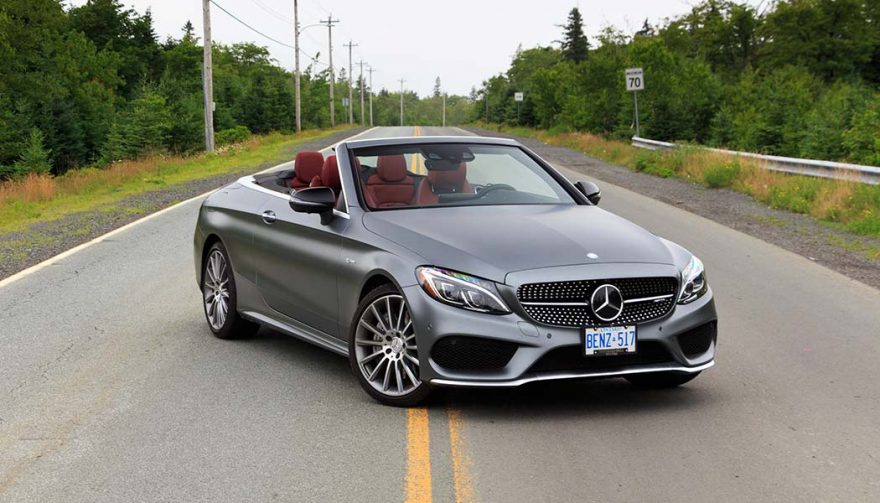 The C43 is one of Mercedes-Benz's new "AMG Lite" vehicles
Mercedes-AMG C43 Cabrio: AMG Lite, Full Flavour
It's one thing to cut the top off of your entry-level coupe. It's a completely different matter altogether to give it one of the greatest exhaust notes around and then let you listen to it in full glory with that top down. But that's exactly what Mercedes has done with the C43 AMG Cabriolet.
The C43 is one of Mercedes-Benz's new "AMG Lite" vehicles. It's not exactly the base engine, and it's not quite the full-fat craziness of the 4.0-liter twin-turbo V8 AMG C63 either. The Mercedes C43 AMG is the middle ground. The one they want you to think is just right.
Under the Hood
So what does it offer? For starters, the engine is a 3.0-liter twin-turbo V6 that produces 362 horsepower and 384-lb-ft of torque. This is a strong engine in a relatively small car, and it pulls hard. This engine has almost no lag, and there is power everywhere in the rpm range. It can propel the all-wheel drive C43 from 0-60 mph in just 4.6 seconds.
Sitting between the engine and the all-wheel drive system is a nine-speed automatic. The quick-shifting box is excellent by the standards of eight- or more speed automatics. It's mostly transparent in operation, but abrupt low-speed throttle changes can catch it out of sorts.
AMG tuned the suspension with lighter and more rigid suspension links. The springs and electronic dampers are also special to the C43. The C43 doesn't get the bulging flares of the C63 bigger brother, but it does have a wider track and 18-inch wheels. Larger 19-inch wheels are available.
The suspension, engine and transmission have four different modes, plus a customizable one that lets the driver pick between engine, suspension and steering settings. There are three stages of damping and steering: Comfort, Sport and Sport-plus. The engine and transmission mapping add Eco to the mix. Mercedes will let you run Sport-plus damping and Eco engine mapping if you want. And I often did.
You May Also Enjoy:
2020 Mercedes-Benz CLA 250 4Matic: Drive Well for Less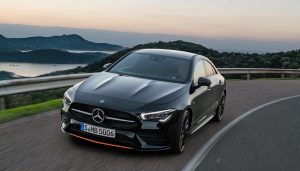 Related Search Topics (Ads)
It rides well, even in Sport-plus mode, although there is some slight shimmy on rough roads with the suspension set firmly. Comfort will let you cruise for hours in just that. It soaks up bumps firmly, without feeling buoyant or vague on the road.
Lots of Options
The C43 gets a different look from lesser C-Class cars. It has a special front bumper with diamond grille and bigger air intakes. It also has different side skirts, rear bumper with those big exhaust pipes, and that big biturbo badge on the fenders.
This car can be loaded to the gills with tens of thousands in options, but there are only a few you really want. The first is the selenite grey Magno paint of my test car. Mercedes offers a surprising palette of colors on this car, but that one is the best.
You've also got options for a 13-speaker Burmester system that never fails to impress, as well as the AMG performance exhaust system. If you can only pick one, make it the exhaust.
The AMG performance exhaust is a throaty sound. Rather than a twin-turbo V6, it sounds like a small-displacement V8. With the top down, there is nothing blocking it from your ears, and I wouldn't have it any other way. Never before have I circled the block just to hear an exhaust.
Open Air Comfort
This an extremely luxurious compact car, with more power seat adjustments than you'll know what to do with. It also has heated and available cooled seats to keep you comfortable with the top up or down.
The C43 AMG has the latest version of the Mercedes air scarf. That's a fan and a heater in the headrest that blows warm air on the back of your neck whenever you want. Combined with the rear wind deflector and excellent wind management, you'll be able to go top down on some surprisingly cool days.
Top up and this is a very quiet car for a convertible. The thick fabric top blocks most wind noise, although there is some noise coming from the seam between the door glass and rear window. The top can power up or down at up to 31 mph and takes just under 20 seconds to do so. The roof mechanism makes for a smaller back seat, and the height of the top makes that seat pretty limited in headroom.
Think of the back seat as more of a larger trunk. Which you'll need because the top takes up much of the actual trunk space. There's room for a weekend's luggage, but you'll need tall, skinny suitcases if you want to pack for anything longer. Or just use the rear seat. It's really better suited to luggage than long-term occupants.
The C43 AMG Cabrio is a quick and comfortable cruiser that is made even better when the roof is down and the exhaust is on loud. Granted, it's not the C63 rear-drive drift machine. But there is no shame putting the AMG badge on this trunk lid. The handling and performance are well deserving of the historic marque.