2020 Mercedes-Benz CLA 250 4Matic: Drive Well for Less
The CLA designation in the 2020 Mercedes-Benz CLA 250 4Matic roughly translates to Sports Compact Luxury in Mercedes nomenclature. The figure 250 represents the engine's performance level. The 4Matic means All-Wheel Drive (AWD), and now you know a little more about how Mercedes names their cars than you did just a moment ago. The CLA 250 represents a strong example of how far your dollar can go today, if you're shopping something in a premium brand but don't want to go too crazy with the chequebook. Where looks, equipment and overall bang for the buck are concerned, this machine stacks up pretty nicely as a premium buy that's also affordable.
There are a few specific reasons I'd tell you the 2020 Mercedes-Benz CLA puts up a great argument for your dollars. First, Mercedes is doing some impressive interiors these days, especially on their most affordable cars. Today, a modern affordable Mercedes features styling and tech touches from much pricier Mercedes models.
Second? As an object– something you enjoy looking at—the 2020 Mercedes-Benz CLA's body sort of shrinks as you walk up to it. It seems bigger from a distance, and as you close in, you notice the low roof and low windows, and sleek lines and frameless door glass. It's that visual representation of the SPORT side of the Sport Luxury Compact name.
So, it looks great as you walk up
in the parking lot, and even better once you hop in and take a seat.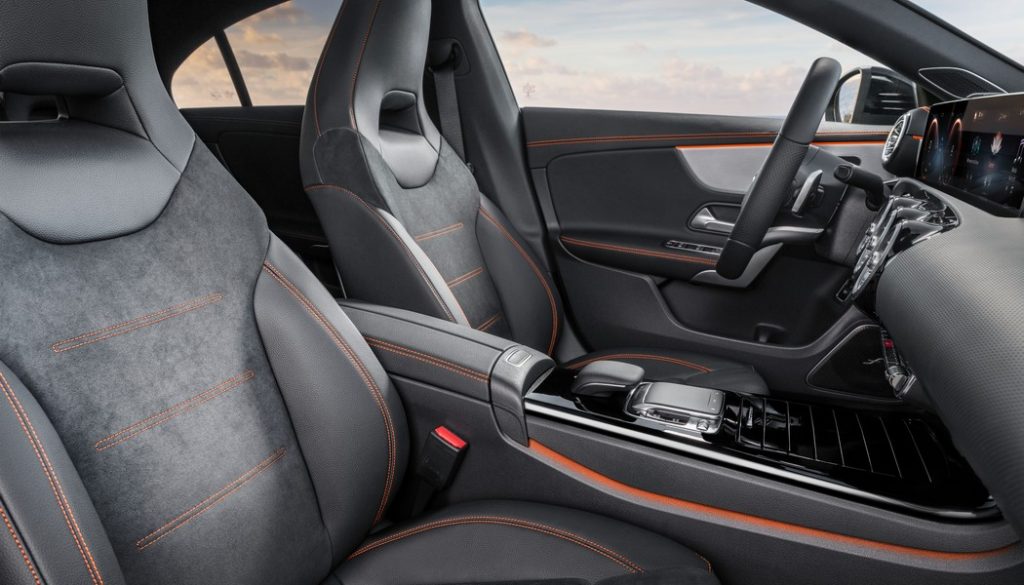 You drop deep into your seat, into a low-slung seating position that smacks of 'sports coupe' but without scraping the road. Passing through the door opening and down into your seat proved problem-free for your 5'10 writer.
As you get in, it's the shapes and textures and details that grab the eye first. Then, you fire up the engine, and it's all about the lighting and graphics. It's luxury at first glance, but then immediately so high tech when you fire it up.
As a massive nerd, I love the screens and trackpads and the way the displays all animate fluidly to life in front of you—leaving you surrounded by your own sort of glowing high-tech control centre. 
Interior Light Show
Bring someone along to experience
your first nighttime drive with you, it's pretty cool. First, you notice the
headlights doing a little light pre-drive warmup– and the performance of those
headlamps is excellent with the optional LED lighting upgrade. It's lovely to
watch the light steer and bend around to give you a better view ahead.
But the real showpiece after dark
is the ambient lighting, and specifically, the way it pumps up the digital
ambience, strategically lighting the details like the inside of a powerful gaming
PC.
So by night, or by day with the
brushed aluminum and stitching taking centre stage while the LED cabin lighting
waits for the sun to go down, the cockpit feels authentically techy and modern
and high-end. You can even customize the layout of the virtual instruments, or
the Head Up Display (HUD) using touch-pads on the steering wheel. And the
graphics are fantastic, and the screen is glossy and easy to read.
When I was 10, this was the
imaginary spaceship I wanted to drive to school, and even if you weren't so
much into having your own spaceship growing up, you'll still probably find the
nighttime driving environment to be really pleasing.
My tester included numerous upgrade packages, including an Intelligent Drive package which bundles some advanced safety gear. If the latest safety technology is important to you, this package is worth consideration. On my watch, however, I noted a few startling or abrupt braking and warning events, always in a construction zone and, I figure, triggered by traffic cones and hard-to-read lane markings confusing the camera. In any case, be sure to read the manual fully—you'll want to know exactly what to expect from the systems before you try them, and how to turn them off, if necessary.
Tap the drive mode selector on the
centre console into the mode that best suits your current intentions. Several
are available, catering to docile, sportier and fuel-efficient driving styles
alike. The 221
horsepower turbo four punches hard when called upon, with over 250 pounds of
torque. It's a quiet, smooth, strong little engine that's eager to hustle, if
you like.
At light throttle, the dual-clutch automatic transmission shifts almost invisibly, at full throttle, it's faster, and takes a slight breath between each gear to keep things smooth and creamy through the driveline. Called upon, the CLA boots along with plenty of punch, nothing too silly. It's all set up to be fun, but fuel-efficient, too.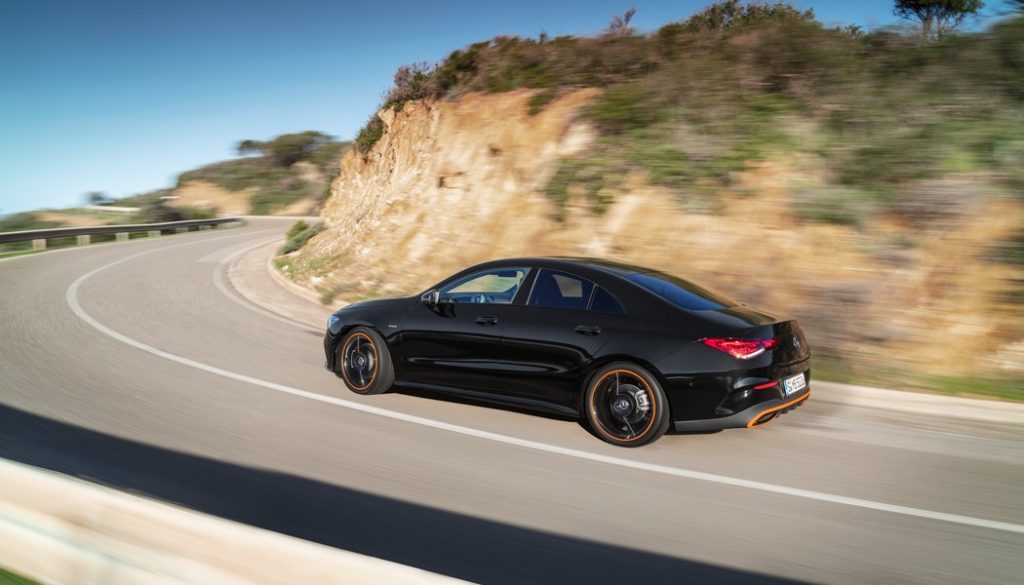 Rides Like a Luxury Car
The drive gives the CLA a unique character.
The steering is light and quick, for a playful and effortless feeling that
heavies up a notch or two in sportier modes, encouraging the driver to feel out
more of what's happening between tires and tarmac. It's effortlessly
entertaining, a real treat to use on your favorite winding road.
At times, you'll need a steady hand to keep the steering inputs smooth, as the 2020 Mercedes-Benz CLA can feel a little sensitive at higher speeds—though, carving corners with a light and lazy little flick of your wrist never gets old.
The suspension is a bit soft while you're
just cruising, but that outer layer of softness firms right up when you get
leaning on it. Translation? It corners better than I was expecting, given the
way it rides. Very nice balance.
On uneven roads it's fairly relaxed an
uneventful, though harsh surfaces and coax out more noise and harshness than I
like, mostly, the ride comfort stands up nicely to most situations.
There's room in back for an average-sized grown up like me, but if you're any taller than 5'10 you'll be just about out of headroom.
I'll finish with a few of my favorite handy
little touches that come with this car, like the hidden rear camera that you'll
probably never have to clean. Or seats that can be made to automatically shift
their position beneath you, just slightly, every few moments as you drive. They
make those slight readjustments to your seating position for you, so you don't
get as sore from sitting a long time in one position.
They've even sprung the trunk of the 2020 Mercedes-Benz CLA to get up and out of your way immediately for quick and easy access. These are little touches, but in real life as you get to know your new luxury car, they become some of the most easy to appreciate. So, in all, here's a car with many strengths, few weaknesses, and a really solid taste of a big-dollar motoring experience without the big-dollar price-tag.