Driven: 2020 Mercedes-Benz A220
The new 2020 Mercedes-Benz A220 is the least expensive Mercedes Benz on sale, which makes it one of the most important. After all, this might be your very first Mercedes, and if it's good, your first of many. With its design, features, and authentically upscale drive, the automaker hopes to tempt shoppers upscale while convincing some loyal owners to add a second or third Benz to their driveway.
Talk about a good
first impression. First, you notice an exterior that energetically flaunts
signature Benz touches with a fresh new face. Then, you slip in behind a dashboard
and instrument cluster that might make you swear.
That's what I did the first time I took the wheel because usually, I expect forward scenery like this to cost twice or thrice the price of the Mercedes-Benz A220.
This car's shopper will tend to be fairly young, very connected, and extremely tech-savvy. For that reason, much of the forward scenery is occupied by vivid, high-resolution display screens upon which everything is customizable, liquid-smooth, and displayed with excellent graphics. Drivers can change the instrument cluster theme faster than the wallpaper on your smartphone, without a hand leaving the wheel. A haptic feedback track-pad feels natural in about 2 minutes as you use it to scribble your way around the screen above—which you can also touch, if you prefer.
The system is lovely to look at and also easy to use. In fact, even the backup camera has really good graphics. It's always clean, too, since it hides out in a special hidden trap door when not in use. It's one of several clever and delightful touches that drivers will appreciate on the daily.
Elsewhere it's the signature Mercedes climate control console, very generous use of high-end metal trim with the seat heater controls built into the door. If you're looking, you can find some cheap materials and exposed fasteners, however, and the seats aren't the fanciest.  
Elegant Interior
This won't bug you much, mind you. Especially at night. When the ambient fibre optic lighting and vivid displays soak the cabin in a rich and colorful glow of colour that looks like a million bucks. Nothing I've driven for the money looks this great from the driver's seat after dark.
Is it big enough? Probably, if you're about average size and so are 3 of your passengers. It's a bit low to get in and out of for some. I had no issues, though I found it comfy-snug in all: not cramped, not spacious. I could just fit behind my 5'10 200 pound self in the back of the Mercedes-Benz A220. There are roomier choices for the money if you need them.
The trunk is deep,
wide, has a good spring on the lid, and boasts a proper grab-handle for salt-free
closing. If you need more space, you can get a hatchback too.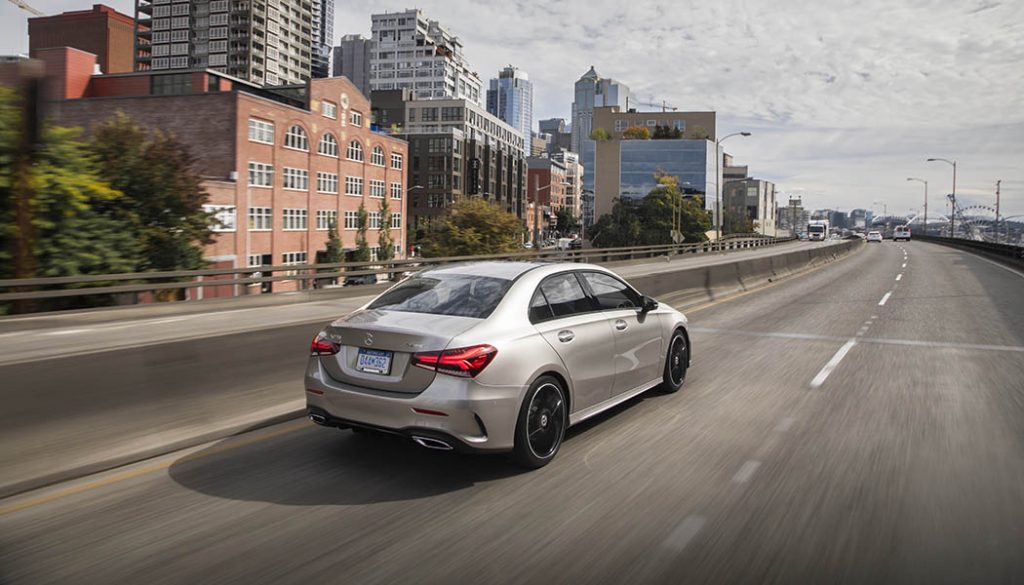 Punchy Power
The economy-first turbo four does 188 horses and 221 pounds of torque. I found it easy on fuel and pleasingly punchy, but it is light-years from the gutsiest thing you could spend the money on.
The low-end torque is pretty entertaining. Use SPORT mode around town and the Mercedes-Benz A220 feels downright feisty with plenty of kick for whisking you through your day. All that torque so low in the revs means lots of low-speed response, minimal noise and plenty of smoothness.
Still, sportier
drivers will wish for more jam and this little four does start to feel less and
less punchy at higher speeds. I recommend full throttle for that fast pass or
merge, and here, the engine never sounds like it's overworked and never becomes
loud enough to interrupt your conversation. Mostly, and especially around town,
it's pleasingly responsive, tastefully restrained, and feels like a high-end
product.
There's a
dual-clutch transmission with paddle-shift, which is a different type of
automatic that's a bit snappier and more responsive. Also, in some situations,
this type of automatic transmission can make the car a little tricky to get
rolling smoothly from a stop, at least until your right foot learns the correct
rhythm to apply the throttle without seeing the A220 lurch off the line.
Elsewhere it's nice and snappy during spirited driving, though I did note a
touch of clumsiness on a few gear changes.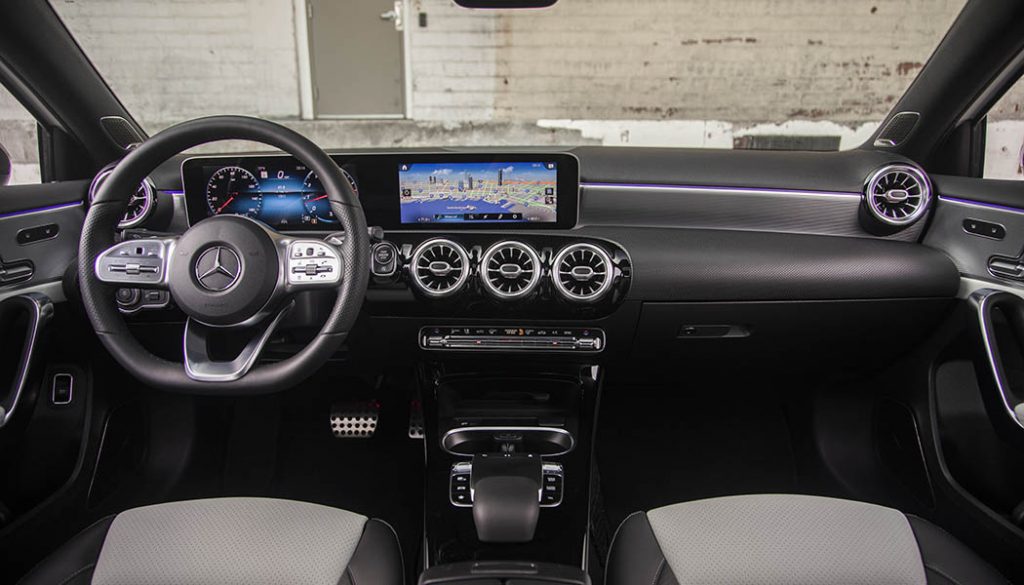 On the Road
No issues with the AWD in the Mercedes-Benz A220. Specifically, there's immediate bite off the line with no need for a wheel to spin before four-wheel traction is available. That helps with less digging and slipping and more going. It also means the driver feels fantastic grip from the get-go.
With winter rubber,
you really feel that AWD system picking up on the extra grip (and the driver's
vibe) to deliver exactly what's expected: traction galore, all the time, with
point-and-shoot simplicity.
The braking system
picks up on the extra grip from the tires too—fully capitalizing to turn in fast
and fuss-free stops over and over and usually in a straight line. Even if you
don't like driving in the winter, I bet this would change your mind.
Steering lightens
and heavies depending on your speed and situation. It's calibrated expertly,
feels great just about all the time, and in sport mode it's thick and heavy and
fast for that precise 'flick-of-the-wrist' feel the sportier folks love.
The ride is a touch sporty, nicely sorted overall, and should prove pleasing to even shoppers who typically find small luxury cars to feel too stiff and rigid. On the road, the Mercedes-Benz A220 feels a bit heavier and denser than its size leads on, and the ride stands up fairly well to even rougher roads. Many test-drivers will find it rides right in that sweet spot between sporty and comfortable, but not too much of either.
Drivers can fiddle and fine-tune things as well, using comfort mode for laid-back response and an easygoing drive, or SPORT mode for go-kart steering and hair-trigger torque output. An ECO mode helps make it easier for you to save fuel, and an INDIVIDUAL mode lets you make a custom mode to suit your specific tastes.
Gripes are generally
ergonomic. The heated steering wheel switch is invisible from your seated
position. So is the climate control temperature readout. Both are blocked by
the steering wheel. Further, gears shift via a small wand mounted to the
steering wheel, positioned right where most cars keep their wiper stalk, which takes
some getting used to. Ditto the wiper controls, which are on the end of the turn-signal
stick.
In summary, a few
quirky gripes dull the appeal slightly—but drivers after a great ride, a lovely
engine, excellent conduct in the snow, and an authentic taste of the luxury
motoring high-life will easily overlook them.