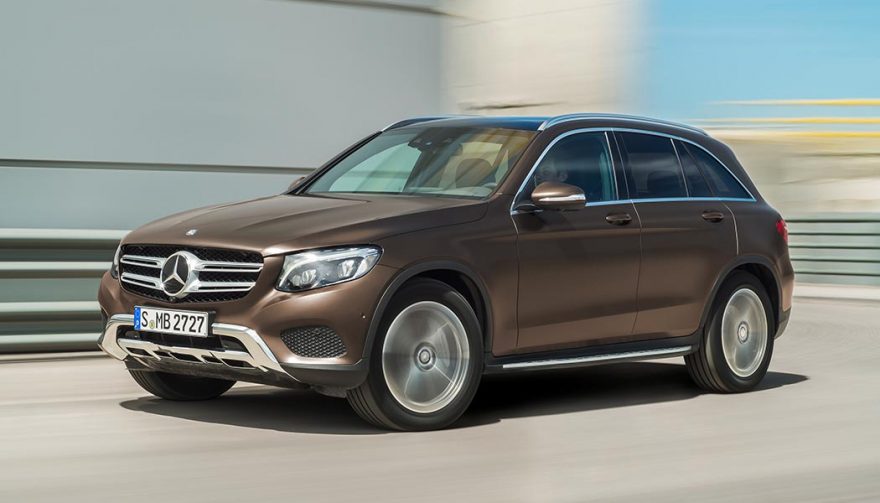 Mercedes-Benz GLC 250 d 4MATIC, CITRINBRAUN MAGNO, Offroad Line Exterieur ; Mercedes-Benz GLC 250 d 4MATIC, CITRINE BROWN MAGNO, Offroad Line, exterior;
Mercedes-Benz GLC-Class Wins SUV of the Year
Every year, MOTOR TREND comes up with the top vehicle in each vehicle segment. It's not a ranking system per se; more so a checklist of six criteria to determine which vehicle stands out the most. And for 2017, the MOTOR TREND SUV of the Year is none other than the Mercedes-Benz GLC-Class.
More specifically, it's the GLC300 4Matic. It's equipped with a 2.0-liter turbocharged four-cylinder engine. It spools up a pleasing 241 horsepower and 273 lb-ft of torque. That power is sent to the road via a 9-speed automatic transmission and the duly-equipped 4MATIC drive system.
Mercedes-Benz GLC-Class: Second to None
But that's enough math for now, because the SUV of the year isn't about the numbers. It's about how it meets the criteria: Design Advancement, Engineering Excellence, Efficiency, Safety, Value and Performance of Intended Function. When you look at the GLC-Class, it's immediately evident why they take the award.
Design Advancement
The GLC-Class replaces the squarish GLK-Class that, in all honesty, didn't really look much like a Mercedes. The new sleek, rounded shape is expressly Mercedes-Benz, and it is pleasing to the eye on the outside. The interior doesn't disappoint either.
The console seems somewhat modular but in a good way. It's massive infotainment screen sticks way up from the center stack but still seems out of the driver's line of sight. For an entry-level luxury SUV, the Mercedes-Benz GLC-Class has an amazing blend of leather and wood accents throughout, and all the touch points are supple and luxurious.
Engineering Excellence
This is all about technology and function, a box that Mercedes ticks with confidence in the GLC-Class. That infotainment screen? Well, it's equipped with more apps and features than you'll ever use. The ergonomic design inside leaves every switch and knob at your fingertips, yet the center stack seems neat and uncluttered. Everything in its place, yet way more than you'd expect for the price point.
Efficiency
You might wonder how a four-banger tops the SUV list when more powerful, larger SUVs were tested. The Nissan Armada, Audi Q7, Lexus LX570 – each could make a case for the title. Yet, in efficiency, the GLC-Class walks away with the category win.
You May Also Enjoy:
2017 Car of the Year: Chevy Bolt EV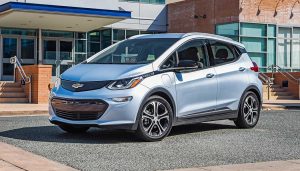 Related Search Topics (Ads)
It sips fuel like a compact car, yet performs like a sports car. The 9-speed transmission is geared for the best fuel economy without compromising performance. The GLC300 4MATIC as tested has an EPA rating of 24 mpg combined city and highway.
Safety
The German automaker is one of the tops in safety and has been for decades. Not only is the crash rating one of the best you'll find, it has airbags everywhere. In an accident, it's like you're sitting in a pillow. Need we say more?
Value
You wouldn't typically put a Mercedes-Benz in the "value" column, yet here it is. Its bang for the buck is quite remarkable. In fact, you can step into the GLC-Class for just over $40,000 and your neighbors will wonder which lottery you won. You could choose an Acura MDX, an Audi Q3, or a BMW X1 for a similar price, but why would you? You'd be, at best, making a lateral move for equipment and losing the refinement of a Mercedes model.
Performance of Intended Function
It's here that the GLC-Class stands out the most. You wouldn't imagine a compact SUV would need to accelerate from 0 to 60 in 6.8 seconds, yet here we are. You don't suspect that an SUV of this size could master dirt or gravel as impressively as the pavement, yet this one does.
If there's beef about its performance, it's that the ride could be smoother when it's equipped with the optional oversized wheels. But on that point, there's a choice to make: style or function? Otherwise, the interior is silent. You can hear a whisper due to the lack of outside noise, and its spacious interior can carry all the usual SUV cargo. Simply, the GLC-Class perfectly performs the SUV role.
Christian Seabaugh, associate editor for MOTOR TREND, says, "The GLC is just solid. It aces all six of our criteria without skipping a beat." Can it be a repeat winner next year?