2020 Mitsubishi Outlander Sport
Don't be fooled by its flashy new face: the 2020 Mitsubishi Outlander Sport has just undergone another in-cycle update. But what's under the skin is anything but fresh and new and fancy. Many shoppers, who have purchased over a million Outlander Sports globally, also known as the Mitsubishi RVR or ASX depending on market, wouldn't have it any other way.
The Mitsubishi Outlander Sport hit the road a decade back and has sauntered on with minimal significant changes. Whether this makes it the segment's most proven, or most dated model (or both) is for you to decide on a test drive. If you're a fan of keeping things simple, ironing out any bugs, and then just leaving well enough alone, the Outlander Sport is batting its eyelashes at you.
What's New?
What's new this year? The big brother Outlander-esque grille is the big news: it gives the Mitsubishi Outlander Sport a prominent new face and a bigger presence on the road as it rolls on by. Which it does on new-this-year wheels, wearing some new-this-year paint colors. Elsewhere, it's new taillamps, revised equipment packaging at various trim grades, and a set of slick-looking suede-like seats with red accent stitching.
Beyond this, here's the important stuff: the Mitsubishi Outlander Sport has well-rounded manners and amounts to the sort of thing that many shoppers are buying these days: an easy-to-drive small crossover that's good on fuel, and good in the snow.
That's partly thanks to its All Wheel Drive (AWD) system, which Mitsubishi calls All Wheel Control (AWC). With this system, drivers get access to multiple AWD drive modes at the touch of a button. The default is a fully-automatic AWD mode. Click once, and you engage "LOCK" mode, which is useful if you're at risk of being stuck in mud or snow. Conversely, another click turns the AWD system off when it's not needed—giving drivers front-wheel drive, and reduced fuel usage. You get to call the shots.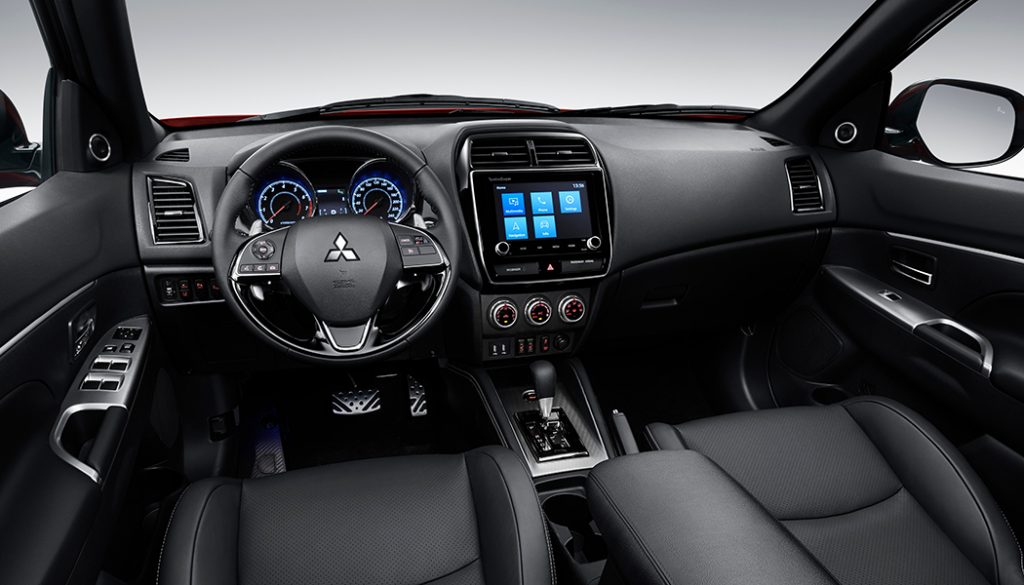 Sizing Things Up
The Outlander Sport is just big enough for four grown-ups, though two adults and two kids seem to fit best. At 5'10, I could sit immediately behind myself with enough space, nothing more. The cargo hold is jump-in friendly for mid-sized dogs and above, adequate for a big grocery haul, and features folding rear seatbacks when more room is required.
Each seat is boarded and exited by way of a simple sideways shift for most occupants, and most of us should find no stress with getting in and out.
From the driver's seat, headroom is sufficient for average adults, though taller drivers may feel uncomfortably close to the roof. Longer-legged drivers may wish for a longer seat cushion as well, for added thigh support. In general, the driving position is attentive and upright, somewhat raised but not soaring above the road.
Controls are generally logical and easy to find and operate, though many competitors feel and look more modern on board. Some of the Mitsubishi Outlander Sport's displays and controls are starting to show their age.
My favourite things about the interior? The big, chunky climate control dials, which I could manipulate with even my thickest winter gloves, as well as the clean, bright and easy-to-read instrument cluster—complete with a colour driver computer display in the middle of the gauges.
You May Also Enjoy:
Driven: Mitsubishi Outlander PHEV Review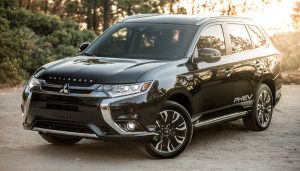 Related Search Topics (Ads)
Tech and Ride Talk
Gripes on board included some primitive-looking seat heater switches and the factory graphics from the large touch-screen system. Drivers will want to connect their smartphones to get Apple CarPlay or Android Auto on screen, complete with their colorful, cheerful graphics. If not, the factory graphical interface is your constant companion. And it's not pretty.
Engineers specified a ride set about halfway between stiff and squishy. Mostly, I enjoyed a durable feel that stands up well to rough roads without excessive crashing or smashing, and even on the worst roads I could find, the Outlander Sport's suspension usually keeps things admirably sorted beneath the vehicle.
Those who prefer a ride that's comfortable but not soft will probably like the setup, though some drivers may find it feels too stiff and sporty on certain surfaces.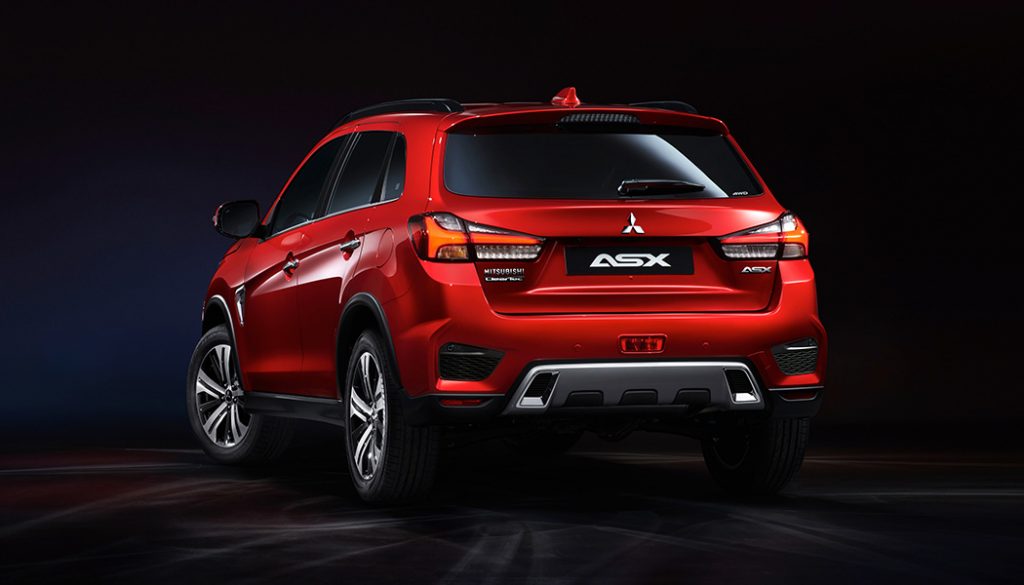 On smooth highways, there's enough heft calibrated into the steering to keep you feeling locked into your lane, and other than the odd lick of wind noise, it's generally a peaceful place to be. Good outward sightlines, strong voice-command performance and plenty of steering wheel mounted controls make it easy for drivers to stay focused on their surroundings. Ditto many of the controls and dials, which are easily located and manipulated by fingertips alone—leaving the eyes on the road ahead.
On that note, the LED headlights on my tester are worth mention: lighting output is clean and white, with strong peripheral illumination of the road ahead. Those shoppers arriving in a 2020 Mitsubishi Outlander Sport from an older vehicle with a more primitive lighting system will appreciate the performance.
Both the Outlander Sport's brakes and throttle are a bit lazy. Each pedal needs a good hearty press to generate much of a result—meaning emergency stops require a good press, deep into the pedal, and that the zippy 2.4 litre engine in my tester needs a heavy throttle input to get spinning fast and flinging the crossover along.  
Conclusion
Ultimately, here's a machine that should appeal strongly to the shopper willing to trade off a few modern touches for a long-term-friendly ownership experience, complete with one of the most time-tested platforms and drivelines in the segment today. With a clever AWD system, solid all-around road manners, and a proven track record the Outlander Sport is worth your consideration—though fans of a fancy interior and ultra-modern touch-screen interface do have better alternatives.