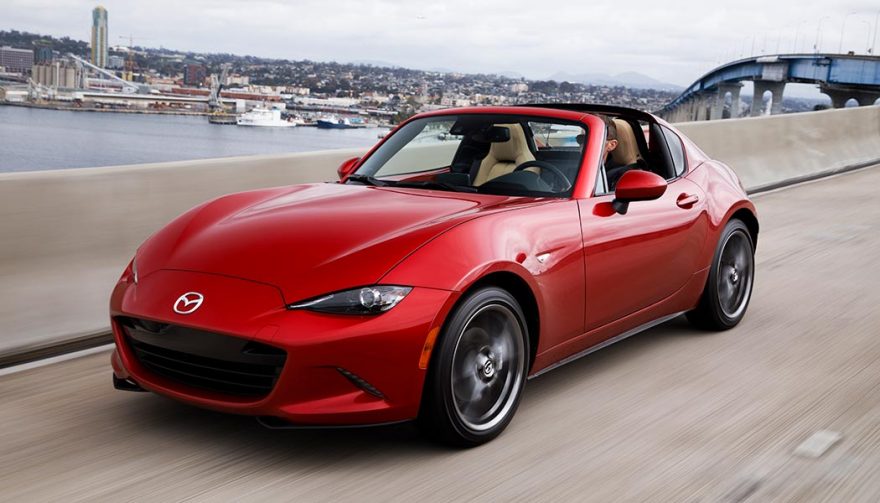 155 horsepower goes a long way when a car only ways 2,381 pounds
Get Your Grin On with the 8 Most Fun Cars to Drive for 2018
There are fast cars to drive, and then there are the most fun cars to drive. There's a big difference. Most people just assume that the more power a car makes, the more fun it is to drive. That's certainly not a constant.
Being fun to drive has as much to do with a car's design and nature. But having a massive power plant under the hood never hurts. And as you'll see in the eight most fun cars to drive listed here, some have less power than that ol' jalopy parked in your driveway.
2018 Mazda MX-5 Miata
The Mazda Miata is – and has always been – a purist's car. It isn't packed full of gadgets, electronics or unnecessary junk. It has a smallish 2.0-liter SKYACTIV 4-cylinder that makes just 155 horsepower and 148 lb-ft of torque. But oh my, you'd be hard-pressed to find a car more fun to drive around a few slalom corners.
Mazda balances the 2018 MX-5 Miata considering an average driver in the seat, accomplishing 50/50 distribution. Available with either a six-speed manual or a six-speed auto with paddle shifters, it's a sports car lover's delight. Plus, it's only 2,381 pounds with the auto transmission, even less with the manual.
2018 Fiat 124 Spider
No clear-cut competitor exists for the Miata other than the 2018 Fiat 124 Spider. It's the Italian version of a compact rear-wheel-drive sports car, and it's easily one of the most fun cars to drive. Like the Miata, the soft-top two-seater is unadulterated by distractions in the cockpit. It decidedly focuses on the enjoyment on road.
If you want to win drag races, look further down the list. But the Fiat 124 Spider is incredibly fun. You get 160 horsepower and 184 lb-ft of torque from the first turbocharged 1.4-liter engine in its class. Not only is the turbo spool-up great to hear, it definitely adds to the magic.
2018 Mini John Cooper Works Hardtop
The Mini Cooper has been one of those iconic cars for five decades. But unless you've had the opportunity to sit in the driver's seat, you have no idea what the Mini is all about. The 2018 Mini John Cooper Works Hardtop is the culmination of all the fun stuff a Mini can throw at you.
It's a car that sits low to the ground and has sport-tuned suspension. The Mini John Cooper Works Hardtop is super nimble and brakes really well too. It spits out 228 horsepower and 236 lb-ft of torque from a BMW-inspired turbocharged engine. For a tiny car like this, accelerating from 0 to 60mph in 5.9 seconds is impressive and will certainly draw a smile on your face.
2018 Ford Mustang GT
You know the old saying: "There's no replacement for displacement." The Mustang GT clings to this mentality, even as competition nips at its heels. The all-too-familiar 5.0-liter moniker still exists, making more power than it ever has at 460 horsepower and 420 lb-ft of torque. It's a sub-four-second car as it accelerates from 0 to 60mph, but that's not all that makes it fun.
Any true car guy knows the first thing that makes him weak in the knees. It's the exhaust note of a big V8. That's one of the most important features for the 2018 Mustang GT, it can make an old man giddy with joy as he tweaks the throttle driving by a group of teenagers.
2018 Dodge Challenger SRT Demon
For those who truly enjoy the feel of being terrified, the 2018 Dodge Challenger SRT Demon will take you there in a split second. No one in their right mind ever expected a mainstream car company to release a car that was so powerful, so fast, so over the top that it would be banned by the NHRA.
This is the car you want to drive if you love going fast in a straight line. It gets up to 140 mph in a quarter mile, and in just 9.65 seconds. It has 840 horsepower and 770 lb-ft of torque from its supercharged 6.2-liter HEMI V8. Zero to 60 happens in 2.3 seconds. But don't try to take it around a track – it's built for speed, not agility.
2018 Chevrolet Camaro
The Bowtie brand can't be left out of the most fun cars to drive. The Camaro is a model that doesn't have much purpose other than to be enjoyable from the driver's seat. It's impractical at best. But that can be said for the Challenger and the Mustang, yet all three sell like hotcakes among people who want to show they have the biggest…ahem…parcels. The Camaro arguably handles better and is more comfortable than its competitors too.
But there's some serious fun in the Camaro, especially in the ZL1. We're talking a supercharged 6.2-liter V6 with 650 horsepower and 650 lb-ft of torque. You can row your own gears with a 6-speed manual trans, and when you hit the throttle, it sounds like dark noise from a dragon's throat. Plus, it goes from 0 to 60mph in just 3.5 seconds. I'd consider that fun.
2018 Tesla Model S
Here's a twist for those who love to drive. For one, it's an electric car. For another thing, it's a sedan. And for all intents and purposes, it's an outstanding advancement in terms of the most fun cars to drive.
The 2018 Tesla Model S P100D is the top of its range. Its electric motor produces the equivalent of 762 horsepower and 687 lb-ft of immediately available torque. What that means for the Tesla Model S is an acceleration from 0 to 60 mph in just 2.4 seconds. This happens with barely a whisper from the powertrain. If you haven't driven an electric car yet, this is one you must try.
2018 Audi TT RS Coupe
There's no need to rough it when you drive. The Audi TT coupe has always been a fun-loving model, even when it wasn't a competitive performer. And even when the competition has a leg up on it in specifications, the 2018 Audi TT RS Coupe still finds its way into drivers' hearts.
The all-new Audi TT RS Coupe has Quattro AWD and magnetic ride control that keep it moving in the direction you point the steering wheel. And with 400 horsepower and 354 lb-ft of torque, it screams to 60mph in just 3.6 seconds. Ever seen another five-cylinder move like that? I didn't think so.
You May Also Enjoy:
Ford Mustang Gets a 10-Speed Transmission