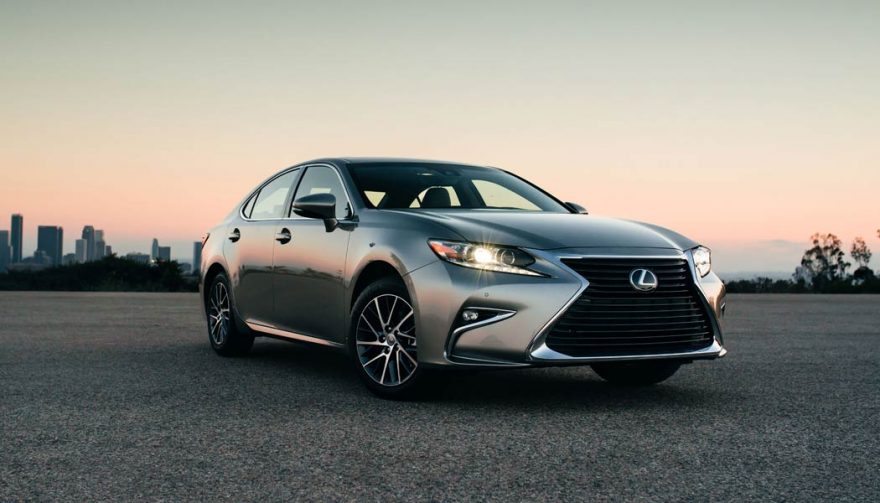 The Lexus ES 350 is the best bang for your buck in the premium or luxury market.
The Most Reliable Luxury Cars, Because No One Likes Repairs
So you're going to plop down a big chunk of change on a sweet new luxury vehicle. Good for you. Obviously, you want to know that the money you spend isn't doing down the drain as soon as you fork it over. You'd definitely prefer to buy one of the most reliable luxury cars, because who has the time or money to bring your car to the dealership every other day?
Some of these luxury cars are actually SUVs too. They've been added in because SUVs are so popular right now that there's no reason NOT to include them. Check out the options, then head down to the dealer with your fistfuls of Benjamins to buy your choice.
Lexus ES 350
It's not just a glorified Toyota. The Lexus ES 350 is the best bang for your buck in the premium or luxury market. At its core, the Lexus ES 350 is a powerful 268-horsepower sedan that's suitable for business class or comfy family transportation. It's a sharp-looking car, which is great – you'll get to stare at it as much as you want in your driveway. That's because it won't be trapped in the dealership's service department all the time.
From powertrain to interior functions, the Lexus ES 350 is the most reliable luxury car you can find right now.
Lincoln MKZ
Lincoln has done great things with the MKZ sedan (one of which is getting Matthew McConaughey on board). Behind a pretty face lies a sleeper of a luxury or premium car. The Lincoln MKZ offers a powerful drive, a refined interior, and a sophistication that sets it far apart from its Ford cousins.
The Lincoln MKZ is just barely surpassed by the Lexus ES, and by the narrowest of margins. You won't go wrong choosing either one if you're looking for the most reliable luxury cars.
Audi A5
You can get a reliable German car, apparently. The Audi A5 comes in a range of vehicles – coupe, cabriolet and sportback – with some premium options that can woo you. Its virtual cockpit color cluster and MMI touch rotating selector are pretty amazing, and best of all, they don't break down regularly. You can put your faith in the VW-style 2.0-liter TFSI four-cylinder, making 252 ponies and 273 lb-ft of torque. So yeah, it's fun to drive too.
The Audi A5 deserves a place in the top three, but it's not quite ready to top the list. I'd suspect reputation, tied to VW, may play a role.
Cadillac CTS
If you like your domestic brands, the Cadillac CTS is a good option too. It's an aggressively sculpted sedan from front to back, and it helps Cadillac rise again to its once-renowned glory. Either a 2.0-liter turbo engine or a 3.6-liter V6 make the Cadillac CTS one mean beast on the highway, and it's even been tested on the famed Nürburgring track.
Other GM vehicles haven't quite shaken the shoddy manufacturing, but the CTS has. We have no problem recommending the Caddy CTS because the reliability rankings are much improved.
Acura TL
Yes, the Acura TL has been canned. However, maybe you're looking for a used luxury car. The Acura TL isn't everyone's cup of tea in the looks department, especially with its bulky front bumper and disproportionate grille. But you can't argue with Acura's success with the TL, mainly because of it being one of the most reliable luxury cars.
If you are looking for a new car, the Acura TLX looks like it's a winner too. Let's see how time either helps or hinders the TL's successor.
BMW 3 Series
Of course, the BMW 3 Series must be on every luxury car list, especially the list of most reliable luxury cars. That's simply because it's a well-done car in nearly every category. Some might find it a little mundane for their tastes, but we aren't ranking cars for their appearance right now. We're looking at the most reliable luxury cars, and you'll find the 3-Series to be a master at that. Repairs will be a little more frequent than the Lexus ES and a few others, but not so much that it's a detractor.
Whether you choose a coupe, sedan, or drop-top, the BMW 3-Series will be a fun and dependable car.
Lexus CT 200h
Normally, hybrid luxury cars aren't known for reliability, they're meant to be efficient primarily. The Lexus CT200h does both. If you don't mind your luxury four-door hatch looking much like a Toyota Venza, and you don't need more than 134 horsepower, and you DO want 42 mpg on the highway, then the Lexus CT200h is right for you.
While the Chevy Volt is parked at the dealership, you'll be driving your Lexus CT200h because it's one of the most reliable luxury cars.
Infiniti Q70
Infiniti is back in the game with reliable, premium cars. The Infiniti Q70 is one example of how the luxury Nissan offshoot has been stepping up. Fantastic options like an Around View Monitor and Backup Collision Intervention are durable, and the powertrains are among the best on this list – a 420-hp 5.6-liter V8 or a 330-horsepower 3.3-liter V6 are available, as well as a 360-hp 3.5-liter hybrid.
There's plenty of options to go wrong on the Infiniti Q70, but odds are you won't have many issues at all. Infiniti's reliability is much better than in previous generations.
Mercedes-Benz GLC-Class
Mercedes-Benz must have some say in a luxury vehicle list. The Mercedes-Benz GLC-Class SUV is the best of the bunch in terms of reliability. A proven turbocharged 4-cylinder is under the hood along with available 4MATIC AWD, and the interior is chock full of typical MB goodies. Navigation, power everything, and that quirky dash-top screen are found in the GLC-Class.
You might see a warranty issue here of there, but the Mercedes quality overall shines through. The Mercedes-Benz GLC-Class would be a fantastic choice if you want more interior space than a sedan.
Lexus GX 460
The biggest vehicle on our top-10 list is the Lexus GX 460. It's a premium SUV for sure. It's a 301-horsepower 4.6-liter engine (hence the '460') with a full-time 4WD system underpinning it all. The Lexus GX 460 has room for the whole family among three rows of seating. You know what that means – more people to break things.
Nonetheless, the Lexus GX 460 is quite durable. Despite the most rugged vehicle on our list, it does a great job of staying on the road and out of the shop.
You May Also Enjoy:
Cadillac CTS vs Lincoln MKZ: Luxury Sedan Comparison