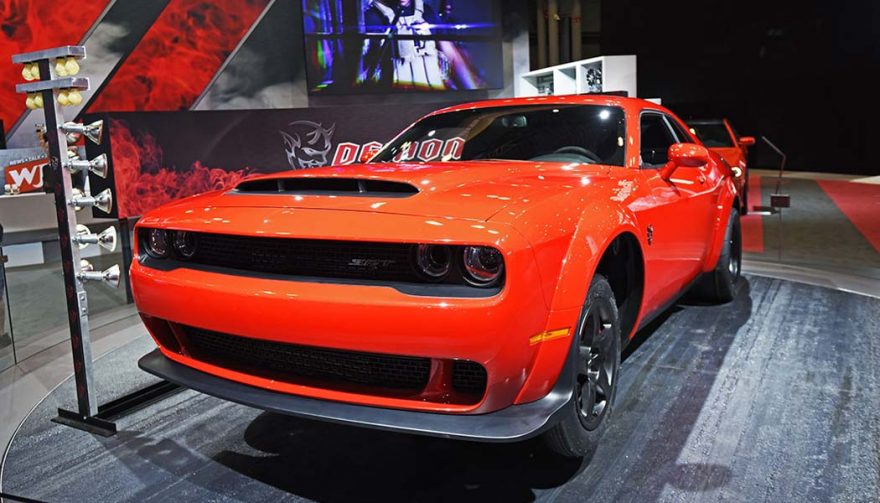 The Dodge Challenger SRT Demon has made waves since it was unveiled at the New York International Auto Show
8 Showstoppers From the 2017 New York Auto Show
The New York International Auto Show is one of the biggest automotive events every year. Car manufacturers break out their big guns, unveiling the models they believe are the best and brightest vehicles yet to be released.
This year at the 2017 New York International Auto Show, you absolutely will not be disappointed. Here are a few vehicles that are really stealing all the attention.
Dodge Challenger SRT Demon
Yes, it's here. The Dodge Challenger SRT Demon has returned and it is way more badass than you ever imagined. The numbers are staggering: 840 horsepower and 770 lb-ft of torque from a supercharged 6.2-liter HEMI Demon V8 engine. Its 2.3 seconds 0-to-60 time blows the doors off any other production car. Even more, it has a 9.65 seconds quarter-mile time.  So it's banned from the drag strip by NRHA for going too fast without a roll cage.
The Dodge Demon has swamped your social media feed, and for good reason. It's a first in many things including the first production car to lift the front wheels (nearly 3 feet). It comes with a complimentary day at Bob Bondurant driving school, so you can learn how to control it. It's one mean muscle car.
Lincoln Navigator
The Lincoln Navigator is all-new for 2018. Just to mention how well-received this luxury SUV is: it received a best-in-show award. According to those with the privilege to sit inside, it makes the Cadillac Escalade look like a plasticky play toy.
The interior of the Navigator on display is a silvery-blue color, which is a fresh update from all the cream and black leathers you see in most cars. Power comes from a twin-turbo EcoBoost V6, likely the same one from the Ford F150. That means around 450 horsepower and a silky-smooth 10-speed automatic transmission.
View on One Page
You May Also Enjoy:
Toyota Looking to Ignite Sales with Camry Redesign