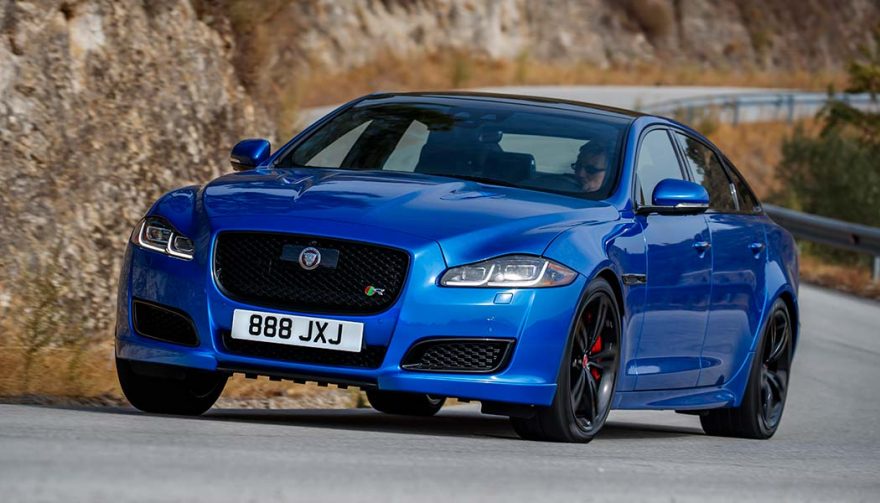 The Jaguar XJR575 can rocket to 60mph in 4.2 seconds
Performance Luxury Cars: Where Beauty and Brawn Hit the Road
Sliding into the high-bolstered, low-slung seat in a Ferrari or McLaren is one thing. But that's a minuscule piece of the performance car pie, and certainly not one that appeals to everyone. Some would prefer to ride in the lap of luxury whilst still experiencing the giddy feeling that comes from quick acceleration. We're talking about serious performance luxury cars.
If that sounds too broad, think of these common denominators: ridiculously comfortable seating both in front and back, intricate interior detail and finishing, most likely a stretched-out sedan, and certainly horsepower figures higher than 400. And tons of technological features.
Jaguar XJR575
The most extreme Jaguar sedan built to date, the Jaguar XJR575 can hold its own against most sports car coupes on the market today. It has a supercharged 5.0-liter V8 with 575 bitumen-melting ponies for a 0-60 time of 4.2 seconds. But it doesn't just ravage the road with power.
The XJR575 is seductive, even if ultra-powerful sedans aren't your cup of tea. And when you climb inside, there's a new experience awaiting you. Diamond-stitched leather, carbon-fiber veneer, ice-blue interior accent lighting, bullet-nose vent louvers, and a completely digital cluster display are standard. Massive dual headrest screens are available, along with airplane-style fold-out trays. Just don't try to use them when the driver is giving the car all its got.
Rolls-Royce Phantom
You aren't flying under the radar when you drive the Rolls-Royce Phantom. The moment you arrive with the chrome Pantheon grille in view, everyone takes notice. What the Rolls-Royce family is best known for is league-leading pampering. The Phantom goes next-level with it, including a starlight LED headliner, impeccable two-tone leather interiors (all bespoke, of course), lambswool floor liners, power rear window shades, a champagne cooler, and much, much more.
But even the driver gets pampered, assuming it's you and not a top-hatted hired hand. It has a 6.75-liter V12 that is hand-built, just like the rest of the Phantom. It makes 454 horsepower and is slower than most with an acceleration time of 5.6 seconds from 0-60mph. But it's not that you need all the power in the world, just the ability to use it when you want.
View on One Page
You May Also Enjoy:
Test Drive: 2020 BMW Z4 M40i