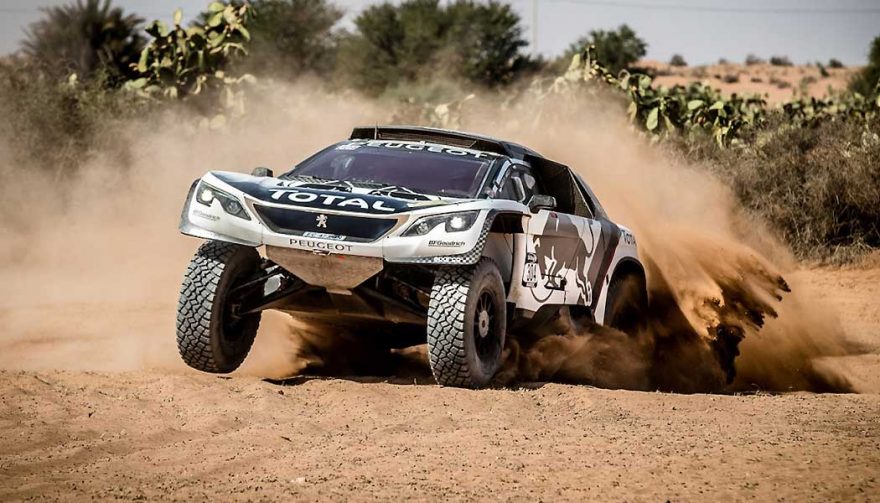 Peugeot's new model rally car is purpose-built for the brutal and unforgiving conditions of the Dakar Rally.
Peugeot Prepares for Dakar with Morocco Rally
In preparation for its assault on the 2017 Dakar Rally in January, Team Peugeot Total ran its new 3008 DKR in the Rally of Morocco. The five days of real-world testing in actual competition produced a large amount of useful information that will help Peugeot prepare for the upcoming Dakar. A win in the 2017 Dakar Rally will give Peugeot two wins in a row. Prior to last year, Peugeot hadn't won the Dakar Rally since 1990, a win that capped a four-year winning streak for the marque.
The Rally Of Morocco
The Peugeot 3008 DKR, driven by Carlos Sainz and Lucas Cruz, completed the entire rally without any technical issues. Sainz and Cruz posted the fastest time on Wednesday's demanding test that concluded the week's marathon stage, when no overnight servicing was permitted on Tuesday evening. The Spaniards' overall result was affected by navigational troubles, but they still ended up second overall, 12 minutes and 8 seconds behind the leaders. The winners were driving the Peugeot 2008 DKR in its last race. This is the outgoing model that had won the 2016 Dakar Rally, so this is a fitting finale!
The Peugeot 3008 DKR
Peugeot's new model rally car is purpose-built for the brutal and unforgiving conditions of the Dakar Rally. It has a tubular steel space frame with double wishbone suspension at all four corners, with coil springs, twin dampers at each wheel, and front and rear anti-roll bars. Brakes are 14-inch ventilated discs. The wheels are 8.5 x 17 with 37/12.5–17 tires. The wheelbase is 118.1 inches.
The 3008 DKR's body is made of carbon fiber composite. Its external dimensions are 169.8 in. long, 86.6 in. wide and 70.8 in. wide.
The Peugeot 3008 DKR is powered by a 60-degree, 2993cc DOHC V6 diesel with direct injection and twin turbochargers. It puts out 340 hp and 590 ft.-lbs. of torque. It is mounted lengthwise in a mid-engine position. The engine drives the rear wheels only through a six-speed sequential transmission. Fuel capacity is 105.7 gallons and top speed is 124 mph.
Instead of following the WRC playbook with all-wheel drive, the Peugeot 3008 DKR (along with its immediate predecessor, the 2008 DKR) has brought back the rear-drive, lightweight "Rally Buggy" concept. These buggies were previously victorious in the 1999 and 2000 Dakar events, driven by Jean-Louis Schlesser using a buggy of his own design.
The Dakar – Most Grueling of Them All
The annual Dakar Rally started in 1978 and was formerly known as the Paris–Dakar Rally. Most of these events started in Paris, France, and finished in Dakar, Senegal.
The 2008 event was cancelled because of political instability and security threats in Mauritania. Since 2009, the Dakar has been held in South America, using various routes from year to year. The Dakar is open to both amateur and professional participants.
You May Also Enjoy:
Volkswagen Locks Up GRC Championship In LA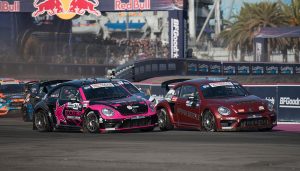 Related Search Topics (Ads)
The Dakar Rally is an off-road endurance event. It covers terrain that is much tougher than the gravel or dirt roads found in conventional rallying. The vehicles must be upgraded for heavy-duty off-road use. They must be capable of dealing with crossing mud, rocks, sand dunes and anything else these remote areas can serve up.
The various stages faced by the competitors each day can be over 500 miles long. In addition to cars, there are separate classes for motorcycles, quads and heavy-duty trucks.
The 2017 Dakar runs from January 2 through January 14. It starts in Paraguay and runs through Bolivia and Argentina. The Bolivian stages, which will take place over several days at an altitude of over 11,000 feet, will be an even greater challenge for the competitors. Low oxygen and cold temperatures will take their toll.
Watch the Dakar
In the U.S., televised coverage of the 2017 Dakar will be provided by NBC Sports Network. For more on the upcoming Dakar Rally, plus historical background, visit the Dakar site.