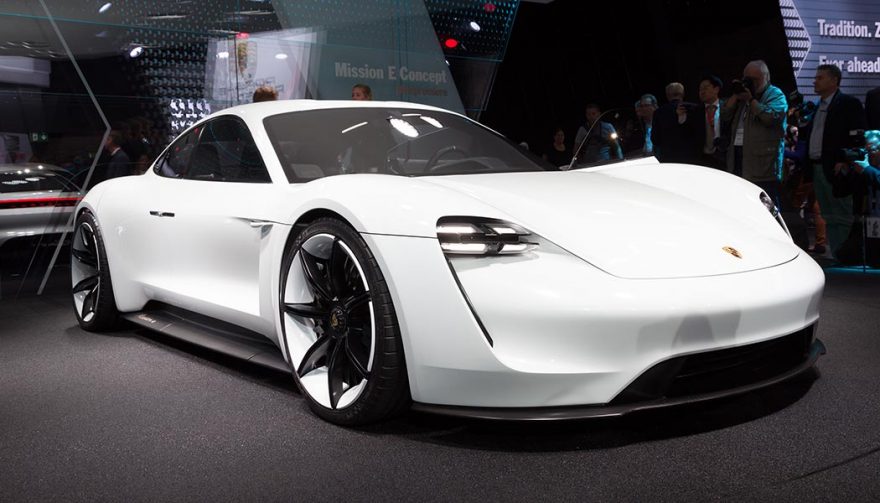 The Porsche Mission E is a completely electric car with incredible performance.
Porsche Mission E Set for Launch
Back in September 2015, Porsche unveiled their concept car, the Porsche Mission E, at the Frankfurt International Auto Show. In a press release today, that concept is becoming reality.
The Mission E was testing the waters when it was unveiled. Porsche had not yet taken a stance on its production, neglecting to answer whether or not the project would ever come to fruition. The press release today from Porsche confirms that the Mission E is to be built, and it will be built and sold by the end of this decade.
The Porsche Mission E is directing its sights fully on the likes of Tesla. A completely electric car with incredible performance.  The tagline you should expect to hear and have firmly implanted in your memory bank is E-Performance. That's what Porsche is calling it. The electric motors will produce 591 horsepower, propelling the sleek, silent sports car from 0-60 miles per hour in an astounding 3.5 seconds.
The Mission E's appearance is immediately recognizable as Porsche with the sloped hood, classy flared-out wheel wells, and bubbly raked roof line. Its body lines are sexy and ultra-modern with LED lighting front and rear to pierce through the darkest of nights. The rear doors — yes, this is a four-door car — are forward opening and unassuming, making the Mission E look much like the two-door sports coupe design that is Porsche's bread and butter.
As an honest-to-goodness fully electric sports car, the Mission E has its own electric charger design. It uses an 800-volt charger to 'refuel' and can reach 80 percent capacity in just a short 15 minutes. Your coffee won't even get cold in the time it takes to recharge. A floor-mounted induction-style coil set will also be available to use, charging your vehicle hands-free.
Also important in this press release about the Porsche Mission E is in reference to the company's direction, especially amid the Volkswagen Dieselgate debacle. The VW group needs a breath of fresh air and a refocus from all the negativity in the press and this high-performance — or E-performance — electric car announcement may be just the thing to drag them out of the mire. Porsche, and by extension, VW, are showing a dedication to future technology and sustainability in the marketplace.
"With Mission E, we are making a clear statement about the future of the brand. Even in a greatly changing motoring world, Porsche will maintain its front-row position with this fascinating sports car," says Dr. Wolfgang Porsche, the Chairman of the Supervisory Board of Porsche AG.
It's almost ironic that the focus is on electric car technology instead of the diesel woes, though with enough positive news like the Mission E, we may completely forget about Dieselgate sooner than expected.