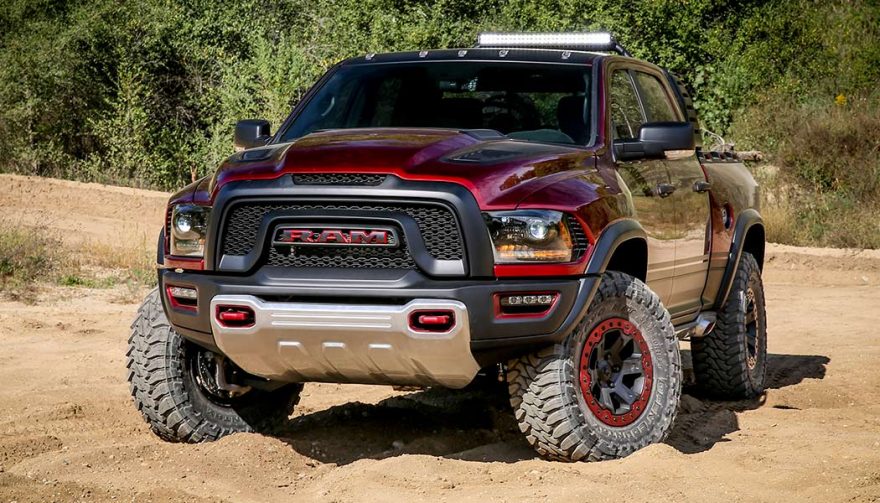 Ram Rebel TRX Concept is the most powerful factory-engineered half-ton pickup ... ever.
Ram Rebel TRX Concept Is Off-Road Hellcat
Attention, high performance Mopar off-road truck fans! Are you tired of having dirt kicked in your windshield by Ford Raptors? Wish you had a machine that could deal with such a situation with overwhelming force?
Thanks to the Ram Rebel TRX Concept, your solution may be arriving at your Ram dealer soon!
It's A HEMI, And Then Some!
The Ram Rebel TRX Concept, introduced at the 2016 State Fair of Texas, promises 100+ mph off-road romps, courtesy of its supercharged 6.2-liter HEMI V-8. As if the regular Ram Rebel 1500 wasn't enough.
It delivers 575 horsepower, which makes it the most powerful factory-engineered half-ton pickup ever. What we are looking at here is essentially a Ram Hellcat, retuned for high-speed, off-road use.
The engine's roots-style blower sits on top of the intake manifold, making the supercharged 6.2-liter V-8 a tall engine package. A custom induction system was designed to feed massive amounts of air to the supercharger and a modified Ram Heavy Duty hood helps clear the engine's additional height.
The engine features a forged-steel crankshaft with induction-hardened bearing surfaces able to withstand firing pressures of 1,595 psi. A specially tuned crank damper has been tested to 13,000 rpm.
The 2,380cc per revolution blower features integral charge coolers and an integrated electronic bypass valve to regulate boost pressure. A high-capacity oil to air heat exchanger, mounted behind the front bumper, mitigates oil temperatures when driving conditions are harshest, such as sand or mud.
The supercharged 6.2-liter V-8 exhaust flows through a 3-inch H-pipe dual side system and out dual five-inch tips that dump just in front of the rear wheels. It looks and sounds cool, but may not make it to production.
Running Gear Is Up to the Task
A TorqueFlite eight-speed automatic transmission is integrated with a 4×4 Performance Control System and paddle-shifters.
The Rebel TRX concept is equipped with Ram's 4×4 Performance Control System and Borg Warner 44-45 transfer case, which enables part-time four-wheel-drive operation with a two-speed gear system. The transfer case controls the five modes of operation:
You May Also Enjoy:
Dodge Ram 1500 Sport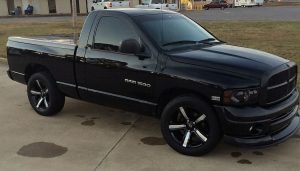 Related Search Topics (Ads)
N (Neutral): Disconnects the driveline from the engine and transmission for flat-towing the truck.
2H Normal (two-wheel drive): Rear-wheel drive only with rear open differential for tractive environments such as dry pavement. This is best for everyday driving.
4H Wet/Snow (four-wheel drive): All four wheels can provide traction with open differentials front and rear. This is the best setting for slick roads, snow, gravel or rain.
4L Off-Road (four-wheel drive, low speed): All four wheels can provide traction with a locked transfer case, open differential in front and locked in rear. This setting leverages torque and is best for very slow (1-5 miles per hour) driving over extremely rough terrain, large rocks and uneven hill climbs.
4H Baja Mode (four-wheel drive): This setting is best when driving like a beast off-road, mostly at full throttle. The system locks the transfer case and locks the rear differential for maximum traction and drive-by-throttle dynamics at high speed in low-traction terrain.
The front and rear axles feature severe-duty components to handle the high horsepower and off-road rigors. Front and rear bypass performance shocks have been added for improved response and damping, with more than 13 inches of wheel travel at all four corners, an increase of more than 40 percent.
Brakes are Baer six-piston monoblock calipers mounted to 15-inch rotors in the front. The rear uses six-piston calipers with 14-inch rotors.
The Ram Rebel TRX Concept is six inches wider than a standard Ram 1500. The huge fender wells clear aggressive 37-inch tires. It's no lightweight, tipping the scales at 6,000 pounds.
Will The Ram Rebel TRX Concept Become Reality?
This muscle truck is a excellent example of FCA's ability to put together exciting new vehicles through creative engineering using existing parts. Since Ram and Jeep are FCA's two primary sources of profits, this is a smart move. It will generate excitement and create showroom traffic for Ram, just as the Charger and Challenger Hellcats have for Dodge. It will help to sell a lot of Ram 1500s, and that is exactly what FCA needs.