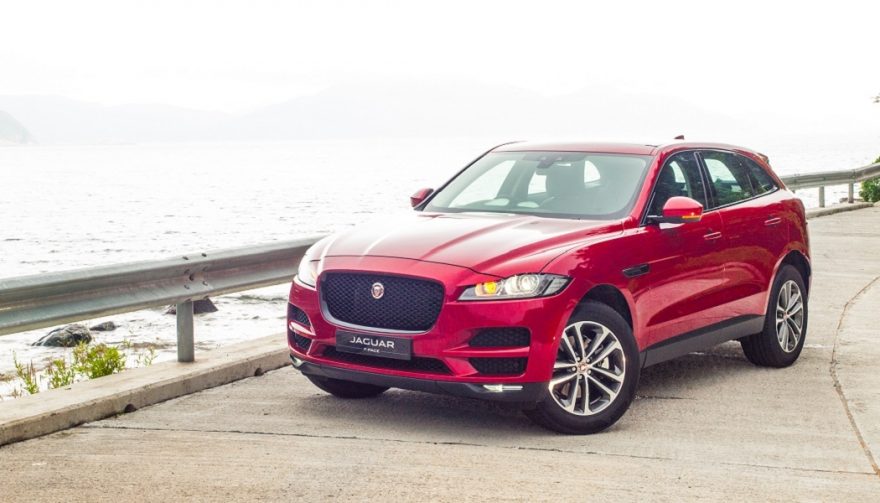 With the Jaguar F-Pace, the car maker hits the SUV market hard.
The 2017 Jaguar F-Pace: A Bigger Cat
You probably don't think of SUVs when you hear the name Jaguar, but that's changing in a hurry. The F-Pace marks a bold new plan to diversify the Jaguar brand.
I love fast, tight-handling wagons. But the average consumer associates wagons with "The Brady Bunch." Sedan sales have been declining, leaving crossovers or SUVs as the choice way to transport families. Some purists think this is the sign of the apocalypse. While I don't fall into that category, I was definitely skeptical about the F-Pace.
Getting to Know the Jaguar F-Pace
Jaguar has incredibly high stakes in the F-Pace. If successful with car shoppers, it could easily become the top-selling Jaguar ever made. With Hyundai now entering the crowded luxury market, Jaguar is in a tough fight for existence. Is the F-Pace compelling enough to keep Jaguar around for the long term?
The Specs
On paper, the F-Pace actually sounds pretty compelling. There are two engine options. The base 2.0-liter four-cylinder diesel puts out 180 horsepower and 318 lb.-ft. of torque. It works with an 8-speed ZF automatic transmission. Jaguar says acceleration from 0 to 60 mph takes 8.2 seconds. Top speed is 129 mph.
The other engine is a supercharged 3.0-liter V-6. It hits hard with 340 horsepower and 332 lb.-ft. of torque. Acceleration from 0 to 60 mph takes a mere 5.4 seconds, which is pretty impressive for an SUV. The top speed is 155 mph. If this engine sounds familiar, that's because it's also used in the F-Type, with similarly glorious results.
Curb weight with the diesel engine is 3,913 pounds. With the big V-6, it tips the scale at 4,015 pounds. That's actually pretty lightweight for an SUV.
Usually you wouldn't associate Jags with towing. With the V-6 or diesel four-banger, the F-Pace can pull up to 5,290 pounds. That's good enough to bring along some nice toys, or maybe even your weekend track car on a trailer (maybe).
In Person
Standing outside the Jaguar F-Pace, you can't help but ogle it. At least I can't, because it's a good-looking vehicle, like the Type-F. One of the best parts about the SUV's looks is the British subtlety. Too many vehicles these days have designs that try way too hard. There's no "look at me" edginess or some angry face glaring at you.
That same no-nonsense design language transfers into the cabin. Instead of a busy layout trying to wow you with how futuristic the space feels, Jaguar goes for simple. Fortunately, that means there aren't a ton of switches on the center stack, or steering wheel, which is one of my biggest pet peeves. I don't enjoy the feeling like you're sitting in the cockpit of a 747.
You May Also Enjoy:
Jeep Renegade Trailhawk: Off-Road Prowess and Delightful Design Touches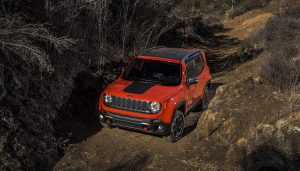 When you climb into the Jaguar F-Pace, you're instantly surrounded by comfort. That might sound like hyperbole, thanks to a deluge of automotive marketing materials out there, but with this SUV it's true. Those who've read my reviews in the past know I'm tall, about 6-foot 2-inches, so I'm super-critical of interior space. I can easily fit in the front or back seats, which usually is only the case on full-size SUVs and cars.
Driving Impressions
One of the first things I noticed about the F-Sport is how light it feels on its feet. Most SUVs, even the car-based variety, feel a little lumbering on the road. This cat is nimble, behaving more like a tall sports car. That might sound like a contradiction, but I can't think of a better comparison.
Even though it's tall, you can really push this SUV through turns. It corners flat, and the steering is precise. One of the best parts is how the F-Pace's engine and exhaust wail when you push it. It's a blast to drive.
With the diesel engine, to be honest, acceleration is a little slow at first. It picks up after a bit, but if you're like me you're into great off-the-line bursts of speed. That's where the V-6 really shines, because it's like a caffeinated cheetah ready to go at a moment's notice.
Just as important, my family loved riding in the F-Pace. The seats are incredibly comfortable, and they do a great job of holding you in place, even when you whip through turns. There are 13 different storage areas scattered all over, so it'd be a great vehicle for road trips. I even thought the infotainment system wasn't annoying to use, which is rare, because most are unnecessarily difficult.
The F-Pace is all about mixing practicality with fun. I had a blast driving it literally anywhere. In city traffic, it excelled at sudden acceleration (with the V-6, that is) as well as in sudden stops and the need to swerve at a moment's notice. On the highway, it feels solidly planted and yet engaged. Topping off all that practicality is the cargo. Folding down the rear seats expands it to an area 3.3 feet wide and 5.9 feet deep. There are two metal tracks with movable tiedowns, so you can secure whatever big items you need to load.
Off-Roading
I didn't take the Jaguar F-Pace off the pavement, but apparently it's pretty good on trails. That's great, because I love SUVs that can survive the rigors of dirty and rocks, yet aren't horrible to drive in cities.
I'm not exactly sure just how far you can push the Jag in rugged terrain. Obviously it's no Jeep, or Discovery. But Jaguar did borrow some tech from sister brand Land Rover.
Pricing
If you think the Jaguar F-Pace is ridiculously expensive, you're wrong. Jaguar wanted broad appeal for this SUV. The base MSRP with the diesel engine comes in at just $41,990.
Even better, going with the supercharged V-6 hardly affects the price. The starting MSRP goes up to just $43,390. Personally, I think that's a no-brainer decision. The V-6 is something that will put a smile on your face every day.
If you think my review of the Jaguar F-Pace is unbelievable, go test drive one for yourself. It's an impressive machine, and I guarantee you'll at least respect it, if not downright love the thing. I think Jaguar has a real winner on its hands. As word spreads, this should help fuel a well-deserved comeback.