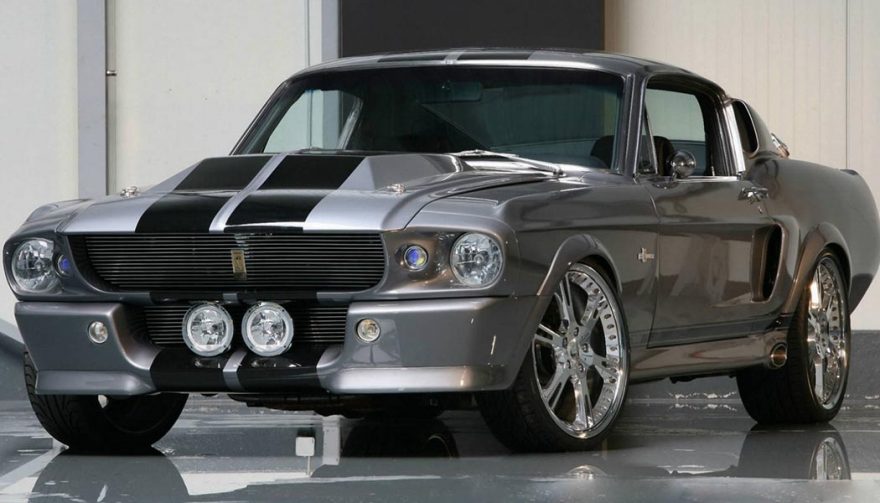 Gone in 60 Seconds is an iconic Mustang movie
Ponies in the Pictures: Top 5 Mustang Movies
One of Lee Iacocca's most brilliant and enduring moves during his career in the auto industry was pushing Ford to create a four seater car with bucket seats, a floor mounted shifter and be no longer than 180 inches. Oh…and cost no more than $2500. On April 17, 1964 the Ford Mustang went on sale and Ford dealers were swamped by consumers wanting to be one of the first to own one of these ponies. Over 22,000 were sold the first day, 418,812 the first year!
A star was born and it was ready for its close-up.
Iacocca was, above all else, a salesman so it was not surprising to see his new best seller appear in feature films as a product placement deal shortly after the introduction of the car to the public. According to Ford, the Mustang has appeared in over 500 movies since its release in 1964. While many of the appearances were the result of product placement arrangements, the brand itself with its reputation for symbolizing American cool was often picked by directors to help define a character.
While many of the pictures that the Mustang appeared in were complete flops at the box office, that's still a lot of eyeballs looking at those racy lines and hearing throaty exhausts and that can only help to keep brand's legend going.
Of course the problem with these lists is that they are totally subjective and rarely will everyone agree with the choices. Toss in the super hype that comes with the movie industry and the so called insider back story and the fact that Mustangs have been on the big screen for over 45 years and the logic behind the choices becomes even more blurred.
Mustangs in Supporting Actor Roles
So…you may have different opinions but we think the list below represents defining moments in the life of the Mustang as a movie star.
Goldfinger
The third film in the 007 franchise, Goldfinger sealed the deal for becoming the most popular spy/action adventure franchise in the U.S. It also marked the debut of the Mustang on the silver screen just months after the pony was offered up for sale.
Bond being the sophisticated, Lothario with a license to kill drove an Aston Martin DB5 (actually he drove 2 and the producers had to buy both) while chasing the sexy and seriously deadly Tilly Masterson (actress Tania Mallet) in her brand spanking new white Mustang convertible. The Mustang was a product placement deal and the car actually came from England's Alan Mann Racing, which was already building Mustangs for the European rally circuit.
So Tilly is ripping along a mountain pass when Bond pulls the DB5 alongside and shreds Tilly's tires with Aston Martin's optional "spinning blades axel extension." Things do not go well for Tilly or presumably her white Mustang convertible after that. Fortunately the scene that shows the shredding was filmed with a plastic model.
The show was a huge hit and Aston Martin changed their thinking about the crass American idea of paying to have their product featured in a movie and kept future Bond flicks fully stocked with free Aston Martins. Unlike many of the famous Mustangs that appeared in movies, the disposition of Tilly's convertible has never been established.
Bullitt
What else could super cool Steve McQueen drive but a 1968 Highland Green Mustang fastback sporting GT package and 390/4V engine while chasing through the streets of San Francisco at speeds hitting 100 mph? Actually there were two fastbacks used, one of which had extra welding, engine and bracing work to take the abuse it took when flying over a hill and landing hard.
While the movie wasn't a huge hit it did have Steve McQueen in it and a heart thumping 9 minute 40 second car chase in which the car Bullitt was chasing, a black Dodge Challenger, lost 8 hubcaps (huh?) before slamming into a gas station and blowing up.
By the end of the movie the "crash car" was so beat up Warner Brothers didn't even consider selling it and instead sent it off to a junk yard.
However, the "Bullitt fastback" was bought by Warner Brothers employee Bob Ross who said "It was a fun car to drive, very powerful but also very squirrely." Bob kept it for a year and sold it to a cop back East who hung on to it for a couple of years before selling it to its current owner in 1972. Today's owner, who prefers to remain anonymous, bought the Mustang because of the low asking price and the authentic documentation that matched Warner Brothers' VIN to the VIN on the car he purchased. Today it sits in a storage site and the owner has no plans on selling.
Gone in 60 Seconds
The original Gone in 60 Seconds starred "Eleanor" a 1973 SportsRoof that gets the crap kicked out of it in one of the longest, and most destructive (some say 94 cars crashed) car chases in movie history. Independent film maker Toby Halicki (also producer/actor/stunt driver) decided on the '73 SportsRoof as it was one of the last Mustang muscle cars before Ford introduced the wannabe Mustang II. For the kind of punishment he put Eleanor through, nothing but a reinforced "real" Mustang would do.
The story revolves around a car theft ring and "Eleanor" is actually a code name for '73 fastbacks as in "we need to boost 4 Eleanors in the next 48 hours." One of the original SportsRoof Mustangs sold for $1.3 million at auction in 2014.
The movie was not a box office success but did earn a cult following that inspired the remake of Gone in 60 Seconds 2 starring Nicholas Cage. Sadly Halicki, who suffered a compressed spine filming the original, was killed in an accident while filming in the remake.
I Am Legend
You couldn't get through this list without the name Shelby coming up and in post-apocalyptic New York City Will Smith's '07 Shelby GT 500 can park anyplace it feels like. Although in this flick there is not much parking but a whole lot of incredible, growling exhaust tone, burning tires and pedal to the metal races down main thoroughfares dodging herds of deer and abandoned tanks.
For the first half of this movie anyway, the bright red Shelby with the twin white racing stripes contributes just as much to the story as its human and animal co-stars.
Getaway
We included this film as an example of extreme product placement. Shelby America knew it couldn't lose if it provided a '13 Shelby GT 500 Super Snake for Getaway. It's a kidnapping story where the hero (Ethan Hawke) has to spend an enormous chunk of the movie sitting inside the Shelby awaiting instructions on how he and the Shelby's owner (Selena Gomez) can save his wife.
There is hardly a shot in the movie that doesn't have the Cobra, Shelby logos (embroidered on the headrests) and of course the exterior shots of this incredibly sexy machine.
The movie itself is questionable but boy they crash a bunch of cars into other vehicles that must all have open containers of gasoline in the back seat. Shelby provided 2 GT 500s and seven other mustangs that were "dressed up" to look like Super Snakes. These seven were the ones that got crashed, glued back together, and crashed again. At one point the seven crash dummies were so beat up parts of them were attached to similar sized cars to create 13 Shelby GT500 lookalikes.
The car was truly the star!