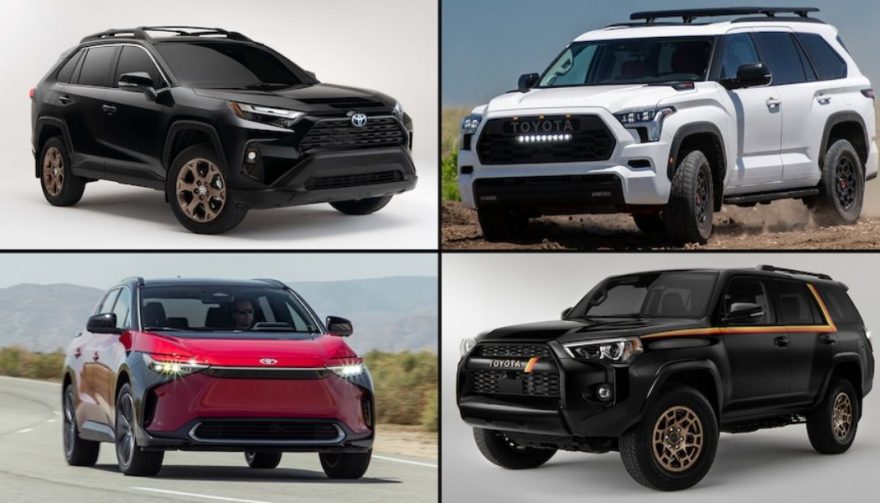 The 4 Best Toyota Hybrid SUVs On the Market
A Reliable and Durable Vehicle Option
Toyota has always received consistent customer praise for the reliability and durability of its cars, and its hybrid SUVs are no different. As the first major car manufacturer to release a hybrid vehicle, it is of little surprise that Toyota continues to produce some of the best hybrid vehicles available on the market.
With an impressive range of SUVs available at various prices, a Toyota hybrid is well worth considering if you are eager to replace your vehicle. Read on to learn more about Toyota's best hybrid SUVs and discover why so many drivers rave about them.
Toyota RAV4
The RAV4 is a staple of the Toyota lineup. Its various iterations have been on the roads for over twenty years, and the model only gets better with age. The latest addition to the RAV4 line comes with a modernized design that seeks to distinguish Toyota from the likes of Hyundai and Kia. It is currently available as both a plug-in and self-charging hybrid, giving drivers the option to experiment with an electric-only vehicle.
The pure electric range is limited, covering an average of 46 miles. But with a 2.5-liter engine, drivers can regularly switch between using fuel and electricity. While the CVT gearbox is disliked by many drivers, the RAV4 performs well both on-road and off-road. The RAV4 is also available with all-wheel drive for those who want to explore rougher terrains in their vehicle.
The plug-in version can reach 60mph in approximately 8 seconds, while the self-charging RAV4 can reach 60mph a whole two seconds quicker. It also comes with countless safety features, including cruise control, parking sensors and lane departure warnings. Plus, with Toyota's reputation for reliability, drivers can purchase a RAV4 and relax knowing that it has been built to last.
Toyota C-HR
For drivers looking for their next family car, the Toyota C-HR is an excellent choice. It boasts several desirable features whilst being incredibly economical and stylish. It is one of the newest additions to the line-up of Toyota hybrid vehicles, with the first iteration of the C-HR hitting the roads in 2016. But, its relatively short history does not equate to unpredictability or unreliability.
The C-HR makes use of Toyota's hybrid petrol system and is available in two sizes, 1.8 VVT or 2.0 VVT. Once again, the C-HR features a CVT gearbox which, while disliked, controls the flow of power between the electric motor, battery pack, engine and wheels. A plug-in version of the C-HR is due to be released late in 2023.
Currently, there a four different trims available for the C-HR, including Design, Excel, Icon and GR Sport. All iterations come with Toyota Safety Sense which features pre-collision alert, lane assist and cruise control. Each trim comes with additional assets but the standard version provides drivers with everything they need, especially if the C-HR is their first hybrid vehicle.
Toyota Yaris Cross
The Yaris Cross is marketed as the ideal city SUV, with a compact design and economical fuel consumption. But it offers drivers so much more than that. Coming in Toyota's standard four trims of Design, Icon, Excel and GR Sport, potential buyers can customize the Yaris Cross to their needs, whilst being assured that each iteration comes with Toyota Safety Sense and the manufacturer's renowned reliability. With a Yaris Cross, there is no need to think about buying a new vehicle any time soon.
Drivers are saved from the difficulty of debating which engine size to opt for, as the Yaris Cross is only available with a 1.5-liter petrol engine with a singular electric motor. However, there is a choice between two-wheel and four-wheel drive. The Yaris Cross is most comfortable with city driving but performs well on larger roads, reaching 60mph in 11 seconds. It's the perfect hybrid option for those who rarely need to cover long distances on fast-paced roads.
Toyota Highlander Hybrid
The Highlander Hybrid perfectly balances its size with fuel efficiency. This SUV can sit seven people across three rows, offering space for the whole family alongside plenty of luggage. While not the fastest Toyota hybrid on the market, taking a total of 9 seconds to reach 60mph, it's perfect for ferrying large groups of people from A to B.
The standard version of the Highlander provides drivers with all the tech they need, including a 4.2-inch display, heated outside mirrors, an 8-inch touchscreen and 5 USB ports. With a starting price of $39,055, it is one of the most affordable and reliable mid-sized SUVs on the market.
While the Highlander is available with a standard engine, the hybrid engine is just as effective. On average, drivers can expect to get 35 miles out of a gallon with the hybrid engine, with an estimated driving range of 600 miles.
Final Thoughts
Simply put, Toyota offers drivers a range of reliable and economical hybrid SUVs. While the specifications of each vary, potential buyers can expect a comfortable vehicle that can handle both city driving and longer stretches of travel on high-speed roads. All while utilizing a hybrid engine that benefits the environment.
---
Check out the top electric cars coming in 2024.