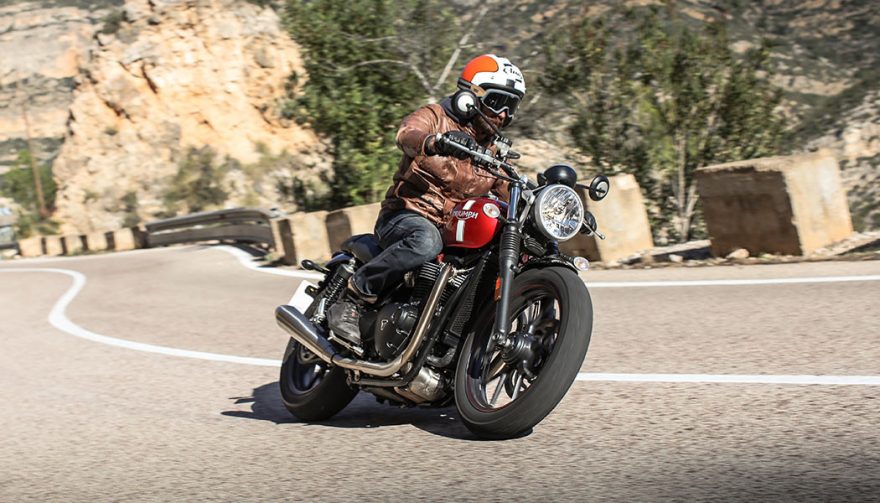 With a vintage look with modern conveniences, the Triumph Street Twin woos critics.
Triumph Street Twin Is Motorcycle Of The Year
A modern bike in a retro package – that's the Triumph Street Twin, which has just won Motorcyclist Magazine's 2016 Motorcycle of the Year Award.
Let's Check It Out
The Street Twin offers buyers that classic Bonneville look, but with updated mechanicals, a comfortable ride, just enough convenience, and a great sound.
Engine
The Triumph Street Twin boasts an all-new 900cc liquid-cooled twin engine. It has double overhead cams and four valves per cylinder, with multipoint sequential electronic fuel injection. Exhaust is a brushed stainless steel 2 into 2 system with twin silencers. Power rating is 55 hp @ 5900rpm, with torque rating of 59 ft-lbs @ 3230rpm. Fuel consumption is 60.8 MPG, based on the EPA exhaust emission measurement test procedure.
Transmission
The Street Twin feeds its power through a 5-speed gearbox and a wet, multi-plate assist clutch to an X ring chain final drive. Traction control is also included.
Wheels And Brakes
Wheels on the Triumph Street Twin are cast aluminium alloy multi-spoke, 18 x 2.75in. on the front and 17 x 4.25in. on the rear. Brakes are ABS, with single disc Nissin 2-piston floating calipers, 310mm on the front and 255mm on the rear.
Instrumentation
The Street Twin offers an LCD multi-functional instrument pack. It includes an analogue speedometer, odometer, gear position indicator, fuel gauge, range to empty indication, service indicator, clock, two trip odometers, average and current fuel consumption display, and a traction control status display. It is TPMS ready & heated grip ready, and is controlled by a handlebar-mounted scroll button.
You May Also Enjoy:
Here Come the British! Top Models from Triumph Motorcycles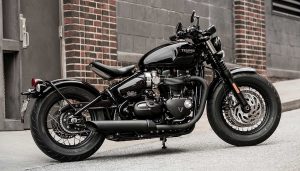 Related Search Topics (Ads)
Other Mod Cons
Additional features of interest include a USB charging socket, LED rear light, immobilizer and a chrome locking filler cap.
General
The Triumph Street Twin rides on a 55.7 in. wheelbase, with a seat height of 29.5 in. It weighs 437 lb. dry and holds 3.2 US Gallons in its fuel tank, good for a range of close to 200 miles, based on the EPA figure.
Triumph Street Twin – Get One And Ride!
The Street Twin is an excellent all-around package that keeps that classic Bonneville spirit alive, but updated with the features that 21st Century riders are looking for in a motorcycle today. Check one out!