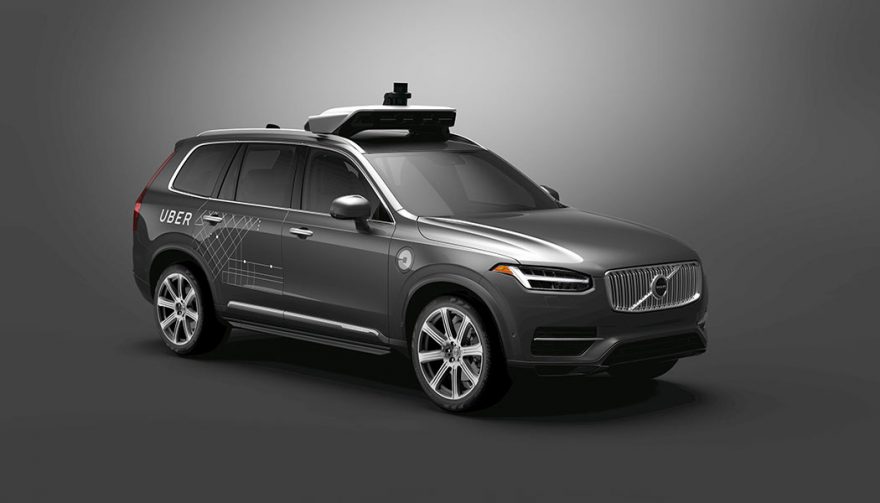 A Volvo XC90 Uber self-driving car struck and killed a pedestrian in Arizona
Report: Uber Pulls Self-Driving Cars After Pedestrian Death
Uber has pulled all of its self-driving cars off the road across the country after one of its vehicles struck and killed a pedestrian. According to reports, an Uber self-driving car hit a 49-year-old woman in Tempe, Arizona.
The woman was walking her bike across the street when she was hit. This is believed to be the first fatality involving a fully autonomous car.
According to a statement from Tempe police the vehicle involved was a Volvo XC90. Though it was an autonomous vehicle, a driver was still present as required by the Uber testing program.
"The vehicle involved is one of Uber's self-driving vehicles," the Tempe police said in a statement. "It was in autonomous mode at the time of the collision, with a vehicle operator behind the wheel. … Uber is assisting and this is stall an active investigation."
Uber has issued a statement on Twitter through the Uber Comms account.
"Our hearts go out to victim's family," the post reads. "We're fully cooperating with Tempe Police and local authorities to understand what happened.
Along with Tempe, Uber is suspending its self-driving cars program in San Francisco, Toronto and Pittsburgh.
Far Reaching Implications
Though the investigation is new and ongoing, this tragedy could have far-reaching implications for autonomous technology, not just for Uber. Self-driving cars have been touted as being safer than human drivers, and many car makers are fiercely pursing and incorporating the technology.
In fact, given the seriousness of this incident in Arizona, the federal National Transportation Safety Board is sending a team to investigate.
"The investigation will address the vehicle's interaction with the environment, other vehicles and vulnerable road users such as pedestrians and bicyclists," the NTSB said in a statement.
According to the Associated Press, the federal government only has voluntary guidelines regarding the testing of self-driving cars. Much of the legislation is left up to states. "In 2017 alone, 33 states introduced (self-driving car testing) legislation," the AP wrote.
Arizona has been particularly friendly for self-driving car testing. Along with the Uber program, Waymo, an offshoot of Google parent company Alphabet, also has a self-driving car pilot program in the state.
At the moment, there is no word from Waymo if they intend to suspend their self-driving car tests.
The death is the most serious regarding Uber's self-driving cars, but it's not the only recent incident. Just last week, an Uber self-driving car collided with another car in Pittsburgh.
And last year, also in Tempe, an Uber self-driving car flipped on its side after an accident with a human-driven vehicle. However, authorities later determined that the Uber self-driving car was not at fault in that incident.