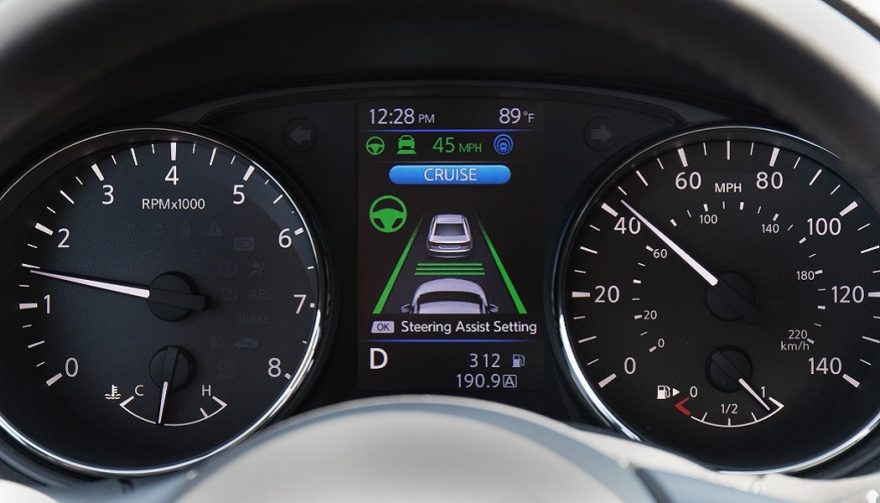 A shot of the Nissan ProPILOT Assist interface
Nissan Ready to Launch Semi-Autonomous ProPILOT Assist in U.S.
Farmington Hills, Mich. – Nissan is ready to launch its new semi-autonomous ProPILOT Assist technology in the United States. ProPILOT Assist mitigates the hassle of stop-and-go driving. It will be available later this year, according to a release. Nissan didn't specify which models will feature the system.
Nissan tuned the ProPILOT Assist system specifically for U.S. roads and drivers. It helps to control acceleration, braking and steering while the car is on a single-lane highway.
"Nissan is a technology pioneer and ProPILOT Assist sets a strong, consumer-focused foundation for fully autonomous vehicles of the future," said senior VP of R&D at Nissan Technical Center North America Takeshi Yamaguchi.
Hands-On Driver-Assist Feature
During operation the system combines steering assist and intelligent cruise control features for use in heavy and flowing traffic situations. However, it's considered a "hands-on" driver-assist feature and not a full "self-driving" system.
A network of cameras, radars and sensors work in tandem to help the driver stay in the center of their lane, as well as to maintain the speed the driver sets. ProPILOT Assist can also bring the vehicle to a complete stop.
To activate the system, the driver pushes a blue ProPILOT Assist button located on the steering wheel. Then they set the Intelligent Cruise Control after they've reached the desired speed.
For steering assistance to work the driver's hands must be placed on the steering wheel at all times. And not just touching the wheel. The warning system may activate if only a light touch is present.
"ProPILOT Assist has the ability to track curving lanes, helping the driver stay centered in the lane as well as adjusting for various traffic flow conditions," Yamaguchi said.
"However, just as non-autonomous vehicles today, ProPILOT Assist requires the driver to remain engaged in the task of driving at all times – though the technology can reduce driver fatigue and increase driving enjoyment."
Of course, the driver's input takes priority. The system will go into standby whenever the steering wheel is turned or the turn signal is activated. It also goes into standby when the accelerator pedal is pressed. If the driver applies the brakes, both intelligent cruise control and lane assist shut down.
Testing
Nissan tested the feature on more than 50,000 miles of U.S. roads during development. Nissan has plans to extend this technology to more models in Europe, Japan, China and the United States.
Yesterday, Nissan unveiled its e-Pedal one-pedal driving system for the new Nissan Leaf.