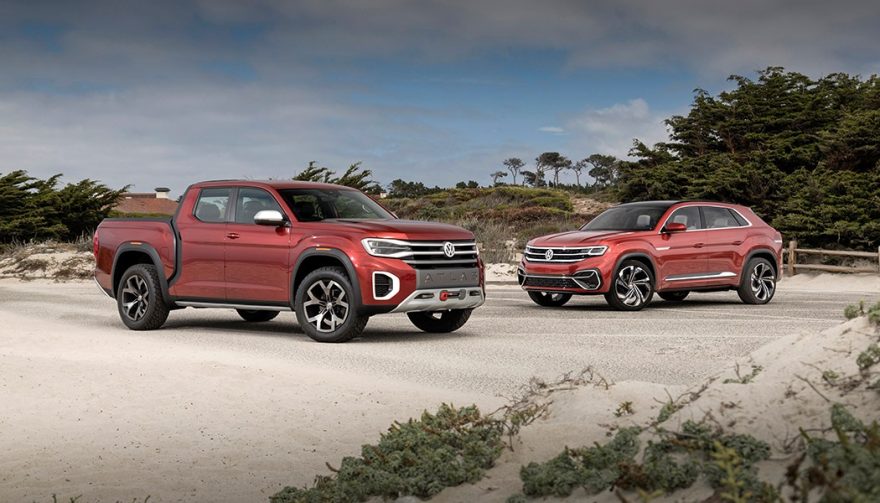 Volkswagen brought a pair of innovative versions of the Atlas to Monterey Car Week last week in Pebble Beach, California.
Volkswagen Atlas Cross Sport, Tanoak Revealed at Pebble Beach
Volkswagen brought a pair of innovative versions of the Atlas mid-size crossover to the Monterey Car Week last week in Pebble Beach, California. The concepts, which might be closer to production versions than you might think, manage to both increase and decrease how much the Atlas can haul. The two were the Volkswagen Atlas Cross Sport and the Atlas Tanoak. The Atlas Cross Sport is a two-row version of the three-row Atlas. Volkswagen has confirmed it will make it to production. The company said that it could launch as early as next year. It takes the seven-seat Atlas and chops the rear. Think Range Rover Sport or BMW X6 vs X5, but for Volkswagen.
Pick More Style
Instead of the long and high roofline of the original, the Volkswagen Atlas Cross Sport gets a much shorter roofline and sharply raked rear glass. With upswept headlights, protruding wheel arches, and a more aggressive front end, it's a stylish option for buyers who want an SUV larger than a Tiguan but want more style than either the standard Atlas or the Tiguan can offer. The concept also offers some cool frameless doors, a feature that we hope makes production but isn't likely.
There were two versions of the Cross Sport on display. One was a plug-in hybrid that offered 360 hp and a 26-mile electric range. The other was a regular hybrid that Volkswagen said could offer 314 hp. Despite those high-tech offerings, VW confirmed at the show that production versions will be gas only. Expect the same 276 hp V6 as the standard SUV, and the 235 hp 2.0L turbo four may be on offer as well.
You May Also Enjoy:
VW Gets Its Style Back, Reveals 2020 Volkswagen Atlas Cross Sport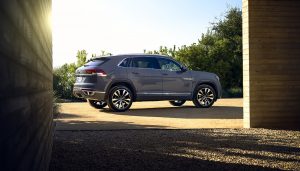 Or Pick More Stuff
The Tanoak is still a maybe. That's the more rugged-looking pickup truck version. The Atlas is a VW aimed firmly at American buyers, and there isn't a market anywhere that loves trucks more. It won't be a body-on-frame truck like the big three offer but think of it more like VW's version of the Honda Ridgeline. A truck that's capable enough to meet the needs of most pickup buyers, but with more crossover comfort. Though in the mid-size market it would also likely find itself being cross-shopped with the likes of the Toyota Tacoma and the Chevrolet Colorado.
The Tanoak concept uses the 3.6L V6 from the production Atlas, making 280 hp. It looks good for a pickup, with nearly hidden rear doors and a front end that looks much more rugged than the standard SUV.
This isn't the first time that VW has put its badge on the back of a pickup. North American buyers might remember the Golf-based Caddy that the brand sold in the late 1970s and early 1980s. If the Tanoak, which is named after an extremely tall-growing evergreen found on the Pacific Coast of the U.S., reaches production it would be a much more capable vehicle than that one. Volkswagen also offers buyers in the rest of the world the Amarok. That's a more conventional, body-on-frame pickup, though it is still compact sized. VW isn't saying if the Tanoak will reach dealer lots just yet. They are saying that it "may be on the cards."