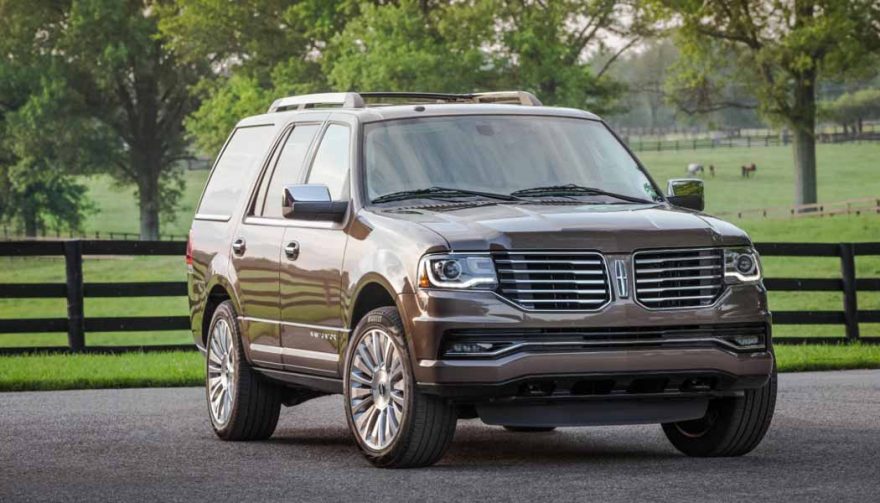 The Lincoln Navigator powered by the 3.5-liter EcoBoost engine shared with the F-150, so it hauls well too
SUVs with Third Row Seating: Because You Don't Want a Minivan
With the exception of a few good choices, the minivan segment has all but dried up. Instead, those van customers have turned to a different vehicle category altogether,  one that isn't embarrassing to be seen driving. SUVs with third row seating are a hit for a number of reasons.
They have nearly as much as space as a minivan.You can easily fold down the third row, or remove it, to make room for cargo. SUVs are usually more capable and versatile than a minivan. Most importantly, they don't bed to be mocked.
Whether it's a crossover or a midsize SUV or a full-size SUV on a truck platform, there are plenty to choose from. Here are just 10 SUVs with third row seating that we think are pretty great.
2017 Lincoln Navigator
One large SUV that does a great job as a three-row vehicle is the 2017 Navigator. It has a bold, stylish interior that emphasizes occupant comfort. That even goes for the third-row seat with plenty of leg space for small to medium adults, not to mention kids of all shapes. If you get the 2017 Lincoln Navigator L, there's even more leg space in the second and third rows, and added space for cargo also.
The price tag is a little restrictive at $63,515 and up, but the quality is there. It's powered by the 3.5-liter EcoBoost engine shared with the F-150, so it hauls well too. But when the highly anticipated 2018 Navigator comes out, this one will be completely forgotten…
2017 Acura MDX
The 2017 Acura MDX is more manageable than a full-size SUV without giving up any of the good stuff. It's fun to drive with 290 horsepower (321 horsepower in the hybrid version) and it's chock full of goodies. We're talking natural wood accents, fine leather surfaces, available widescreen rear-seat entertainment and much more.
The 2017 MDX has decent passenger space for all three rows, and pays special attention to entry and exit from the third-row seating. The second and third rows can be tucked away if they're not in use, which is great for most people. Best of all, it doesn't look like a minivan. Definitely one of the best SUVs with third row seating.
View on One Page