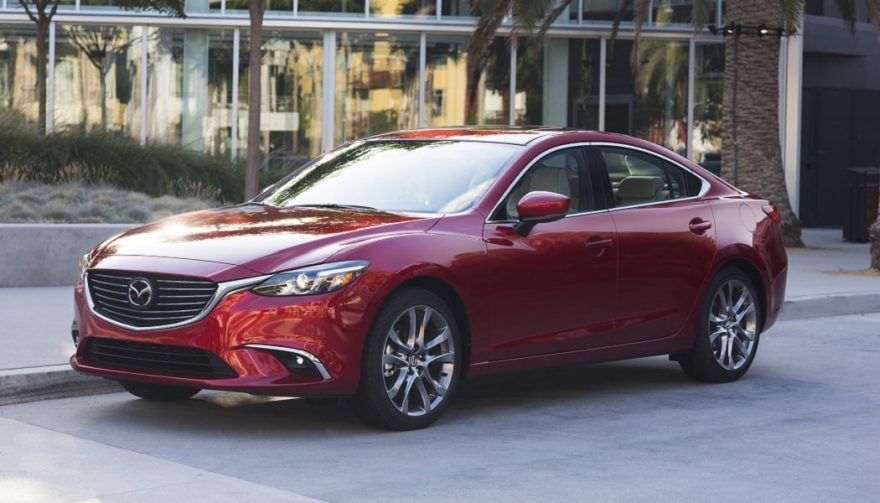 It's not six figures, but the 2017 Mazda6 is a refined sedan
2017 Mazda6 Review: Refining a Winner
The 2017 Mazda6 is one of those cars going through a refinement phase. Which, honestly, is all it needs. The sporty four-door sedan is pound-for-pound one of the best people movers on the road.
Kodo Flow
Personally, I'm a huge fan of Mazda's Kodo design language. I've always been a fan of swooping curves and flowing lines though.
Designs with those features always feel more polished and finished than sharp, blocky angles and protruding lines. Like a carpenter who spent time sanding blocks of wood for furniture versus one who put it all together after the he finished cutting.
The Mazda6 has that finished look to its design, with high, swooping front wheel arches that match the falling rake of the roofline. That roofline is met toward the back with a gently rising window line and a beefy front fascia is ready to gobble up plenty of air. Those features give the impression that family car can do more than get groceries.
The interior matches the polished design of the exterior. Sure, no one will mistake it for a six-figure Mercedes. But then again, with Nappa leather seating, acoustic laminated glass, and heads up display – this isn't your average sedan.
Button placement is also smart and well thought-out, something many manufactures get surprisingly wrong, and new interior color palates give the car a more upscale feeling.
Still Plenty of Go
The 2017 edition doesn't only look like it can perform, it can go. There's lots of get up in the 184-hp engine, clocking a 0-to-60 time in 7.5 seconds.
On the flip side, Mazda's SKYACTIV engine technology also means you can still maintain an impressive 35 mpg on the highway.
One of the best features in the Mazda6, in my opinion, is the ability to row your own gears. That's right. In 2017, you can still get a sedan with a manual transmission, though unfortunately not in Grand Touring trim.
Still, there isn't a much more entertaining way to enjoy a drive than with three pedals and a stick, something it seems Mazda still believes in.
In the bends department, the new model pairs the Mazda6's already nice suspension and steering with new-for-2017 G-Vectoring Control. This allows the onboard computers to optimize weight transfer in the corners by ever-so-slightly (most won't even notice it working) regulating torque.
In moving the weight towards the front axle in a turn, steering response becomes sharper for better handling capabilities.
Improving a Great Product
Sure, Mazda didn't develop anything groundbreaking for this year's Mazda6. But the Japanese company didn't need to, they were already working with a great car. The improvements they did make pushed the car to become one of the better sedans on the road.
While G-Vectoring Control will go unnoticed by most and the upgraded interior styling and features are natural evolutions for automakers, it also means Mazda isn't interested in sticking to the formula that worked last year or the year before.
Continual improvements show that the company still cares about creating a better experience.
Revolution isn't needed when you get it right the first time. When you're hitting home runs, you really only need to focus on going deeper. And when you're making a great car, you only need to focus on the details.
The 2017 Mazda6 may be the best sedan for the money on the road today. Competitors may offer similar features, but they lack the polished finish Mazda offers and they certainly aren't nearly as fun to drive as one.
Especially when you can still buy a one with three pedals and a stick.