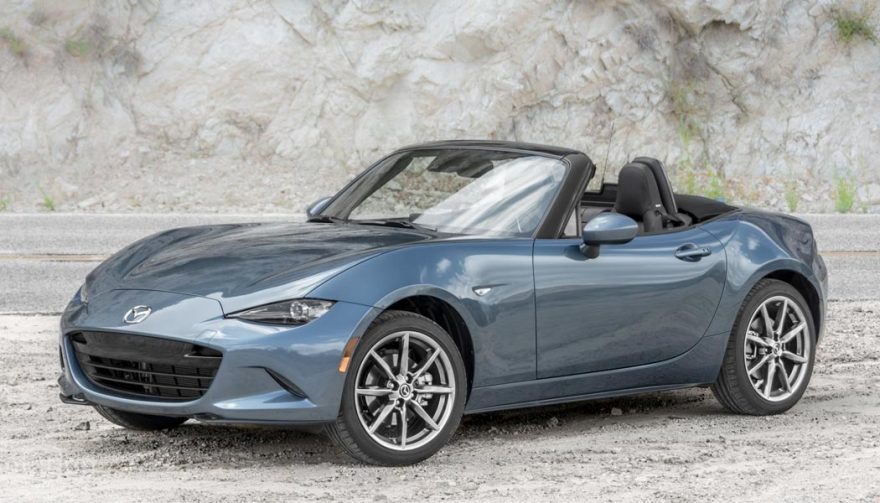 The Mazda MX-5 RF. RF stands for retractable fastback.
Mazda MX-5 to Come with Optional Retractable Hardtop for 2017
Just a day before the doors open at the New York International Auto Show, Mazda introduced the MX-5 Miata RF to the world. The MX-5 Miata RF is a power folding hardtop variant of the popular MX-5 Miata roadster, of which the most recent revamp was released in 2016.
The initials RF stand for "retractable fastback", which is the hardtop that nestles into space just above the cargo area when it is fully opened. The action is a little unique and the styling is somewhat curious when the top is put down.
It takes all of 12 seconds to retract the roof or put it back up. Mazda reports that it moves at a speed of 6 miles per hour, so don't get in the roof's way as it's going down or up. When you start the process to let the roof down, the rear window retracts down, and the rear buttresses or pillars lift up. The roof retracts into its pocket under the lid, then the buttresses close back down on top.
What that leaves, when the roof is opened, is a hoop behind the driver and passenger, almost like a roll bar. The "roll bar" is dressed in a sleek, glossy black that minimizes its appearance, but it still stands out.
Unlike most convertibles that are open all around and above the occupants, the MX-5 RF still feels a little like a coupe with a sunroof, albeit a large sunroof. In essence, the RF variant's roof can be considered a targa top.
You May Also Enjoy:
Mazda RX-7 Convertible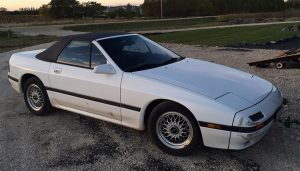 The rest of the Miata MX-5 RF remains virtually unchanged from the standard model Miata. It will continue to use the 2.0-liter Skyactiv 4-cylinder in North America and the 1.5-liter Skyactiv engine in European markets.
Mazda's previous generation of hardtop convertible received a warm reception especially in colder climates where canvas or fabric roof systems simply aren't warm enough for year-round use. The hardtop model insulates much better against not only weather but sound as well, making it an attractive option.
Mazda recognizes the need to release variants on niche cars like the Miata MX-5. Typically, specialty models like the Miata see an influx of buyers when they are first released, then experience a sharp decline in subsequent years. Frequent refreshes, updates, or variations like the Miata MX-5 RF keeps the market steady for specialty models.