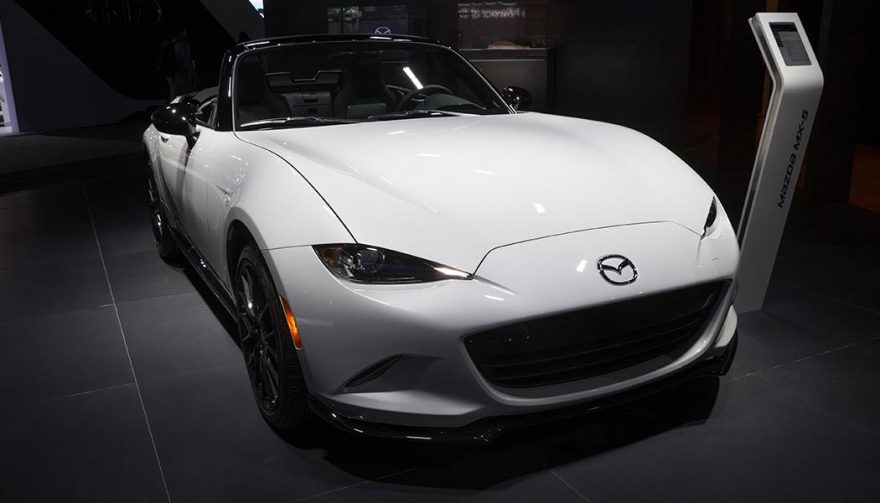 The Mazda MX-5 Miata RF features a retractable roof panel.
Miata RF Launch Edition Is The Show Car
The Mazda MX-5 Miata RF (Retractable Fastback) Launch Edition is available for order, but don't get your hopes up. You will not be able to visit your local Mazda dealer to see – or buy – one of the 1,000 Launch Edition Miata RFs available.
A Miata For The Select Few
First dibs will go to "a select group of customers who will be notified via email and will have a specific window of time to preorder the MX-5 RF Launch Edition before ordering opens to the general public," according to Mazda North America. These will be built to order, so it is possible that the general public might have a shot at getting one if the "select group" does not purchase all 1,000 units.
Specced To The Max
The Launch Edition Miata RF will feature Machine Gray Metallic exterior with a black roof. It will have Grand Touring trim, Auburn Nappa leather interior, and special badging. Your only choice? Whether to get the six-speed manual or the six-speed automatic transmission. A custom-designed Tourneau watch is an extra bonus. Pricing will be announced later, but be assured that the Launch Edition will include every option and be priced accordingly. The only element unique to the Launch Edition is the black roof, which will not be available on later RF models.
The "Unlimited Edition" of the RF will follow later, arriving in showrooms during the first quarter of 2017. These will come in both Grand Touring and Club trim levels.
The Miata With A Hard Top
The Mazda MX-5 Miata RF features a retractable roof panel that folds and then stows behind the seats. When the top is down, the trunk space is not affected. Additional sound deadening materials and a solid roof structure make the Miata RF noticeably quieter than the Miata Roadster. The retractable roof structure and mechanism add approximately 100 pounds to the RF's curb weight, compared to the Roadster. This will have a negligible effect on acceleration, but the slightly higher center of gravity may affect the handling somewhat.
For those who like the added security of a solid roof or want to seal out the weather in the winter, the Mazda MX-5 Miata RF lets you have your coupe and your top down too!