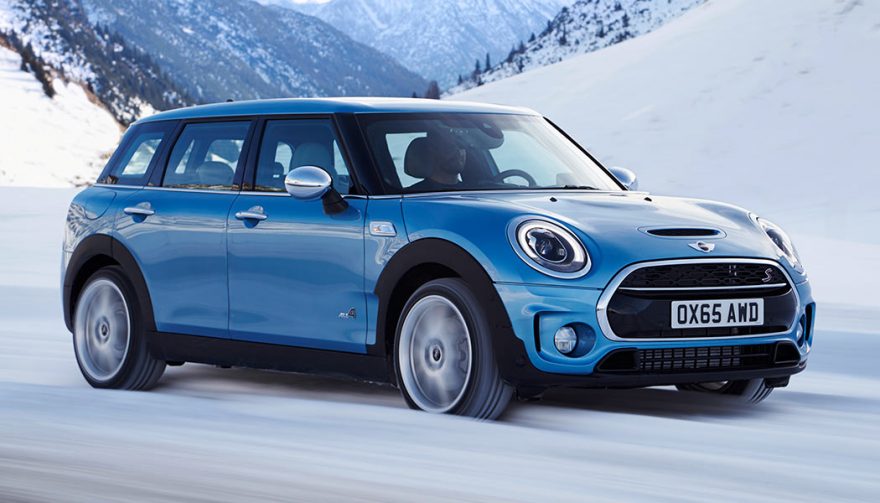 At over 3,000 lbs., the 2017 Mini Clubman is the heaviest vehicle Mini has ever made.
2017 Mini Clubman: Driving A Giant Go-Kart
I'm too young to have a deep connection with the old-school Minis. Besides, at 6-foot 3-inches and 220 pounds, I can't even fit inside the things. BMW bought the brand and launched a new generation of the cars. The 2017 Mini Clubman is the latest evolution of the brand.
Getting to Know the 2017 Mini Clubman
When the new Mini Coopers arrived in the United States in 2001, I took a few for a spin and really liked them. They were still pretty small, but surprisingly spacious (for the driver and front passenger). The best part of those first new Minis was that they drove more like go-karts than regular cars. They weren't horribly powerful, but they were a blast to drive literally anywhere. They also had that quirky, British charm you really don't get with any other vehicle these days. We are now sixteen years past that re-introduction.
To be honest, I've been concerned about Mini lately. The cars have been, well… less and less mini. While the Hardtop and Convertible have grown a fair amount, the Countryman really blew me away with its tremendous size. And then I saw the 2017 Mini Clubman – the longest, widest and heaviest (it weighs over 3,000 pounds) vehicle Mini has ever made.
Standing next to it, the 2017 Mini Clubman feels pretty sizable. You can look at that as a liability, as I did in my local Mini dealer's lot, or you can see the advantages it affords in everyday use. With three kids, I was surprised how easily they all fit in the backseat, even with two of them in booster seats. While the cargo space isn't huge, it's fine for running errands around town. The dual rear barn doors can openly remotely, so if you have your arms full of stuff you don't have to juggle.
Interior Lay of the Land
Fortunately, the 2017 Mini Clubman hasn't lost everything British about it. While plenty of the mechanicals are German through and through, the skin is UK all the way. Instead of feeling stuffy, like many luxury vehicles, the cabin has a playful tone to it. Much of the switchgear mimics what you would find in an old plane, or cars from yesteryear, including the ignition switch (instead of a boring button).
Of course, some of the quirkiness takes getting used to. For example, selecting the different driving modes is not done with a dial control as in a regular car. No, Mini made the shifter surround into the dial. You turn it one way or another to cycle through the options. Unfortunately, I didn't figure that out until after the test drive.
Another thing: I had issues with the turn signal stalk. Instead having haptic feedback to let you know when it's been switched on, it operates more like a thumbstick on a game controller. Other modern cars have a clicking sensation when you switch the signal on and off, but the Mini's isn't that way. I kept trying to turn the signal off after switching lanes, only to signal the opposite direction, not realizing my mistake for a moment. After a while, I got the hang of it. Kind of.
The big round infotainment screen in the dash is actually not annoying to use, like I'd expected, nor were the gauges. The other controls are pretty self-explanatory, but not completely intuitive. The front seats are supportive and comfortable, with plenty of legroom. In the rear, the seats are well above average.
You May Also Enjoy:
Latest Mini John Cooper Works Gets 300+ HP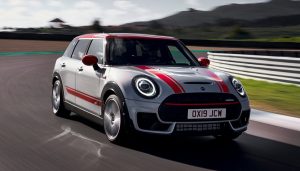 2017 Mini Clubman Specs
The 2017 Mini Clubman is a complete redesign. It uses the same platform as the front-wheel-drive BMW 1 Series, which is a big boost for the brand. You can get the car in several flavors: Cooper, Cooper S, Cooper All4 (all-wheel-drive), Coopers S All4 and the insane John Cooper Works All4. A six-speed manual is standard for each one, which is great news for people like me who love to row the gears. The base Cooper can be fitted with a six-speed automatic, while the others feature an optional eight-speed auto.
Powering the car is a 1.5-liter three-cylinder TwinPower Turbo engine. On the base Cooper, it's tuned for 134 horsepower and 162 lb.-ft. of torque. The Cooper S drops in a 2-liter four-cylinder TwinPower Turbo bumped up to 189 horsepower. Mini says with the Cooper Clubman, you can go 0 to 60 in 8.9 seconds, so it's not a car you would take drag racing. The Cooper S does it in 7 seconds flat, which is a big difference.
Then there's the John Cooper Works All4. It manages to squeeze 228 horsepower and a massive 258-lb.-ft. of torque from its four-cylinder engine. Even more impressive, it hits that peak torque figure at just 1,450 rpm. Mini claims a 0 to 60 time of 6.0 seconds. After driving one, I believe it, because the thing can scoot. In fact, I was able to produce some tire chirp between first and second gear a few times.
Driving Impressions
Pulling out into the road, I wasn't sure just how well the 2017 Mini Clubman John Cooper Works All4 would handle the turn. After all, it's a big car. Immediately, I realized all of my impressions about it were dead wrong. The all-wheel-drive system pulled me safely into the correctly lane, while the engine punched it like a jackrabbit, pushing me well above the speed limit as I rapidly shifted from first to second. In less than a block, I was already having a blast.
The Clubman stuck the next turn like a true athlete. Interestingly, the suspension seemed to soak up most big bumps in the road, so it was far from punishing. As I got on roads with higher speed limits, I was able to feel how the car pulled hard all the way through the first four gears with little hesitation. The gear transitions were snappy, rocketing the Clubman forward, which was great for me as a driver, but a little less fun for the passengers. I started thinking of the thing as a practical track toy.
The Clubman was comfortable for highway cruising, making me realize it wasn't just a good option for getting around town. On the freeway, it was surprisingly stable, and even had decent pickup in sixth gear, although fifth was far more responsive. Fourth unleashed the beast in a big way, which would be ideal for mountain passes or passing on a two-lane highway. As long as we were to pack light, my family could take the Clubman out on the open road for a trip to Las Vegas or Denver. Maybe my kids wouldn't kill each other on the way.
Since I didn't find the driving mode dial until after the test drive, I did the whole thing in Sport. Mid and Green settings are also available, when you want to save the environment, guzzle less gas or make the ride more comfortable for passengers. But Sport was a blast, and I'd probably use it most of the time.
One big thing I didn't like was the rear visibility. Those barn doors are cute, but I still wonder why Mini didn't just go for a liftgate. Just like in old Suburbans, you get that annoying vertical crossmember in your field of vision through the back window, creating another blind spot.
While the car wasn't a growling, ferocious V-8-powered beast, it was definitely sporty and fun. That go-kart sensation was preserved, despite having six doors and some luxuries. I noted that the hood slopes down enough to make you feel like there's little standing between you and the road. Accomplishing that sense of connectedness, while still supplying a healthy amount of electronic aids and modern amenities is just downright impressive engineering.
Customization Options Galore
One of the best, and more expensive, parts of buying a Mini is that you can get it your way. I have wasted many hours playing on the Mini website configuring cars, switching all sorts of options from bonnet stripes to interior trim pieces and more. You can truly make your Mini unique, but watch the budget!
Toyota tried to rival this of out-of-the-factory customization with the Scion brand and utterly failed. You simply cannot find another mass-market vehicle that's so customizable right on the assembly line.
Pricing Is Up to You
A 2017 Mini Clubman can go for as little as $24,100 MSRP. But let's face it, nobody will get a base Cooper with zero options. That's just plain weird and far too boring for anyone daring enough to purchase a Mini.
The car I drove had some options, but not a crazy amount. MSRP was quoted to me at $33,580. That's not exactly cheap, but I could go with far more expensive fun-to-drive vehicles out there. For perspective, you can get a 2017 Subaru WRX for less, or an STI for a couple thousand more. Even though the Subie is more powerful and faster, it doesn't have that British charm. That's the reason for getting the Mini, along with the dizzying array of customization options.
Final Impressions
The 2017 Mini Clubman certainly isn't a muscle car, but it doesn't pretend to be one. Instead, the car is more like a giant go-kart. Sure, it's long and relatively heavy, but get behind the wheel and you'll be shocked at how well it can move. With that extra backseat space and cargo, you can actually use the car for practical purposes, and that's a big plus. So it's a more versatile fun car than most, making it into something I would actually seriously considering buying for myself. Drive a 2017 Mini Clubman and see what you think!