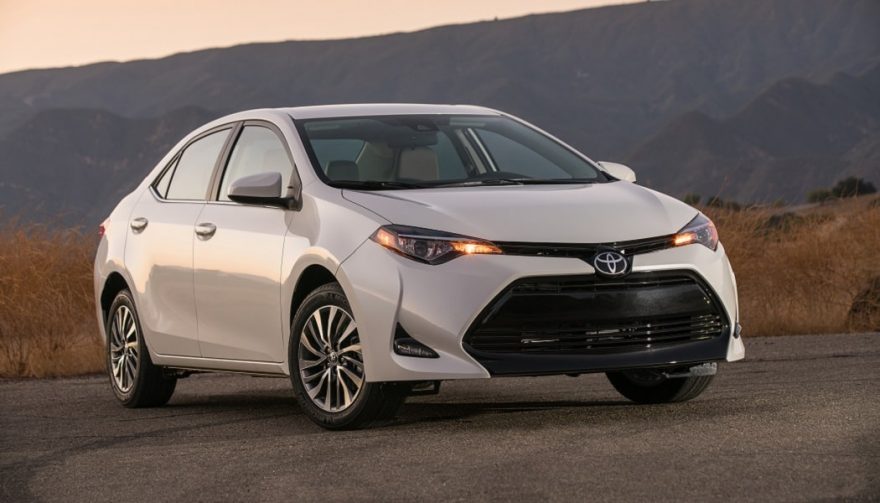 The Toyota Corolla has been in production continuously for 50 years
2017 Toyota Corolla: It's Got Style, Features and Value
What does the 2017 Toyota Corolla have in common with the Ford Mustang, Chevrolet Corvette and Porsche 911? If you guessed speed, gas mileage, or cost to insure, you would be wrong, Seriously wrong.
What the Corolla shares with these iconic sports car brands is 50 years of continuous production.
Toyota claims they have sold 43 million of these compact cars, which makes it one of the best selling cars in automotive history.
The 2017 Toyota Corolla comes with a number of trims and a surprisingly robust standard safety package. Combined, these are indicators that Toyota is still committed to its perennial favorite and expects the compact to carry on the brand's non-flashy style and unparalleled sales appeal.
A Bucket of Value in a Small Package
The compact car segment is highly competitive and includes sporty handling brands like Mazda 3 and the Honda Civic. Other brands may have tighter suspensions, quicker steering response and more horsepower under the hood, but the Corolla has a game plan that has kept it in the race all these years.
Toyota understands the audience that shops for compacts, and the Corolla is very good at delivering what they care about most.
The 2017 Toyota Corolla is an excellent example of a compact that pushes all the right buttons and rings all the right bells that compact buyers want to see and hear.
Gas Prices
Even with gas prices at historic lows, gas mileage is still an important factor when evaluating a compact. The 2017 Toyota Corolla base model has an EPA rating of 28 mpg in the city, 36 on the highway, and 32 mpg combined.
These are impressive numbers for a car powered by an internal combustion engine. Buyers most likely will be very impressed with the savings.
Safety
What's the downside of owning a compact? Probably the biggest negative is that the compact will always come out a loser if it tangles with a larger vehicle.
The 2017 Toyota Corolla levels the safety playing field by including accident prevention features as standard equipment on all trims. These standard features, like rear facing camera, forward collision warning, lane departure intervention and adaptive cruise control, are typically only offered as options on other brands.
Toss in the fact that the 2017 Corolla is an IIHS Top Safety Pick and you'll understand why it sweeps the field in auto safety.
Sharp and Roomy Interior
Unlike most compacts, the backseat in a Corolla is not a designated kids zone. There is actually adequate legroom (and headroom) to accommodate two adults.
This is the smartest and most stylish cabin that Corolla has ever had. It starts with a sport contoured steering wheel, an asymmetrical shifter and an easy-to-use touchscreen with large virtual buttons.
Lots of Trims
So the Corolla nicely addresses the top three concerns of compact buyers: fuel economy, safety and room. However, to close the deal there has to be more.
In this instance, the "more" is seven different trims. It's important to understand that the base L trim retails for $18,500 and the top-of-the-line XSE has a price tag of $22,000.
That's a spread of just $3,500. Considering the number of features available, the Corolla lets buyers affordably customize their car. That's a refreshing idea in an industry that is driven by upgrades.
We don't have enough room here to provide trim-by trim-descriptions. What we can do is give you an idea of the features and configurations that are available:
15″ steel wheels are standard, but 16″ and 17″ alloy wheels are available on some trims
Keyless ignition and entry
Toyota's SofTex simulated leather upholstery
Paddle shifters (with CVT transmission)
A sports model with 6 speed manual transmission and a slightly more powerful engine
Sunroof
Exterior items including custom LED headlamps, rear spoiler and chrome-tipped exhaust
Entune Audio Plus audio system
App-based navigation system
A whole bunch more
Cut to the Bottom Line
The 2017 Toyota Corolla doesn't scream, "Hey, look at me." However, with its refreshed front end, it is an attractive automobile.
The Corolla's 1.8 liter 132 hp 4-cylinder engine is not the most powerful in the pack. It's 0-to-60 time is 9.2 seconds. That's about a full second longer than most of the competition.
If you like spending your weekends cruising curvy roads in the country, you probably don't want a Corolla. The lateral roll produced by the Corolla will spoil your day.
The Corolla is not a speed demon. However, it has enough power to pass on two lanes or merge on a freeway.
It does not have a sports suspension and it isn't a plush luxury ride. But the Corolla can handle most anything a road can toss its way and still keep passengers comfortable.
In short, the Corolla makes a great commuter ride or an inexpensive first car for a young couple. It's also a "parent-approved" ride for a new driver.
It knows its place and it is very good at what it does. So if you are looking for a solid, economical ride, it makes sense to give the 2017 Toyota Corolla serious consideration.