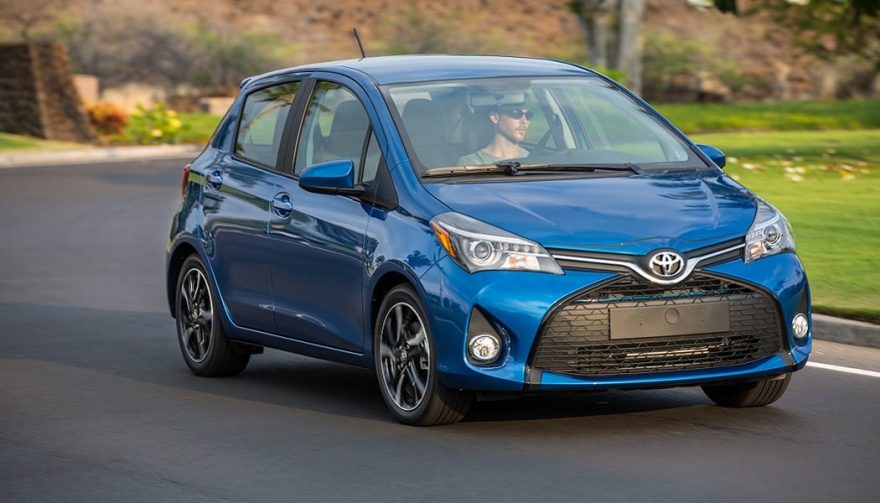 Toyota makes the Yaris as either a tiny five-door hatchback, or an even tinier three-door hatchback.
Toyota Yaris: Does Reliability Outweigh All the Negatives?
I'm sure I'm not the first to admit it, but the Toyota Yaris isn't sexy. Well, there's the rally-prepped version that Toyota has developed, but that's a horse of a different color. The production version of the car oozes practicality, right down to the curved plastic handle on the tailgate.
So why do people buy the thing? The Yaris is cheap, but the value of this car runs far beyond that. Just like many Toyotas, this vehicle will run and run with basic maintenance. That means you spend less keeping the thing going, which is another cost factor.
The question is: does the reliability factor outweigh the car's negatives? Or, are there enough other positives to make this a compelling option compared to other subcompacts?
On Paper
Toyota makes the Yaris as either a tiny five-door hatchback, or an even tinier three-door hatchback. No matter the version you pick, an anemic 1.5-liter four-cylinder engine provides power, at least in theory. After all, a peak 106 horsepower and 103 lb-ft of torque is paltry. Even when compared to other subcompacts, that's low.
You do get either a five-speed manual transmission or a shockingly outdated four-speed automatic. My first car was a four-speed, and I won't admit how old that thing was.
Of course, front-wheel drive comes standard. You also get the joys of a MacPherson strut front suspension, plus a torsion beam for the rear. Front disc brakes are standard, but you must upgrade from rear drums to get rotors. Again, what year is this?
To be fair, Toyota does throw in some modern features for all trims, like a 6.1-inch Entune touchscreen, power locks, power windows, four cup holders (total), and a cargo area cover. But cruise control, keyless entry, and LED daytime running lights are among the options.
Those points will make some people take a hard look at other subcompacts, and I think that's a great idea. After all, your money can buy more bells and whistles with other reputable brands.
First Impressions
Walking up to the Yaris, there's not a lot to love. One of my chief complaints is the car still has that cheap, Easter egg feel to it from the outside, and on the inside. Some competing subcompacts that had the same feeling have either been revamped or retired. I like substantial-feeling cars, but they cost more.
There are subcompacts where you climb inside and feel like you're in a bigger vehicle. The Honda Fit and Nissan Versa are two prime examples. With the Yaris, I climb inside and feel like I should've taken some yoga classes, because that's the only way I'll fit inside without a visit to the chiropractor afterward. I'm not exaggerating. Oh, and the cargo area's also almost nonexistent if you keep the rear seats up.
On the Road
On paper, the Yaris sounds slow. In reality, it is slow, maybe even slower than you might expect. Getting the manual transmission does help, but it's far from a real fix. While the engine might last forever, merging onto the freeway at rush hour will shave years off your life. I know which is more important.
What's more, the position you sit in creates excessive blind spots. I'm not entirely sure how Toyota engineers carefully crafted the setup, because at first the windows seem low and wide enough for a great view all around. This issue goes beyond annoying and ventures into dangerous territory.
So far, you'll die merging onto the freeway at rush hour or changing lanes at any time. Remember, that plastic egg-like exterior doesn't inspire much confidence in the crashworthiness of the Toyota Yaris.
Topping it off, steering is numb and the brakes are a little grabby in the whiplashy sort of way.
At least most of the controls are easy to use while you're driving. That's one thing I appreciate about all modern Toyotas, the Yaris included.
Like I said before, the backseat is a joke. Literally, I think Toyota engineers created it to troll the public. It certainly doesn't seem to be large enough for humans. If nobody rides in the back and you fold the rear seats down, cargo capacity is decent. That's probably the way you're supposed to use the Yaris all the time.
Drive at Your Own Risk
Personally, I can't in good conscience recommend the Toyota Yaris for anyone. It's not even a good vehicle for first-time drivers, because the complete lack of power and cheap construction don't make for a great combination.
I guess if you really need to save money and want something reliable, the Toyota Yaris could be compelling, it starts around $15,000. However, there are many other cars out there that will give you a lot more for just a slightly higher price tag.