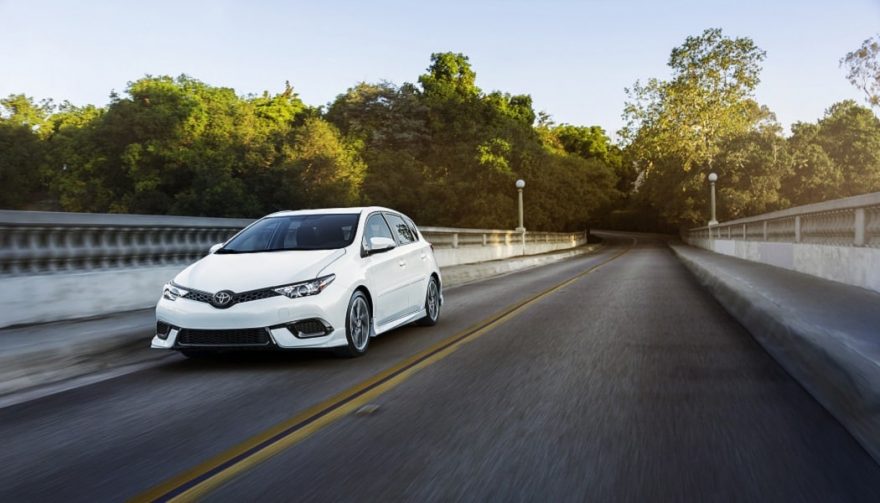 The Toyota Corolla iM gives you just about everything you could want in a car under $20K
Toyota Corolla iM Is About What You Would Expect at $20K
With the death of Scion, the Toyota brand has gained a few new models. One is the Toyota Corolla iM. Previously, it was just the Scion iM.
This is not a performance vehicle, or a luxurious option. Instead, it's all about getting you from point A to point B without much drama or cost. That doesn't mean the car must be boring or completely stripped down. Not all of the Corolla iM's competitors are.
On Paper
To say the Corolla iM is budget-friendly is accurate. It starts at $18,750. For that price, you get quite a few features, including halogen projector headlights, 17-inch alloy wheels, dual-zone automatic climate control, a backup camera, a leather-wrapped steering wheel, eight airbags and hill start assist control. These are great features for this price point, especially the dual-zone automatic climate control.
The 1.8-liter DOHC four-cylinder engine doesn't exactly pretend to be performance-oriented. It produces a peak 137 horsepower and 126 lb-ft of torque. That's nothing to scream about, but this car is more about sipping fuel than laying down rubber. You get 36 mpg on the highway and 28 in the city.
A six-speed manual transmission is standard, but you can get a CVT if you like boring drives. Why can't more cars offer a manual transmission?
With a MacPherson strut front suspension, plus a multilink setup in the rear, one would expect this car to handle well enough.
First Impressions
I'll be honest: the Corolla iM looks good when you walk up to it. Toyota's been guilty of over-styling cars lately, but it practiced some restraint with this one. The same thing can be said about the Toyota C-HR, another Scion carryover. Are you starting to see a pattern here?
You get a front fascia that looks sporty and a little aggressive. But the thing isn't sneering at you, like a creature from "Where the Wild Things Are" (or the new Camry). When you see the rear, it's even less garish, thanks to a lack of unnecessary flourishes. The wheels have a higher-end look than you might expect on such an affordable vehicle.
Thankfully, that restrained but sophisticated design carries over to the interior. The devil is in the details, and things like accent stitching, big seat bolsters and a really clean center stack layout communicate well.
Premium cloth upholstery with patterns in the material also elevates the space. Toyota includes big physical controls, so they're easy to find and press without looking closely.
Overall, the interior feels crafted, like what you'd find in some European brands. It's a refreshing change for Toyota's budget-friendly vehicles.
On the Road
If you're not much into cars or driving, you'll probably think the Corolla iM is good enough for everyday use. If you're the least bit critical about how vehicles work, you'll be underwhelmed.
When you push the engine, it protests quickly, because you reach the limit in a hurry. Sadly, the manual transmission is anything but smooth. At least the CVT works seamlessly.
The suspension does keep the car feeling light on its feet, for an economy-friendly option, but it makes everything feel jittery. In other words, Toyota engineers didn't concentrate much on damping rates.
Take the vehicle on a really bumpy road and you'll regret that decision in a hurry. Thanks to the numb electric power steering, you won't really feel connected or like you get much precision as you turn the wheel. It's all very underwhelming.
Being a hatchback, the Toyota Corolla iM is a more practical vehicle than many sedans. You get that nice, big opening and a low load floor, which is great for heavy items.
But, the cargo area behind the second row is cramped, to say the least. If you want decent space for things like golf clubs, luggage, or even grocery sacks, you'll need to fold down part or the entire backseat.
The front seating area has a decent amount of space. It's not the best car for tall people, but everyone else will think it's sufficient. The backseat, on the other hand, is far more cramped. Really, it's only for kids. If you never give rides to people and are just needing a commuter, that's not a big deal.
Good, but Not Great
Like most budget-oriented vehicles, the Toyota Corolla iM is a mixed bag. While it looks nice and has a surprisingly premium interior, performance is tepid and cabin space is cramped.
You just need to ask yourself what's most important to you, because you just won't get a perfect vehicle for under $20,000.
The Toyota Corolla iM isn't a bad car, but ultimately it isn't a great one, either.