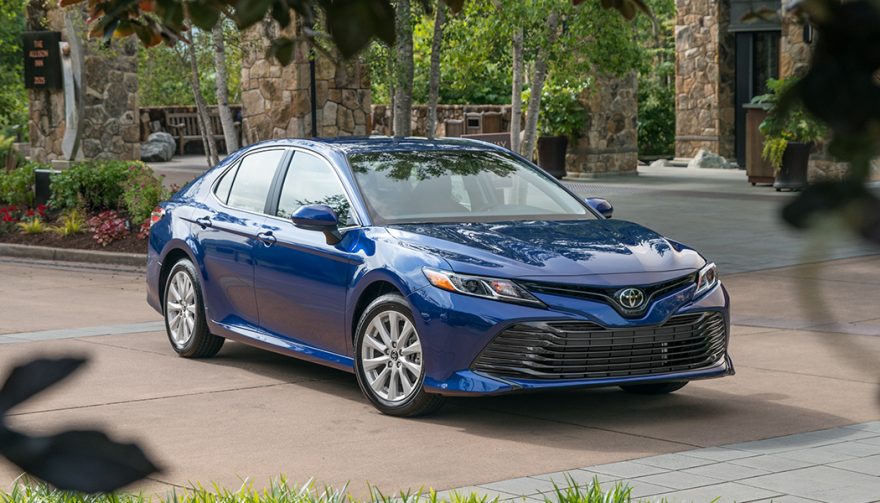 This is the latest and greatest from Toyota's sensible, logical and reasonable family car choice.
Big Comfort, Great Mileage: 2019 Toyota Camry Review
The 8th generation Toyota Camry hit the road in the not-so-distant past, and amounts to the freshest take on one of the most sought-after family sedans on the scene. This is the latest and greatest from Toyota's sensible, logical and reasonable family car choice. Launched into a marketplace where shoppers are rapidly moving out of cars and sedans, and into crossovers instead. It's a huge and growing trend, but Toyota figures the Camry isn't going anywhere. And if you're in the market, there's lots to like about this machine.
My tester's cabin made a great first impression with the upscale use of a bright and light palette, accenting, textures, and sculpting and contrast galore. High-tech displays and a sense of various tiers of controls and materials and interfaces flowing and layering upon one another helped things feel richer.
First Impressions
Don't miss the quilted and perforated leather seats, which are soft and snugly and shouldn't cause you any stress. Not long ago, you expected this level of richness and detail and from the cabin of a much pricier car. The designers have earned their paycheck with this interior.
And there's room to spare, with space to spare in both seating rows. Up front, your average-sized presenter found no issues with space. Most should find Camry to be easily boarded and exited. It's easy to stretch out in too.
There's plenty of storage for everyone, and up front, the driver and front-seat passenger have a space for all of their things. No shortage of charging provisions, a generous centre console, a wireless charging pad, and more.
Rear seats boast heaps of space and adult-friendly legroom. Though headroom will disappear most quickly for larger and taller occupants.
In back, the trunk is wide and flat and generous. I wish the folding rear seats had a bigger pass-through to fit longer and wider items.
My high-end tester was also finished with a vivid JBL stereo, panoramic sunroof, and big and easy-to-use central command touch-screen interface. Elsewhere, don't miss the bright and easy to navigate central touch-screen interface.
So far, Camry presents as a nicely put together, nicely laid out, and highly-functional and roomy machine that's got space to spare for four adults. Or your average family of five.
The Drive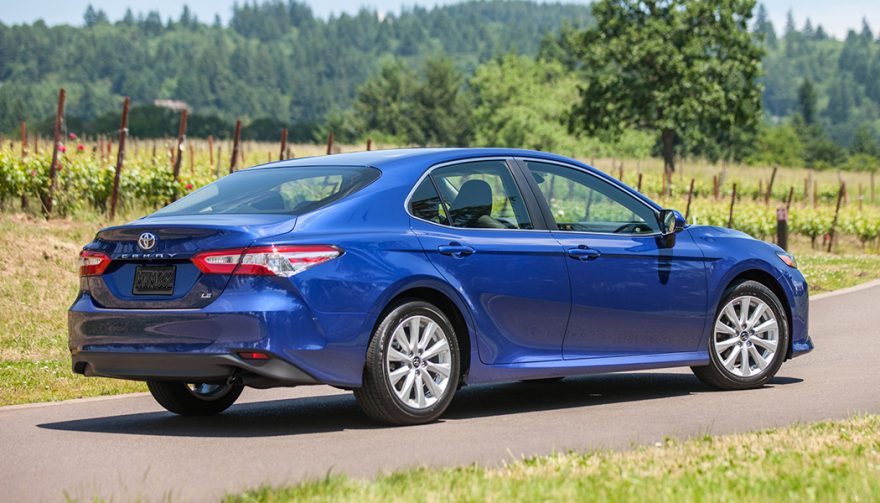 Under the hood, my tester ran the Toyota Camry's latest four-cylinder. This high-compression 2.5-liter unit uses both the Atkinson Cycle and D4S direct fuel injection to help generate 203 very thrifty horsepower. This engine uses an array of the latest Toyota fuel-saving technologies to squeeze the most possible energy out of every molecule of fuel it burns. And it works. Even cruising at a decent clip, you're clear for well over a full day's worth of cruising on a single tank of fuel. I've spent more feeding a gerbil.
You get front-wheel drive and an 8-speed automatic if you go for a four-cylinder unit, like my tester. There's a 301 horsepower V6 available too, if you like.
Camry's big four-cylinder isn't as smooth or quiet as many of the segment's comparable turbocharged engines. Since these make more power and less noise, more of the time, by way of improved low RPM responsiveness.
Malibu and Accord come to mind here. Both are more responsive and quieter from under the hood, and operate more invisibly, more often. But the Toyota Camry's big four-cylinder is a good all-around performer. Decently punchy when called upon, excellent on fuel, and well suited to the light-footed driver concerned mainly with going as far as they can without having to stop and refuel.
It does get a bit noisier and harsher when pushed than some drivers will like. Though it's hardly a deal-breaker, especially if you're typically driving your Camry in no particular rush. Which is likely.
There are three drive modes available, including ECO, SPORT and NORMAL. The refined, fuel-saving ECO mode is likely best. I left this mode engaged at all times, since it's the best match for the Camry's personality. And makes it easier to drive in the most fuel-efficient manner possible.
On the highway, you'll find another one of this machine's strongest assets: the ride. It's very relaxed and compliant. Soft at virtually all times, rarely if ever crashing into bumps or potholes. Typically isolating drivers very nicely from the unpleasant sensations hurled their way from the road beneath.
And for how comfortable it is, Camry isn't excessively gelatinous or floaty, either. All said, if you're after a sedan that's very much tuned for comfort-first, fuel-efficient operation, this will satisfy.
While cruising, the steering is light enough to be used with minimal effort but not too quick. It's nicely dialed in to support the relaxing feel imparted elsewhere. Noise levels were kept nicely in check, too. That's even with my tester's typically-noisier winter tires installed.
Creature Comforts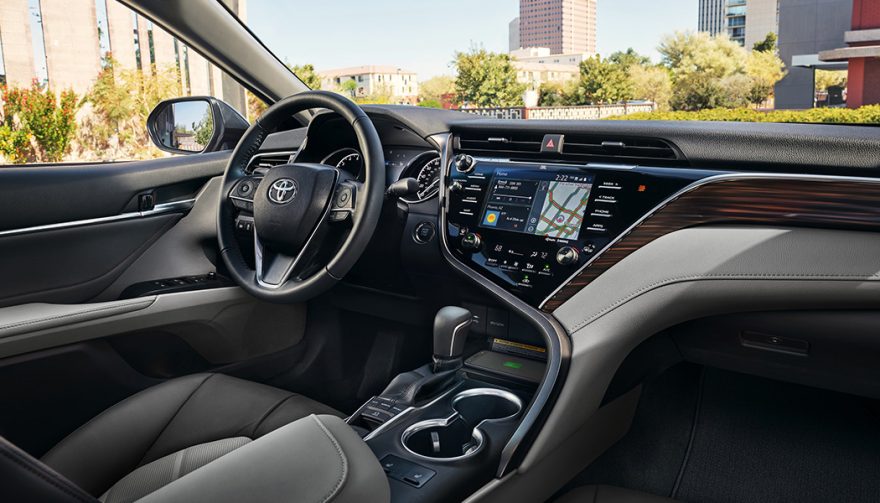 Ultimately, the Toyota Camry is a nice place to be, with more than adequate room for occupants to relax, unwind and socialize on the open road. It does its best stuff in the background to provide hours of comfy cruising. With minimal fuel use in the process. And with automatic lights, high-beams, climate control and more, it's got all the equipment you'll need for set-it and forget-it driving, too.
Safety is covered in spades. Radar Cruise, Lane Departure Warning with Steering Assist, Blind Spot Monitoring and a pedestrian-detecting anti-collision system were all on board. Ditto automatic high-beams.
At any given time, this Camry is actively analyzing its surroundings to work with your safe and attentive driving towards an extra layer of confidence. And so, on the safety front, if you're after little less than every imaginable safety feature on the market, you're well covered off. Interestingly (and importantly), all of this stuff is standard, regardless of which Camry you choose.
Under braking, there's little remarkable about the feel at the pedal. Though the Toyota Camry pulls down to a stop with urgency, and typically in a straight line with minimal fuss. If the ABS kicks in, you won't feel much at the pedal. But you will hear it through the firewall.
Headlights perform well, offering up thick and widespread coverage of bright white light up the road that helps keep your peepers fresh, long after dark.
Final Thoughts
Complaints, keeping context in mind, were few and far between. The big trunk loses some space due to the trunk lid arms which might smash into your gear. Depending on how it's arranged. Further, sportier drivers may wish to opt for a sportier trim grade, and maybe the V6 engine. My tester was comfort-first remember, and felt neither bothered nor pleased when tossed around some fast corners.
Finally, some may find it a touch pricey. My tester's premium asking price didn't even include the remote start or heated steering wheel you'll typically find in less-expensive options.
The latest Toyota Camry might be about as close as you'll get to a big-dollar luxury car experience, without a big-dollar luxury car price tag. If that sounds like your bag of Tostitos, be sure to check out the Buick LaCrosse as well, which also excels for similar reasons here.
The new Honda Accord is also excellent: it has a smoother driveline, but the interior isn't quite as vivid.
At the end of the day, if you're not ready to shift into a crossover yet, and prefer a conventional family sedan, you've got some great options to choose from. And this is one of them.