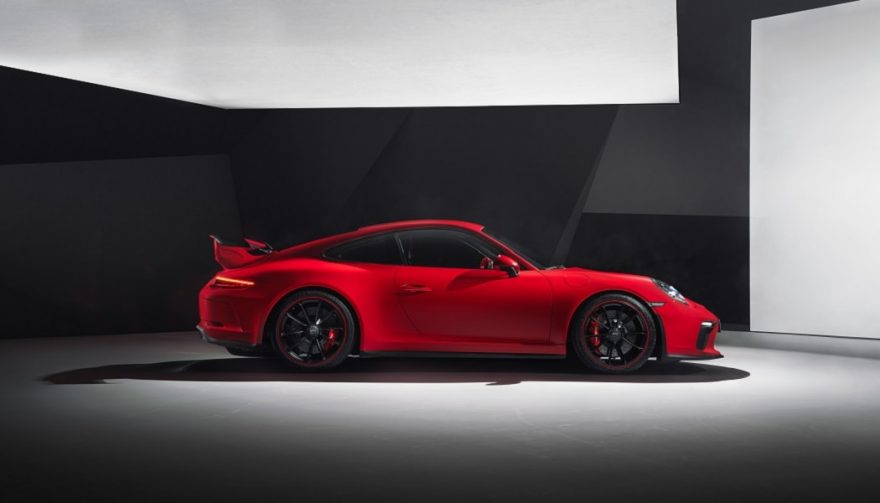 The new Porsche 911 GT3 is a humble apology for the previous version
Porsche Makes Amends with the 2018 911 GT3
The Porsche 911 GT3 is a car that enthusiasts look up to. It's one of the most coveted and revered versions of the 911.
That's why when Porsche announced the previous version would only be offered with a seven-speed dual-clutch transmission, enthusiasts hated it.
It's one thing to offer something other than a manual, be it a PDK or automatic. It's quite another to just cut out the option for a manual completely. Plenty of enthusiasts gave Porsche an earful.
Fortunately, it looks like the brand listened, because the 2018 911 GT3 is like a wonderful apology.
2018 Porsche 911 GT3 Transmission Options
As you probably already guessed, Porsche is offering a manual transmission for 2018. While you can get the PDK, which shifts quickly but just isn't the same, now you can order a GT3 with the same six-speed manual that came with the 911 R.
This manual transmission was developed by the company's GT department. It features shorter ratios, which means better in-gear acceleration. This setup also provides shorter throws.
Already, enthusiasts are celebrating the fact that one automaker listened to their pleas to save the manuals. Sure, a PDK may shift quicker, but manuals are just a blast. And the GT3 is all about having a blast – at least it should be.
Wondrous Engine
To power the 2018 911 GT3, Porsche developed a new naturally-aspirated 4.0-liter flat-six engine. It brings the goods with a peak 500 hp and 339 lb.-ft. of torque.
Interestingly enough, this engine wasn't created just for the GT3. It's actually from the 911 GT3 R and 911 RSR. In other words, it comes straight from the world of motorsports. It's built on the same production lines as the race engines, which you can't say about many other production engines.
Those motorsports roots shine through with a screaming 9,000 rpm redline. That means you can really listen to the engine howl before throwing it into the next gear.
The company says the Porsche 911 GT3 does 0 to 60 mph in 3.8 seconds with the manual transmission. That's not too shabby.
Of course, the PDK pushes that figure to just 3.2 seconds, but it's a soulless 3.2 seconds. Besides, you get a slightly higher top speed of 198 mph with the manual, versus a mere 197 mph with the PDK. Also, the PDK weighs 37 pounds more. That might sound nit-picky, but you should ask Lotus about lightness.
Speaking of weight, the new 911 GT3 has a power-to-weight ratio of 6.4 pounds per horsepower. That's not half bad.
Better Chassis
Porsche didn't stop there – it also redesigned the GT3's chassis. Porsche isn't giving many details, but it's supposed to include lightweighting innovations, which my guess is the application of some additional composite materials. Dynamic engine mounts are also standard, plus a rear-locking differential.
Just like the previous GT3, this one features active Rear Axle Steering. The system automatically turns the rear wheels either in the same direction as the front wheels at high speeds, or in the opposite direction when traveling slower. This means better and more stable handling characteristics.
More Aero
To help the 2018 Porsche 911 GT3 stay planted while cutting through the air, Porsche engineers worked on aerodynamics. After all, you can't add all that power and expect owners to just deal with sloppy handling, right?
Most notable is the carbon fiber rear wing. It's big, although sadly nothing like the whale tails that made the 993 so visually wonderful. If you don't pay enough attention, that huge wing distracts from the large air intakes on the rear deck, feeding the engine as you speed along.
Also updated is the front fascia. Along with the front spoiler, it is supposed to optimize airflow. In other words, they manage to keep the front tires planted on the road or track surface, feeding enough air to the massive front brakes to avoid vapor lock under constant load, and allowing the car's front to slice through the air like a knife. That's not an easy balance to achieve.
On top of it all, Porsche engineers and designers made it look good, instead of the overly aggressive designs that seem to be cropping up everywhere.
Finally, Porsche updated the rear diffuser. You still get two massive exhaust outlets right in the middle of the action.
Cabin Enhancements
The 2018 Porsche 911 GT3 isn't supposed to be luxurious, because it's really a street-legal track car. The interior reinforces that purpose, just like previous versions.
One of the changes you get is a 14.1-inch GT Sport steering wheel. If it looks familiar, that's because it's based off the one in the 918 Spyder.
Despite being a track car, there are a few comforts. Porsche made the Sport Seats Plus with more supportive bolsters, so you enjoy better lateral support. You also get the luxury of power seatback and height adjustment.
If you want to go even more luxurious, available Adaptive Sport Seats Plus have 18-way power adjustments. You also get seat memory settings, plus a power-adjustable steering column.
Porsche will also cater to those who want the car for serious driving only. Full Bucket Seats give you power height adjustment, and that's it. The backrest is fixed, with carbon fiber reinforcement.
As the "GT" part of the Porsche 911 GT3 denotes, there are no rear seats.
There you have it – an apology of sorts from Porsche. At least, it's as good of an apology as we're going to get, so enjoy it.